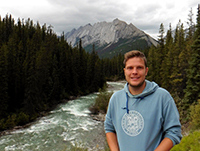 Víctor Sauqué. Grupo Aragosaurus-IUCA, Dpto. Ciencias de la Tierra, Facultad de Ciencias, Universidad de Zaragoza, Calle Pedro Cerbuna 12, 50009, Zaragoza, Spain; This email address is being protected from spambots. You need JavaScript enabled to view it.
Laboratorio de Zooarqueología y Tafonomía de Zonas Áridas (LaZTA), IDACOR, CONICET/FFyH UNC. Av. H. Yrigoyen 174, 5000, Córdoba, Argentina
Víctor Sauqué obtained his Geology Degree in 2008, being valedictorian of his class, a Master in Geological Science in 2009, a Master in Science Teaching in 2015 and his PhD in Geological Sciences in 2015 with a thesis titled "Taphonomy, systematics and paleoenvironmental approach of Upper Pleistocene macromammals of Moncayo (Zaragoza)". Recently he directed excavations campaigns in Los Rincones and Los Aprendices (Zaragoza) and in the last two years he led a project at high altitude in the Pyrenees, over 2000 m.a.s.l. In these campaign, the team discovered several new sites with interesting remains which are under study at this very moment. He is Research Collaborator at the Natural Science Museum Zaragoza. He is currently a researcher at the Universidad Nacional de Córdoba, Argentina. Apart from his scientific resume, in the past years he has been involved in education programs to promote science amongst young students at school in the program "Little palaeontologist" directed by Federico Ozanam Foundation.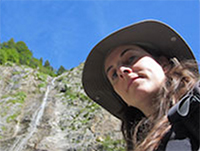 Raquel Rabal-Garcés. Grupo Aragosaurus-IUCA, Dpto. Ciencias de la Tierra, Facultad de Ciencias, Universidad de Zaragoza, Calle Pedro Cerbuna 12, 50009, Zaragoza, Spain; This email address is being protected from spambots. You need JavaScript enabled to view it.
Dra. Raquel Rabal Garcés has a degree in geology from the University of Zaragoza (2006), Master's in Introduction to Research in Geology (2008) and PhD in Geology from the University of Zaragoza (2013). In her thesis, entitled "Estudio paleontológico de Ursus spelaeus Rosenmüller, 1794 del Pleistoceno Superior de Coro Tracito (Tella, Huesca, España)" conducted a detailed study of the taphonomy, systematic paleontology and paleoecology of fossil remains of Ursus spelaeus in order to characterize the population.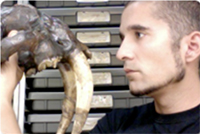 Joan Madurell-Malaperia. Institut Català de Paleontologia Miquel Crusafont, Universitat Autònoma de Barcelona, Edifici ICTA-ICP, c\de les columnes sn, 08193, Cerdanyola del Vallès, Barcelona, Spain; This email address is being protected from spambots. You need JavaScript enabled to view it.
Joan Madurell-Malapeira, currently works as a postdoctoral researcher at the Catalan Institute of Palaeontology. He obtained his PhD in Geological Sciences in December of 2010 with a thesis entitled "The Villafranchian carnivores of the North-Eastern Iberian Peninsula and the Early-Middle Pleistocene Transition", under the direction of Prof. Salvador Moyà-Solà and Prof. Bienvenido Martínez-Navarro. From 2007 onwards, he has published more than thirty papers in scientific journals including, Quaternary Science Reviews, Journal of Human Evolution, Journal of Vertebrate Paleontology and Molecular Ecology. These papers are mostly devoted in Carnivore taxonomy and paleobiology and their relationships of competence with the first European hominins. This research is also focused in the consequences of the great climatic shifts associated to the 'Mid-Pleistocene Revolution' in the large mammal assemblages and
specially in the competition between the large felids, hyenas and the first European hominins. The last three years, he started a new project devoted in the endocranial morphology of the Miocene to Pleistocene large carnivores, basically felids and hyenids, in order to make inferences in the degree of sociability of these carnivores. Furthermore has a lot of experience in fieldwork, having taken part in many excavations at several fossil localities from the Vallès- Penedès Basin, Banyoles-Besalú Basin and Guadix-Baza Basin (Spain). His capacity of leadership is evidenced by the fact that, among others, he was director of the paleontological interventions of Vallparadís Estació (Terrassa, Catalonia, Spain) from 2005 to 2008 and director of the paleontological interventions in the Incarcal complex from 2004 to the present.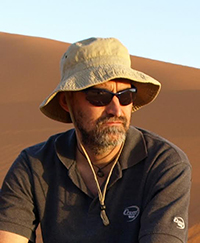 Mario Gisbert. Centro de espeleología de Aragón (CEA); This email address is being protected from spambots. You need JavaScript enabled to view it.
Mario Gisbert León is a researcher who collaborates with the Department of Paleontology of the University of Zaragoza. He is a member of the Spanish Society of Speleology and Study of the Karst, the Center of Speleology of Aragon and the Grackma, Glacial, Criokarst and Environment Association. He has supervised numerous research projects, topography and underground exploration in various kartic zones of Europe and South America. He is a specialist in techniques of vertical progression and underground rescue.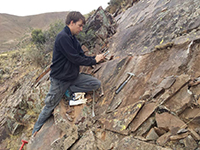 Samuel Zamora. Instituto Geológico y Minero de España, Calle Manuel Lasala, 44, 9ºB, 50006, Zaragoza, Spain; This email address is being protected from spambots. You need JavaScript enabled to view it.
Samuel Zamora studied geology at the University of Zaragoza, Spain, graduating in 2004. He completed his PhD in 2009 at the same university, studying Cambrian echinoderms from North Spain, including faunas from the Moncayo Natural Park. During 2010–2012, he spent two years working as a postdoc at the Natural History Museum, London, and in 2013, he was awarded a Postdoctoral Fellowship at the Smithsonian Institution National Museum of Natural History, and he was based in Washington D.C., USA for one year. He currently works at the Spanish Geological Survey funded by a Ramón y Cajal grant and he is Research Collaborator at the Smithsonian Institution.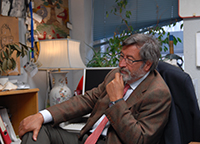 Trinidad de Torres. Laboratory of Biomolecular Stratigraphy, Madrid School of Mines; This email address is being protected from spambots. You need JavaScript enabled to view it.
Trinidad de Torres is a Full Professor at the School of Mines in Madrid. In this institution he leads a research group in amino acid racemization dating method. He obtained his pHD in the study of bears "Ursids of the Pleistocene-Holocene of the Iberian Peninsula".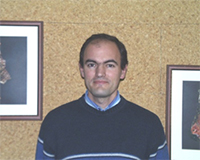 José Eugenio Ortiz. Laboratory of Biomolecular Stratigraphy, Madrid School of Mines This email address is being protected from spambots. You need JavaScript enabled to view it.
Biomolecular Stratigraphy Laboratory. Madrid School of Mines and Energy. Universidad Politécnica de Madrid. C/Ríos Rosas 21, Madrid 28002, Spain José E. Ortiz is a PhD Mining Engineer and a professor of Geology. He is the secretary of the Geological Society of Spain. His research is related to stratigraphy, organic geochemistry and palaeoclimatology. He is interested in the amino acid racemization of ostracodes, molluscs and vertebrates.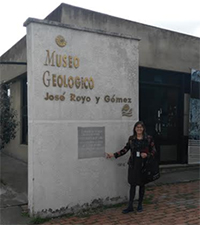 Gloria Cuenca-Bescós. Grupo Aragosaurus-IUCA, Dpto. Ciencias de la Tierra, Facultad de Ciencias, Universidad de Zaragoza, Calle Pedro Cerbuna 12, 50009, Zaragoza, Spain; This email address is being protected from spambots. You need JavaScript enabled to view it.
Gloria Cuenca-Bescós is a Senior Lecturer in Geology at the Department of Earth Sciences at the University of Zaragoza in Spain. She focus her research in the small mammals, their fossils from the time of the Dinosaurs to the Late Pleistocene and up to the present day. She is involved in the excavations and scientific studies of several sites in Spain, being interested in the paleobiology and biochronology of the fossil vertebrate assemblages in the stratigraphic sequences and in comparison with other sites from Eurasia. Also she is involved in the preservation of the paleontological record troughout her contribution to the Museum of Natural Sciences (MusNacUnizar) and Environmental Sciences Institute (IUCA) both of the University of Zaragoza.