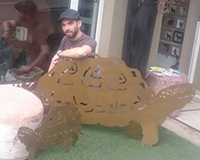 Adán Pérez-García. Grupo de Biología Evolutiva, Facultad de Ciencias, Universidad Nacional de Educación a Distancia, Paseo de la Senda del Rey 9, 28040 Madrid, Spain.
Adán Pérez-García is a paleontologist working on several clades of reptiles, mainly on Testudinata. He obtained his PhD on the fossil turtles from the Iberian Peninsula in 2012, at the Universidad Complutense de Madrid. He is now a researcher at the Universidad Nacional de Educación a Distancia (Madrid). His main work focuses on the study of the systematics, paleobiogeography and diversity of Mesozoic and Cenozoic faunas of turtles from the Jurassic to the Holocene, including both European and African clades. He described several new taxa corresponding to pan-pleurodiran and pan-cryptodiran forms.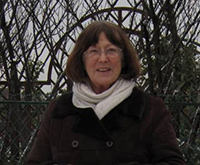 France de Lapparent de Broin. Centre de Recherche sur la Paléodiversité et les Paléoenvironnements, Muséum national d'Histoire naturelle, 57 rue Cuvier, CP 38, 75231 Paris cedex 5, France.
France de Lapparent de Broin is an expert on extinct crocodiles (among which the giant Cretaceous Sarcosuchus) and turtles who has made them known to the paleoherpetological community over almost 50 years. Her studies have dealt with fossils from the Mesozoic (mostly the Cretaceous) and the Cenozoic (mainly the Eocene and Miocene but up to the Holocene from Africa included). She has been interested in faunas originating from all continents and she produced large reviews of turtles from South America, Europe and Africa. She erected several taxa, mostly of turtles. Among these taxa are some strange forms that appear to represent unique morphological feeding type.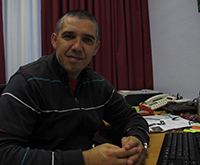 Xabier Murelaga. Departamento de Estratigrafía y Paleontología, Facultad de Ciencia y Tecnología, Universidad del País Vasco, UPV/EHU, Apartado 644, 48080 Bilbao, Spain.
Xabier Murelaga is a palaeontologist whose research covers a variety of subjects like taxonomy of Tertiary and Quaternary fossil microvertebrates and taxonomy and evolution of Mesozoic and Cenozoic turtles. Xabier is Assistant Lecturer in the Department of Stratigraphy and Palaeontology in the University of Basque Country.