orphology and sediment deformation of downslope Brasilichnium trackways on a dune slipface in the Nugget Sandstone of northeastern Utah
Plain Language Abstract
Deposits of a great sand sea that covered the western United States during the Late Triassic and Early Jurassic preserve a sparse fossil record that largely consists of footprints, trackways, trails, and burrows made by vertebrates and invertebrates.
Brasilichnium is the most common vertebrate trackway found in the dune sediments and was probably made by near mammals or primitive mammals. Brasilichnium tracks are quadrupedal, wide relative to their length as compared to other types of tracks, often less than 2 cm across, and with stubby toes. Although Brasilichnium is a common track fossil, virtually all known records are of trackways walking up slope on the dune face, even in occurrences where hundreds of footprints are preserved on a single surface.
A previously unreported slab of Nugget Sandstone on exhibit at the University of Utah preserves four Brasilichnium trackways walking down slope amongst 13 trackways heading up slope. The downslope trackways are associated with unique sediment deformation which easily distinguishes them from the upslope trackways. A raised, flat-topped, arcuate platform of sand formed in front of each downslope track when the foot was planted, displacing the sand upward and forward. And behind each track, a large depression with curved transverse ridges formed when the foot was withdrawn, allowing the sand to collapse as a slump. A second Brasilichnium occurrence in Dinosaur National Monument corroborates these observations.
Despite the widespread occurrence throughout the geological record of fossil vertebrate tracks produced by taxonomically diverse trackmakers on the downwind slope of sand dunes, downslope trackways are exceedingly rare, completely absent from most locations. Although no consensus on an explanation for this pattern has appeared, downslope tracks should be highly recognizable from the sediment deformation documented here.
Resumen en Español
Morfología y deformación del sedimento de las pistas de bajada de Brasilichnium en una superficie de dunas en la Nugget Sandstone del noreste de Utah
La presunta pista de huellas producida por un sinápsido conocida como Brasilichnium está caracterizada por numerosos ejemplos en muchas localidades a lo largo de los depósitos eólicos, del erg del Triásico Tardío al Jurásico Temprano, que cubrían gran parte del oeste de los Estados Unidos. Estas pistas se producen principalmente en los lechos frontales (foreset beds) de las dunas. La gran mayoría de las pistas de huellas fueron hechas por animales que se desplazaban pendiente arriba. Una losa de Nugget Sandstone que se exhibe en el Departamento de Geología y Geofísica de la Universidad de Utah conserva al menos 17 pistas de Brasilichnium, 13 subiendo la pendiente y cuatro bajándola. Las huellas descendentes tienen una morfología distintiva que consiste en un cojín de presión anterior levantado y una posterior depresión de colapso por detrás, una impresión pequeña y mal conservada del pie. La almohadilla de presión anterior puede explicarse como un empuje de ángulo bajo impulsado hacia adelante por el impacto del pie, mientras que la depresión posterior es un desplome descendente cuando se retira el pie. Esta interpretación es apoyada por las observaciones realizadas, en un afloramiento en el "Monumento Nacional de Dinosaurios", de una pista de Brasilichnium que atraviesa la pendiente con características similares, y también por el estudio de pistas realizadas por otros vertebrados en arenas eólicas. La gran preponderancia de las pistas ascendentes respecto a las descendentes en arenas eólicas sigue siendo una circunstancia que carece de explicación. El carácter distintivo de la morfología de la pista descendente y el hecho de que estén bien conservadas en el material estudiado, sin embargo, sugieren que la respuesta no es la de un sesgo debido a coincidencia o preservación.
Palabras clave: Brasilichnium; Nugget Sandstone; Triásico-Jurásico; eólico; icnología; huellas de locomoción
Traducción: Enrique Peñalver (Sociedad Española de Paleontología)
Résumé en Français
Morphologie et déformation sédimentaire de pistes de Brasilichnium sur des pentes descendantes de la face d'avalanche d'une dune dans le « Nugget Sandstone » du nord-est de l'Utah
Les ichnofossiles Brasilichnium sont des pistes potentiellement laissées par des synapsides, et ils sont représentés par de nombreuses pistes dans de nombreuses localités des dépôts éoliens d'un erg qui couvrait la plus grande partie de l'ouest des États-Unis du Trias récent au Jurassique ancien. Ces pistes sont trouvées principalement sur les faces d'avalanche des dunes. La très grande majorité des pistes ont été laissées par des animaux qui se déplaçaient en remontant la pente. Une dalle du « Nugget Sandstone » exposée au Département de Géologie et de Géophysique de l'Université d'Utah préserve au moins 17 pistes de Brasilichnium, 13 remontant la pente et quatre la descendant. Les pistes descendantes présentent une morphologie distincte comprenant une petite empreinte du pied mal préservée avec à l'avant, une plateforme de pression antérieure surélevée, et à l'arrière, une dépression postérieure d'effondrement. La plateforme de pression antérieure peut s'expliquer par une poussée vers l'avant avec un angle faible provoquée par l'impact du pied, alors que la dépression postérieure est un effondrement vers le bas de la pente créé au moment où le pied s'est retiré. Cette interprétation est soutenue par l'observation d'un affleurement du « Dinosaur National Monument » qui montre des caractéristiques similaires sur une piste de Brasilichnium qui est perpendiculaire à la pente, et par des études de pistes produites par d'autres vertébrés dans des sables éoliens. La forte prépondérance des pistes ascendantes sur les pistes descendantes dans les grès éoliens reste une question ouverte. La particularité de la morphologie des pistes descendantes et le fait qu'elles soient bien préservées dans le matériel étudié suggèrent cependant que la réponse est plus qu'une coïncidence ou qu'un biais de préservation.
Mots-clés : Brasilichnium ; Nugget Sandstone ; Trias-Jurassique ; éolien ; ichnologie ; pistes
Translator: Antoine Souron
Deutsche Zusammenfassung
Morphologie und Sedimentdeformation der hangabwärts führenden Spuren von Brasilichnium auf einem Dünengleithang im Nugget Sandstein von Nordost Utah
Die mutmaßliche Synapisden-Fährte, Brasilichnium, ist von vielen Fährten aus zahlreichen Fundstellen während der äolischen Ablagerungen des spättriassischen bis frühjurassischen Ergs bekannt, das einen Großteil der westlichen USA bedeckte. Die Fährten kommen hauptsächlich auf den Forset Beds der Dünen vor. Die überwiegende Mehrheit der Spuren stammt von hangaufwärts gehenden Tieren. Eine Platte Nugget Sandstein, die im Department of Geology and Geophysics der Universität von Utah ausgestellt ist, enthält mindestens 17 Brasilichnium Abdrücke, von denen 13 hangaufwärts und vier hangabwärts gehen. Die abwärts führenden Spuren haben eine markante Morphologie, mit einem erhöhten anterioren Druckpolster davor, und einer posterioren Kollaps-Depression danach, ein schmaler, schlecht erhaltener Fußabdruck. Das anteriore Druckpolster kann als flachwinkliger Schub, nach vorne getrieben durch das Aufsetzen des Fußes, erklärt werden, wohingegen die posteriore Depression Hangsackungen sind, die durch das Anheben des Fußes entstanden. Diese Interpretation wird unterstützt durch eine Beobachtung in einem Steinbruch im Dinosaur National Monument wo ähnliche Merkmale bei einer Brasilichnium-Fährte, die den Hang quert, zu sehen sind und durch Untersuchungen von Spuren anderer Wirbeltiere in äolischen Sanden. Das enorme Übergewicht von hangaufwärts zu hangabwärts führenden Fährten bleibt eine ungeklärte Frage. Die Einzigartigkeit der hangabwärts führenden Spurenmorphologie und die Tatsache, dass sie im untersuchten Material gut erhalten sind, legt jedoch nahe, dass die Antwort über Zufall oder Erhaltungs-Bias hinausgeht.
Schlüsselwörter: Brasilichnium; Nugget Sandstein; triassisch-jurassisch; äolisch; Ichnologie; Fährten
Translator: Eva Gebauer
Arabic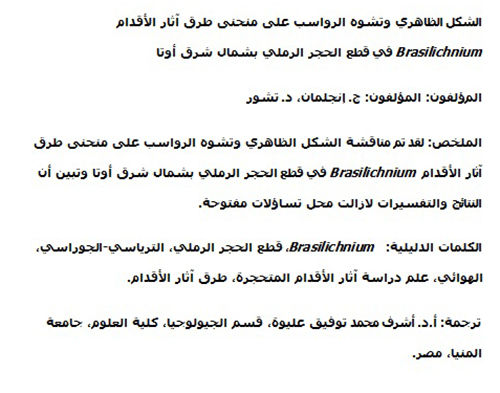 Translator: Ashraf M.T. Elewa