First early Eocene lizards from Spain and a study of the compositional changes between late Mesozoic and early Cenozoic Iberian lizard assemblages
Plain Language Abstract
The presence of pleurodont and acrodont iguanians, gekkotans, lacertids, scincoids, amphisbaenians, glyptosaurines, anguines, and "necrosaurs" is reported for the first time in early Eocene localities from Spain, specifically from Catalonia. The recovered remains are disarticulated and fragmentary, but diagnostic enough to provide the first insights on the composition of these assemblages. Comparison to other European lizard associations suggests a great degree of homogeneity along the entire early Eocene and across the continent, at least at the level of identification of the Catalan remains. After a gap in the fossil record that encompasses the entire Paleocene, the early Eocene assemblages contain the first Cenozoic lizard faunas available for comparison with those of the Late Cretaceous, providing insights on the effects of the Cretaceous/Paleogene extinction upon non-dinosaurian taxa. This study complements previous and ongoing studies on the small fraction of the Iberian Eocene paleoherpetofauna, which has been traditionally poorly studied.
Resumen en Español
Primeros lagartos eocenos de España y un estudio de los cambios de composición entre los lagartos del Mesozoico tardío y el Cenozoico temprano
Se describe por primera vez material fósil de lagartos y anfisbenios de localidades españolas del Eoceno temprano, más concretamente de Cataluña (noreste de la Península Ibérica). El material es fragmentario y escaso, pero lo suficientemente diagnóstico como para proporcionar una primera aproximación a la composición de las asociaciones de lagartos. Se han determinado los siguientes taxones: Geiseltaliellus y un segundo Iguanidae indeterminado; un Agamidae similar a "Tinosaurus"; un Gekkota indeterminado; un Scincoidea, posiblemente un lagarto Scincidae; un lacértido similar a Dormaalisaurus; un Amphisbaenia indeterminado; un Glyptosaurini, Glyptosaurinae (cf. Placosaurus); un Anguinae indeterminado; y, por último, un "Necrosauridae" indeterminado. Las localidades estudiadas tienen edades que van desde el MP8+9 hasta el MP10, y así complementan la única localidad de lagartos previamente conocida del Eoceno temprano ibérico, la localidad portuguesa de Silveirinha, que corresponde al MP7. Un análisis de la composición de estos nuevos conjuntos sugiere una gran homogeneidad a través de los diferentes niveles del Eoceno temprano, y también entre los conjuntos ibéricos y contemporáneos del resto de Europa. La falta de un registro del Paleoceno ibérico para los lagartos refuerza la importancia de este estudio de las primeras asociaciones del Eoceno porque son las únicas disponibles para una comparación con las asociaciones del Cretácico, proporcionando información crítica sobre los cambios en la composición entre las faunas de lagartos del Mesozoico y del Cenozoico temprano relacionadas con el evento de extinción K/Pg.
Palabras clave: Reptilia; Squamata; lagartos anfisbenios; Eoceno; Península Ibérica
Traducción: Enrique Peñalver (Sociedad Española de Paleontología)
Résumé en Français
Les premiers lézards de l'Éocène ancien d'Espagne et une étude des changements de composition des assemblages de lézards ibériques entre la fin du Mésozoïque et le début du Cénozoïque
Des lézards et des amphisbènes sont décrits pour la première fois à partir de matériel provenant de localités de l'Éocène ancien d'Espagne, et plus précisément de Catalogne (nord-est de la péninsule Ibérique). Le matériel est fragmentaire et rare, mais suffisamment diagnostique pour fournir une première approche de la composition des assemblages de lézards. Les taxons suivants sont documentés : Geiseltaliellus et un second iguanidé pleurodonte indéterminé ; un agamidé ressemblant à "Tinosaurus" ; un Gekkota indéterminé ; un lézard scincoïde (possiblement un scincidé) ; un lacertidé ressemblant à Dormaalisaurus ; un amphisbène indéterminé ; un glyptosauriné de la tribu des Glyptosaurini (cf. Placosaurus) ; un Anguinae indéterminé ; et un "nécrosaure" indéterminé. Les localités étudiées vont du MP8+9 au MP10, et complètent ainsi la seule localité à lézards connue jusqu'à présent dans l'Éocène ancien de la péninsule Ibérique, la localité portugaise de Silveirinha (qui correspond au MP7). Une analyse de la composition de ces nouveaux assemblages suggère une grande homogénéité des différents niveaux de l'Éocène ancien, et aussi des assemblages ibériques et autres assemblages contemporains dans le reste de l'Europe. L'absence d'un registre paléocène pour les lézards ibériques renforce l'importance de l'étude des assemblages de l'Éocène ancien car ce sont les seuls disponibles pour effectuer des comparaisons avec les assemblages crétacés, fournissant des informations cruciales sur les changements de composition des faunes de lézards entre le Mésozoïque et le début du Cénozoïque liés à l'évènement d'extinction Crétacé-Paléogène.
Mots-clés : Reptilia ; Squamata ; lézards ; amphisbènes ; Éocène ; péninsule Ibérique
Translator: Antoine Souron
Deutsche Zusammenfassung
Erste früheozäne Eidechsen aus Spanien und eine Studie der kompositorischen Veränderungen zwischen spätmesozoischen und frühkänozoischen iberischen Eidechsen Assemblagen
Es werden zum ersten Mal fossile Eidechsen und Amphisbaenia aus den früheozänen Fundstellen in Spanien, genauer gesagt aus Katalonien (nordöstliche Iberische Halbinsel), beschrieben. Das Material ist fragmentarisch und spärlich, jedoch diagnostisch genug um einen ersten Ansatz zur Zusammensetzung der Eidechsen Assemblagen zu geben. Die folgenden Taxa wurden aufgenommen: Geiseltaliellus und ein zweiter unbestimmter pleurodonter Iguanide; ein Agamide, ähnlich "Tinosaurus"; ein unbestimmter Gekkotane; ein Skinkoide, möglicherweise ein Skink; ein Lacertide, ähnlich Dormaalisaurus; ein unbestimmter Amphisbaenia; ein glyptosauriner Glyptosaurine (cf. Placosaurus); ein unbestimmter Anguine; und zuletzt ein unbestimmter "Necrosaurier." Die untersuchten Fundstellen reichen vom MP8+9 bis zum MP10 und vervollständigen so die bislang einzige bekannte früheozäne Eidechsen-Fundstelle der Iberischen Halbinsel, die portugiesische Fundstelle Silveirinha, die dem MP7 entsprechen. Eine Analyse der Zusammensetzung dieser neuen Assemblagen legt eine große Homogenität über die verschiedenen Level des frühen Eozäns hinweg nahe, ebenso wie zwischen den iberischen und zeitgleichen Assemblagen aus dem Rest von Europa. Das Fehlen eines iberischen paläozänen Nachweises für Eidechsen verstärkt die Untersuchung früheozäner Assemblagen, da diese als einzige mit cretazischen Gemeinschaften vergleichen werden können und wichtige Informationen über die veränderte Zusammensetzung zwischen mesozoischen und frühcretazischen Eidechsen in Bezug zum K/Pg Aussterbeereignis liefern.
Schlüsselwörter: Reptilia; Squamata; Eidechsen; Amphisbaenia; Eozän; Iberische Halbinsel
Translator: Eva Gebauer
Arabic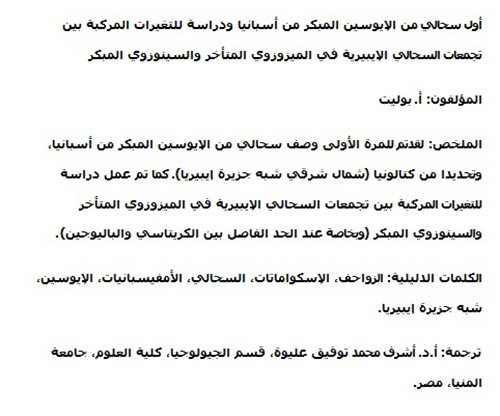 Translator: Ashraf M.T. Elewa