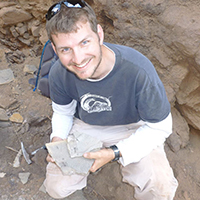 Andrew R. Cuff. Department of Genetics, Evolution and Environment, University College London, Darwin Building, Gower Street, London, WC1E 6BT, United Kingdom; Structure and Motion Lab, Department of Comparative Biomedical Sciences, The Royal Veterinary College, Hawkshead Lane, North Mymms, Hatfield, Herts, AL9 7TA, United Kingdom. This email address is being protected from spambots. You need JavaScript enabled to view it.
Andrew R. Cuff holds a PhD from the University of Bristol and is currently a postdoctoral researcher at The Royal Veterinary College. He works as a biomechanist, looking at locomotion and feeding across a wide range of vertebrates but with particular interest in archosaurs. This research combines modern anatomical studies and dissections with experiments and computer models and simulations to test subject specific and broad evolutionary hypotheses.

Anjali Goswami. Department of Genetics, Evolution and Environment, University College London, Darwin Building, Gower Street, London, WC1E 6BT, United Kingdom. This email address is being protected from spambots. You need JavaScript enabled to view it.
Anjali Goswami is Professor of Palaeobiology at University College London, jointly appointed in the Department of Genetics, Evolution & Environment and the Department of Earth Sciences. She is also a scientific associate of the Natural History Museum, London, and co-director of the London Centre for Ecology and Evolution. She is a vertebrate palaeobiologist, specialising in mammalian macroevolution, evolutionary development, and quantitative approaches to palaeobiology, particularly in using 3-D morphometrics to reconstruct morphological and developmental evolution across large scales.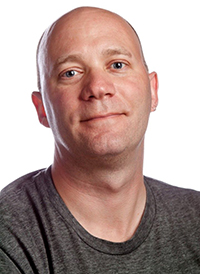 John R. Hutchinson. Structure and Motion Lab, Department of Comparative Biomedical Sciences, The Royal Veterinary College, Hawkshead Lane, North Mymms, Hatfield, Herts, AL9 7TA, United Kingdom; Department of Genetics, Evolution and Environment, University College London, Darwin Building, Gower Street, London, WC1E 6BT, United Kingdom. This email address is being protected from spambots. You need JavaScript enabled to view it.
Dr. John R. Hutchinson is a Professor of Evolutionary Biomechanics at The Royal Veterinary College in the University of London, United Kingdom. His team studies how the musculoskeletal system has evolved to produce major changes in form, function, development and behavior. In particular, they study how body size change require changes in locomotor function and how great transformations in locomotor abilities were achieved. To do this, they integrate data from anatomical dissection and histology, 3D imaging, computer modelling and simulation, biomechanical experiments, phylogenetics and other methods, applied to extinct and extant taxa. A major focus of those methods is on testing the validity of quantitative computational models and the influence of assumptions on the conclusions drawn from them.