A new species of jerboa (Mammalia, Rodentia, Allactaga) from the late Miocene of Ukraine
Plain Language Abstract
A new species of five-toed jerboa rodents – Allactaga fru sp. nov. – from the late Miocene of Ukraine is described in our paper. It differs from other extinct and recent species of this genus in size and tooth morphology. The anterior part of the M1 crown in Allactaga fru sp. nov. is wider than the main portion of the tooth, due to the strong development of anterostyle, anteroloph and anterocone. The labial arm of the posteroloph is well developed. The strongly developed paracone is connected with both the mesocone and mesostyle. The new species is also characterized by its isolated metaconid of m1, as well as the usually separated entoconid and mesostylid. Geological age of remains belonging to Allactaga fru sp. nov. is late Miocene, early Turolian (MN 11). This extinct species is likely to be the most ancient in the evolutionary line of the allactagines. This study provides new data on species diversity of jerboas (Allactagidae) in southeastern Europe during the late Miocene with importance for their past diversity and biogeographical history. The finding of remains belonging to Allactaga in Upper Sarmatian deposits of Ukraine is consistent with climatic aridification in this region during the late Neogene and supports the hypothesis about the dispersal of typical Asian small mammals (and other vertebrates) into Europe at that time.
Resumen en Español
Una nueva especie de jerbo (Mammalia, Rodentia, Allactaga) del Mioceno tardío de Ucrania
Describimos una nueva especie de jerbo Dipodoidea de cinco dedos (Allactaga fru sp. nov.) del Mioceno tardío de Ucrania. Se diferencia de otras especies extintas y recientes de este género en el tamaño y la morfología dental. La parte anterior de la corona M1 en Allactaga fru sp. nov. es más ancha que la porción principal del diente, debido al fuerte desarrollo del anterostilo, anterolofo y anterocono; el borde labial del posterolofo está bien desarrollado; el paracono fuertemente desarrollado está conectado tanto al mesocono como al mesostilo. La nueva especie se caracteriza también por el metacono aislado de m1, así como el entocono y mesostilo normalmente separados. La edad geológica de los restos pertenecientes a Allactaga fru sp. nov. es Mioceno tardío, Turoliense temprano (MN 11). Esta especie extinta es probablemente la más antigua en la línea evolutiva de los Allactaginae. Este estudio proporciona nuevos datos sobre la diversidad de especies de jerbos Allactagidae en el sureste de Europa durante el Mioceno tardío y es importante para la historia biogeográfica. El hallazgo de los restos pertenecientes a Allactaga en los depósitos del Sarmatiense superior de Ucrania es consistente con la aridificación climática en esta región durante el Neógeno tardío y apoya la hipótesis sobre la dispersión de pequeños mamíferos (y algunos otros vertebrados) de Asia a Europa en ese momento.
Palabras clave: Rodentia; Allactagidae; Allactaga; Sistemática; nueva especie; Mioceno tardío; Turoliense; Ucrania
Traducción: Enrique Peñalver (Sociedad Española de Paleontología)
Résumé en Français
Une nouvelle espèce de gerboise (Mammalia, Rodentia, Allactaga) du Miocène récent d'Ukraine
Nous décrivons une nouvelle espèce de gerboise à cinq orteils (Allactaga fru sp. nov.) du Miocène récent d'Ukraine. Elle diffère des autres espèces éteintes et actuelles de ce genre en termes de taille et de morphologie dentaires : la partie antérieure de la couronne de la M1 chez Allactaga fru sp. nov. est plus large que la partie principale de la dent, à cause d'un développement important de l'antérostyle, de l'antérolophe, et de l'antérocône ; le bras labial du postérolophe est bien développé ; le paracône est fortement développé et connecté à la fois au mésocône et au mésostyle. La nouvelle espèce est aussi caractérisée par le métaconide isolé de la m1, ainsi que l'entoconide et le mésostylide qui sont séparés dans la plupart des spécimens. Les restes appartenant à Allactaga fru sp. nov. datent du Miocène récent (Turolien ancien, MN11). Cette espèce éteinte est probablement la plus ancienne de la lignée évolutive des allactaginés. Cette étude fournit de nouvelles données sur la diversité spécifique des gerboises de la famille des allactagidés dans le sud-est de l'Europe pendant le Miocène récent et a d'importantes implications pour leur histoire biogéographique. La découverte de restes appartenant à Allactaga dans des dépôts du Sarmatien supérieur d'Ukraine est cohérente avec une aridification climatique de cette région à la fin du Néogène et soutient l'hypothèse d'une dispersion de petits mammifères (et d'autres vertébrés) d'Asie en Europe à cette période.
Mots-clés : Rodentia ; Allactagidae ; Allactaga ; systématique ; Miocène récent ; Turolien ; Ukraine ; nouvelle espèce
Translator: Antoine Souron
Deutsche Zusammenfassung
Eine neue Jerboa-Art (Mammalia, Rodentia, Allactaga) aus dem späten Miozän der Ukraine
Wir beschreiben eine neue Art fünf-zehiger dipodoider Jerboas (Allactaga fru sp. nov.) aus dem späten Miozän der Ukraine. Sie unterscheidet sich von den anderen ausgestorbenen und rezenten Arten dieser Gattung durch ihre Größe und in der Zahnmorphologie. Der anteriore Teil der M1 Krone bei Allactaga fru sp. nov. ist wegen der starken Ausprägung des Anterostylums, Anterolophus and Anteroconus breiter als der Hauptanteil des Zahns. Der labiale Arm des Posterolophus ist gut entwickelt. Der stark entwickelte Paraconus ist sowohl mit dem Mesoconus als auch mit den Mesostylum verbunden. Die neue Art wird auch durch ein isoliertes Metaconid des m1 charakterisiert, ebenso wie das üblicherweise getrennte Entoconid und Mesostylid. Das geologische Alter von Überresten von Allactaga fru sp. nov. ist das späte Miozän bis frühes Turolium (MN 11). Diese ausgestorbene Art ist höchstwahrscheinlich die älteste in der Evolutionslinie der Allactaginen. Diese Untersuchung liefert neue Daten über die Artenvielfalt allactagider Jerboas in Südosteuropa während des späten Miozäns und ist wichtig für die biogeographische Geschichte. Die Funde von Allactaga in obersarmatischen Ablagerungen der Ukraine sind mit der klimatischen Aridifikation in dieser Region während des späten Neogen konsistent und unterstützen die Hypothese der Verbreitung kleiner Säugetiere (und einiger anderer Wirbeltiere) von Asien nach Europa zu dieser Zeit.
Schlüsselwörter: Rodentia; Allactagidae; Allactaga; Systematik; neue Art; spätes Miozän; Turolium; Ukraine
Translator: Eva Gebauer
Arabic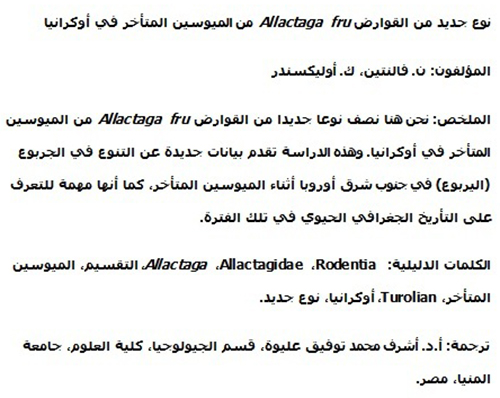 Translator: Ashraf M.T. Elewa