Two pelobatid frogs from the late Miocene of Caucasus (Russia)
Plain Language Abstract
Disarticulated bones of spadefoot toads (family Pelobatidae) are described from the late Cenozoic (late Miocene) of the Volchaya Balka and the Gaverdovsky localities of Russia. Two pelobatid frogs, extant Pelobates and extinct Eopelobates, which rarely occur together, are both found in the Volchaya Balka locality. Among them, Pelobates represents the oldest record of this genus with the pustular cranial sculpture, a characteristic of the Pliocene–Recent species.
Resumen en Español
Dos anuros Pelobatidae del Mioceno tardío del Cáucaso (Rusia)
Se describen los restos desarticulados de Pelobatidae del Mioceno tardío (Turoliense temprano, MN 11) de las localidades deVolchaya Balka y Gaverdovsky (Cáucaso septentrional, Rusia). Los registros de Pelobates y Eopelobates de la localidad de Volchaya Balka corresponden a los primeros registros del Mioceno tardío, y también el registro de coexistencia en una misma área no dudoso, para estos géneros. Los restos de Pelobates descritos se caracterizan por un tipo pustuloso de esculturación craneal, que sólo se conocía previamente en formas desde el Plioceno hasta la actualidad. Este registro documenta que la esculturación pustulosa en Pelobates es al menos tan antigua como del Mioceno tardío, al menos durante la transición Vallesiense-Turoliense (aproximadamente 9-8 millones de años).
Palabras clave: Anura; Eopelobates; Mioceno tardío; Pelobates; Pelobatidae; Rusia
Traducción: Enrique Peñalver (Sociedad Española de Paleontología)
Résumé en Français
Deux grenouilles de la famille des pélobatidés dans le Miocène récent du Caucase (Russie)
Des restes désarticulés de Pelobatidae sont décrits dans le Miocène récent (Turolien ancien, MN 11) des localités de Volchaya Balka et Gaverdovsky (nord du Caucase, Russie). Les occurrences de Pelobates et Eopelobates dans la localité de Volchaya Balka sont les premières occurrences connues pour le Miocène récent et leur dernière co-occurrence certaine. Les restes de Pelobates décrits sont caractérisés par une ornementation crânienne de type pustuleuse, ce qui était connu seulement chez des formes du Pliocène à l'Actuel. Cette occurrence documente l'apparition de l'ornementation pustuleuse chez Pelobates dès le Miocène récent, au plus tard pendant la transition Vallésien-Turolien (environ 9 Ma-8 Ma).
Mots-clés : Anura ; Eopelobates ; Miocène récent ; Pelobates ; Pelobatidae ; Russie
Translator: Antoine Souron
Deutsche Zusammenfassung
Zwei pelobatide Frösche aus dem späten Miozän des Kaukasus (Russland)
Es werden disartikulierte Pelobatidae-Überreste aus dem späten Miozän (frühes Turolium, MN 11) aus der Volchaya Balka und Gaverdovsky Lokalität (nördlicher Kaukasus, Russland) beschrieben. Die Funde von sowohl Pelobates als auch Eopelobates aus der Volchaya Balka Lokalität sind die ersten spätmiozänen und die letzten zweifelsfreien Nachweis ihrer Koexistenz in dieser Region. Die beschriebenen Pelobates-Funde sind durch eine pustulöse Cranialstruktur charakterisiert, die bisher nur bei Formen aus dem Pliozän bis heute bekannt war. Dieser Nachweis dokumentiert das Auftreten einer pustulösen Struktur bei Pelobates bereits im späten Miozän, zumindest aber während der Vallesium-Turolium Transition (ca.9–8 Ma).
Schlüsselwörter: Anura; Eopelobates; spätes Miozän; Pelobates; Pelobatidae; Russland
Translator: Eva Gebauer
Arabic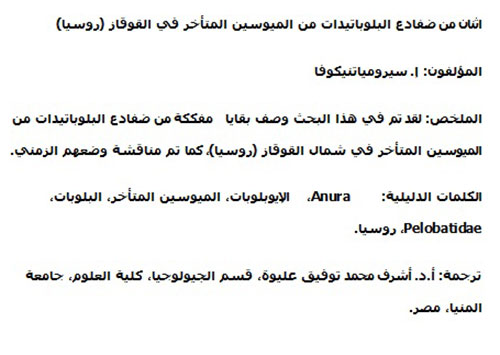 Translator: Ashraf M.T. Elewa