Bessarabian (Tortonian, Late Miocene) fish otoliths from a transitional freshwater-brackish environment of Mykhailivka, Southern Ukraine
Plain Language Abstract
The middle to late Sarmatian s.l. (Tortonian, Late Miocene) Mykhailivka sedimentary section in southern Ukraine is well known for its rich vertebrate finds. This sequence is about 35 m thick and composed of clays and siltstones with minor interbedded limestones and sands and comprises seven transgressive-regressive cycles. Each cycle begins with a thin near-shore marine or lagoonal phase, often carbonate and oolitic in nature, overlain by a succession of riverine and lacustrine freshwater and terrestrial root-bearing beds. We have studied fish otoliths that have been found in two supposedly estuarine sedimentary intervals (Mykhailivka 1), which have also yielded fish bones and teeth that were described earlier (Kovalchuk, 2015). The otolith association of Mykhailivka 1 includes moronid (Morone cf. M. nobilis), sciaenid (Genyonemus? sp.) as well as three gobiid species – Ponticola dorsorostralis, Neogobius bettinae n. sp., and N. rhachis. We describe probably the youngest record of Morone nobilis and the first of this species in the Eastern Paratethys; this fish previously was known only from the North Sea Basin. The presence of Ponticola dorsorostralis indicates connectivity between the freshwater/brackish regions of the Central and Eastern Paratethys during the middle Sarmatian s.l., whereas the presence of Neogobius rhachis confirms the connections of the former Galician Gulf with the lakes of Western Anatolia. All otolith-based species represent euryhaline groups of fishes known today to commonly migrate from marine into brackish waters or are adapted to brackish and freshwater environments.
Resumen en Español
Otolitos de peces del Besarabiense (Tortoniense, Mioceno tardío) de un medio de transición de agua dulce-salobre de Mykhailivka, sur de Ucrania
La sección sedimentaria de Mykhailivka en el sur de Ucrania del Sarmatiense s.l. medio (Besarabiense) al tardío (Khersoniense) es bien conocida por sus ricos hallazgos de vertebrados en ambientes alternantes marinos marginales a estuarinos y lacustres. Aquí describimos los otolitos de peces obtenidos de sedimentos de un ambiente supuestamente estuarino que ya había producido fósiles de huesos y dientes de peces descritos anteriormente. La asociación de otolitos está dominada por tres especies de góbidos, todas relacionadas con la fauna actual endémica de góbidos del área Ponto-Caspio. Se describe aquí una especie: Neogobius bettinae n. sp. Las especies asociadas raras son Morone cf. M. nobilis, hasta ahora solo conocida de la Cuenca del Mar del Norte, y un esciaénido. Todas las especies basadas en otolitos representan grupos eurihalinos de peces que actualmente se sabe que migran comúnmente de aguas marinas a aguas salobres o que están adaptados a ambientes salobres y de agua dulce.
Palabras clave: peces óseos; Besarabiense; Mioceno; Ucrania; Paratetis Oriental; nueva especie
Traducción: Enrique Peñalver (Sociedad Española de Paleontología)
Résumé en Français
Les otolithes de poissons bessarabiens (Tortonien, Miocène récent) d'un environnement de transition eau douce-eau saumâtre de Mykhailivka, sud de l'Ukraine
La séquence sédimentaire de Mykhailivka, au sud de l'Ukraine, s'étend du Sarmatien s. l. moyen (Bessarabien) à récent (Khersonien) et est bien connue pour sa richesse en vertébrés dans des environnements alternants entre des marges marines et des estuaires et des lacs. Nous décrivons dans cet article des otolithes de poissons obtenus dans des sédiments d'un environnement supposé estuarien qui avait déjà livré des os et des dents fossiles de poissons décrits précédemment. L'assemblage d'otolithes est dominé par trois espèces de gobiidés, qui sont toutes apparentées à la faune ponto-caspienne actuelle de gobiidés. Une nouvelle espèce – Neogobius bettinae n. sp. – est décrite ici. Les rares espèces associées sont Morone cf. nobilis, jusqu'à présent connue seulement dans le bassin de la mer du Nord, et un sciaenidé. Toutes les espèces décrites d'après des otolithes représentent des groupes de poissons euryhalins qui sont connus aujourd'hui pour fréquemment migrer des eaux marines vers les eaux saumâtres, ou qui sont adaptés à des environnements d'eau douce et d'eau saumâtre.
Mots-clés : poissons osseux ; Bessarabien ; Miocène ; Ukraine ; Paratéthys orientale ; nouvelle espèce
Translator: Antoine Souron
Deutsche Zusammenfassung
Bessarabische Fisch-Otolithen (Torton, Spätmiozän) aus einem Süßwasser-Brackwasser-Übergangsgebiet von Mykhailivka, Südukraine
Der Mykhailivka-Sedimentabschnitt in der südlichen Ukraine aus dem mittleren (Bessarabium) bis späten (Chersonium) Sarmatium s.l. ist bekannt für seine reichen Wirbeltierfunde in abwechselnd marginalen marinen, estuarinen und lakustrinen Umgebungen. Hier beschreiben wir Fisch-Otolithen, die aus Sedimenten einer vermutlich ästuarinen Umgebung stammen, in der bereits zuvor beschriebene fossile Fischknochen und Zähne gefunden wurden. Die Otolithen werden von drei Gobiidenarten dominiert, die alle mit der endemischen Gobiidenfauna des Ponto-Kaspischen Meeres verwandt sind. Eine Art - Neogobius bettinae n. sp. - wird hier beschrieben. Seltene vergesellschaftete Arten sind Morone cf. nobilis, bisher nur aus dem Nordseebecken bekannt, und ein Sciaenide. Alle Otolithen repräsentieren euryhaline Fischarten, von denen heute bekannt ist, dass sie häufig von Meeres- in Brackwasser wandern oder an Brack- und Süßwasserumgebungen angepasst sind.
Schlüsselwörter: Knochenfische; Bessarabium; Miozän; Ukraine; Östliche Paratethys; neue Art
Bessarabian (Tortonian, Late Miocene) fish otoliths from a transitional freshwater-brackish environment of Mykhailivka, Southern Ukraine
Translator: Eva Gebauer
Arabic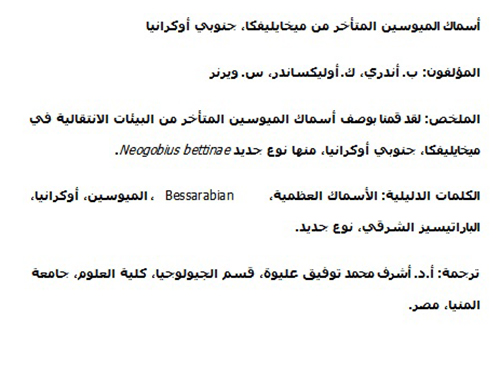 Translator: Ashraf M.T. Elewa