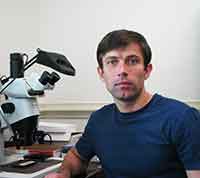 Andriy Bratishko. Faculty of Natural Sciences, Luhansk Taras Shevchenko National University, 1 Gogolya Sqr., Starobilsk, 92703, Luhansk region, Ukraine; BugWare, Inc., 1615 Village Square Blvd, ste. 8, Tallahassee, FL 32309, U.S.A. This email address is being protected from spambots. You need JavaScript enabled to view it.
Dr Andriy Bratishko, of Starobilsk, Ukraine, is a researcher of Luhansk Taras Shevchenko National University and micropaleontologist of BugWare Inc., Tallahassee, Fl, U.S.A. Scientific interests are related to systematics, palaeoecology, palaeogeography, biostratigraphy, biodiversity of Cenozoic fish faunas based on fossil otoliths. Current research is also focused on foraminiferal biostratigraphy of Cenozoic deposits.

Oleksandr Kovalchuk. Department of Paleontology, National Museum of Natural History of the National Academy of Sciences of Ukraine, 15 Bogdan Khmelnytsky str., Kyiv 01030, Ukraine. This email address is being protected from spambots. You need JavaScript enabled to view it.
Dr Oleksandr Kovalchuk, of Kyiv, Ukraine, is a researcher and curator of Cenozoic fish paleontology in the Department of Palaeontology, National Museum of Natural History of the National Academy of Sciences of Ukraine, specialist in the field of palaeoichthyology. Scientific interests are related to morphology, taxonomy, historical faunistics and palaeoecology of Neogene and Anthropogene freshwater fishes of southeastern Europe.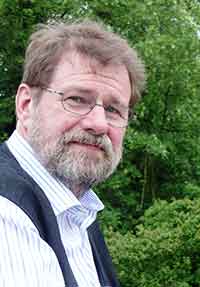 Werner Scwarzhans. Zoological Museum, Natural History Museum of Denmark, 15 Universitetsparken, Copenhagen 2100, Denmark. This email address is being protected from spambots. You need JavaScript enabled to view it.
Dr Werner Schwarzhans, of Hamburg, Germany, is an emeritus researcher with the Natural History Museum of Denmark, Copenhagen. He has worked as a geologist and has studdied fossil otoliths and recent fish and otoliths for more than 40 years. In 85 scientific publications he has described more than 600 mostly otolith-based fossil fish and about 120 recent fish species. Recent work focuses on regional fossil fish faunas on a worldwide scale, alligning skeletal and otolith-based fossil fish taxa through finds of otoliths in situ and systematic reviews of certain groups of extant fishes.