The first fossil insect from the deep-water marine Early Miocene of Zillerleite, Germany (Diptera: Bibionidae)
Plain Language Abstract
Fossil insects are generally found in outcrops of terrestrial origin and more rarely in near-shore marine palaeoenvironments. Discoveries of insects in deep-water marine deposits are extremely rare. We report the discovery of the first insect, a fly, in the deep-water deposit of Zillerleite in Bavaria. Such discoveries can be informative of the proximity of the coasts or of ancient routes of migrations of insects.
Resumen en Español
Primer insecto fósil en rocas marinas profundas del Mioceno temprano de Zillerleite, Alemania (Diptera: Bibionidae)
Los insectos fósiles no se encuentran generalmente en los afloramientos marinos, con la excepción de los ricos afloramientos del Jurásico temprano del norte de Europa, del Jurásico superior de Alemania y del Paleógeno temprano de Dinamarca. En estos depósitos, la aparición de insectos fósiles está aparentemente relacionada con paleoambientes cercanos a la costa, frecuentemente lagunares. Presentamos el hallazgo inusual de un díptero bibiónido del Mioceno Temprano de la Molasa Marina Superior de Zillerleite (Baviera, Alemania), que representa el primer insecto fósil conocido de este afloramiento. Pertenece al género Penthetria y se encuentra entre los raros ejemplos de insectos fósiles registrados en depósitos marinos de aguas profundas.
Palabras clave: Insecta; Bibionidae; afloramientos marinos; Mioceno; Aquitaniense; Alemania
Traducción: Enrique Peñalver (Sociedad Española de Paleontología) or Diana Elizabeth Fernández
Résumé en Français
Le premier insecte fossile des dépôts marins profonds du Miocène inférieur de Zillerleite, Allemagne (Diptera: Bibionidae)
Les insectes fossiles sont en général absents dans les gisements d'origine marine, avec les cas exceptionnels des riches sites du Jurassique inférieur d'Europe du Nord, du Jurassique supérieur d'Allemagne et du Paléogène du Danemark. Dans ces dépôts, les insectes fossiles sont associés à des paléoenvironnements côtiers, souvent de lagons. Nous signalons la découverte exceptionnelle d'un Diptère Bibionidae des niveaux de molasses marine du Miocène inférieur de Zillerleite (Bavière, Allemagne), qui représente le premier insecte fossile connu de ce gisement. Il appartient au genre Penthetria et fait partie des rares cas d'insectes fossiles collectés dans des dépôts marin profonds.
Mots clefs : Insecta; Bibionidae; dépôts marins; Miocène; Aquitanien; Allemagne
Translator: Author
Deutsche Zusammenfassung
Das erste fossile Insekt aus der Tiefseemarine des frühen Miozäns von Zillerleite, Deutschland (Diptera: Bibionidae)
Fossile Insekten werden normalerweise nicht in marinen Lagerstätten gefunden mit Ausnahme der reichen Fundstellen des frühen Jura aus Nordeuropa, des späten Jura aus Deutschland und des Frühen Paläogens aus Dänemark. Hier scheint das Vorkommen der Insektenfossilien an küstennahe, häufig lagunäre Fundstellen gebunden zu sein. In dieser Arbeit weisen wir eine Haarmücke (Bibionidae) der Frühen Miozänen Oberen Meeresmolasse von Zillerleite (Bayern, Deutschland) nach, die den ersten fossilen Insektenfund für diese Fundstätte repräsentiert. Das Fossil gehört zur Gattung Penthetria und ist ein seltenes Beispiel für Insektenfossilien aus der Tiefseemarine.
Schlüsselwörter: Insecta; Bibionidae; marine Lagerstätten; Miozän; Aquitanium; Deutschland
Translator: Author
Arabic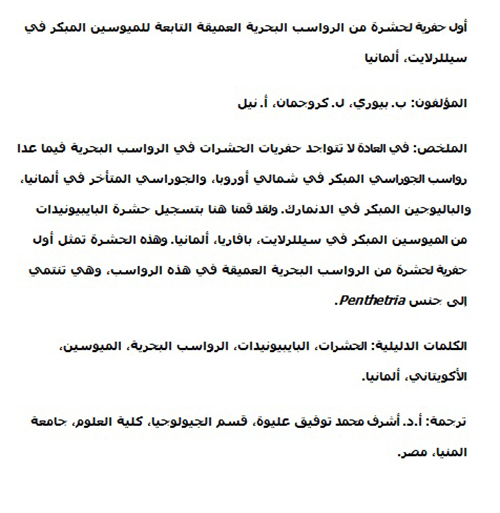 Translator: Ashraf M.T. Elewa