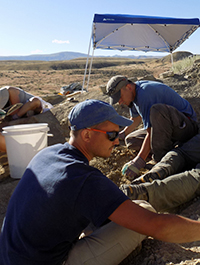 Alexander K. Hastings
Assistant Curator of Paleontology
Virginia Museum of Natural History
21 Starling Avenue
Martinsville, Virginia 24112 USA

Dr. Alex Hastings has been the curator for the paleontology collection at the Virginia Museum of Natural History since 2015 and is currently involved in all aspects of paleontology for the state of Virginia as well as his background in reptilian fossil evolution. Hastings completed his Ph.D. at the University of Florida, with a dissertation on fossil crocodiles from Colombia in South America, dating back to the Paleocene (58–60 million years ago). After this, he taught at Georgia Southern University and completed a postdoctoral fellowship at Martin Luther University in Halle, Germany.