Alfredo A. Carlini. Lab. Morfología Evolutiva y Desarrollo (MORPHOS), División Paleontología de Vertebrados, Museo de La Plata, Facultad de Ciencias Naturales y Museo, Universidad Nacional de La Plata, Paseo del Bosque s/n, B1900FWA La Plata, Argentina and CONICET, Consejo Nacional de Investigaciones Científicas y Técnicas, Argentina This email address is being protected from spambots. You need JavaScript enabled to view it.
Alfredo Carlini investigates mammalian evolution in the Cenozoic of South America; he is based at the Museo de La Plata and teaches comparative anatomy at the University.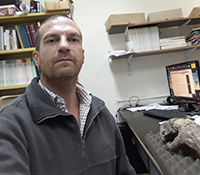 Diego Brandoni. CONICET, Consejo Nacional de Investigaciones Científicas y Técnicas, Argentina and Laboratorio de Paleontología de Vertebrados, Centro de Investigaciones Científicas y Transferencia de Tecnología a la Producción (CICYTTP-CONICET), Materi y España, E3105BWA Diamante, Entre Ríos, Argentina, This email address is being protected from spambots. You need JavaScript enabled to view it.
Diego Brandoni conducts research on fossil xenarthra from the Neogene of South America.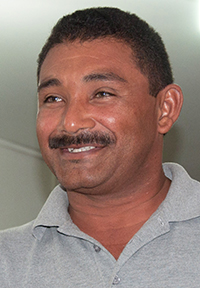 Rodolfo Sánchez. Museo Paleontológico de la Alcaldia de Urumaco, Falcon State, Venezuela. This email address is being protected from spambots. You need JavaScript enabled to view it.
Rodolfo is a geologist who has studied fossiliferous deposits in the Falcón Basin for more than 30 years. A native from Urumaco, he has been much involved in the preservation and preparation of the major discoveries in the area, including the collections and exhibits at the local Museum. He has a long-term collaboration with the University of Zurich and the Smithsonian Tropical Research Institute.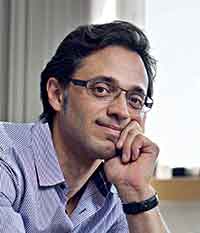 Marcelo R. Sánchez-Villagra. Paläontologisches Institut und Museum, Universität Zürich, Karl-Schmid Strasse 4, CH-8006, Zürich, Switzerland. This email address is being protected from spambots. You need JavaScript enabled to view it.
Marcelo is Associate Professor of Palaeobiology at the University of Zurich, where he founded the 'Evolutionary Morphology and Palaeobiology of Vertebrates' research group . He has investigated the Cenozoic fossil record of Venezuela since his studies of Biology in Caracas at the Universidad Simón Bolívar.