The biogeography and ecology of the Cretaceous non-avian dinosaurs of Appalachia
Plain Language Abstract
Dinosaurs from western North America, such as Tyrannosaurus rex, are generally well-known to the world. However, the both public and scientific community are not as well-acquainted with eastern forms, the latter case due to the rarity of dinosaur bones from eastern North America because of modern human development and a variety of other factors. This paper looks more closely at the eastern North American dinosaurs of the Cretaceous period (approximately 145-66 million years ago), reviewing what remains we have of them and what such fossils can tell us about the ecology and distribution of dinosaurs in North America during the Cretaceous.
During the Late Cretaceous, when the majority of known species of eastern North American dinosaurs existed, the continent of North America was split by a shallow sea called the Western Interior Seaway. This created a landmass in the west called Laramidia, where the ancestors of Tyrannosaurus, Triceratops, and Ankylosaurus roamed, and one in the east called Appalachia. The creation of this seaway isolated Appalachia from western North America and Eurasia, whereas the Atlantic isolated it from the landmasses of the southern hemisphere and Europe. Thus, the distribution of certain groups of dinosaurs on Appalachia in the larger context of dinosaur distribution during the Cretaceous is an interesting topic to investigate. On the better-documented Laramidia, a phenomenon known as faunal provincialism, where ecological communities are restricted to certain areas, has been suspected and heavily researched. On Appalachia, however, the presence of this phenomenon has been investigated little, and so a detailed look at that aspect of Appalachian dinosaurs is also warranted. The results of the analyses in this paper suggest that Appalachian and Laramidian faunas became distinct from each other midway into the Late Cretaceous and that Appalachian dinosaur faunas may have experienced faunal provincialism. Additionally, this paper contains a review of the various dinosaur faunas of the eastern United States, with remarks on the ecology of both herbivorous and predatory species.
Resumen en Español
La biogeografía y la ecología de los dinosaurios no avianos cretácicos de Appalachia
Durante el Cenomaniense al Maastrichtiense, en el Cretácico superior, se produjo la inundación del interior de América del Norte por la Vía Marítima Occidental Interior ("Western Interior Seaway"), lo que estableció la masa continental oriental de Appalachia y la masa continental occidental de Laramidia. Aunque las faunas de dinosaurios de Appalachia son poco conocidas, estas son importantes para comprender la paleobiogeografía y la ecología de los dinosaurio cretácicos. Para poder conocer mejor la vicarianza de las faunas de dinosaurios norteamericanas orientales y occidentales durante el Cretácico, las primeras se compararon con las segundas desde el Aptiense al Maastrichtiense del Cretácico Superior usando varios índices de similitud. Los datos recopilados de los índices de similitud biogeográfica sugieren que una fauna de dinosaurios norteamericanos casi completamente homogénea que existía durante el Cretácico Inferior experimentó una vicarianza significativa. Se diferenció en una fauna de Laramidia constituida por ceratópsidos, paquicefalosáuridos, saurolófidos, lambeosaurinos, anquilosáuridos, therizinosáuridos y troodóntidos y en una fauna de Appalachia caracterizada por la ausencia de los grupos antes mencionados y por la presencia de hadrosauroideos no hadrosáuridos, hadrosauroideos masivos, hadrosáuridos basales, leptoceratopsianos, tiranosaurios intermedios y nodosáuridos entre el Cenomaniense y el Campaniense. Estas faunas posteriormente, durante el Maastrichtiense, con la desaparición de la Vía Marítima Occidental Interior, experimentaron una dispersión limitada. También se investigan y discuten aquí el provincialismo y la ecología de los dinosaurios de Appalachia. Aunque el registro fósil de dinosaurios es pobre para algunos periodos temporales del Cretácico en toda América del Norte y especialmente en la parte oriental del continente, los análisis que se presentan en este artículo permiten una más amplia visión de la biogeografía y ecología de los dinosaurios en Appalachia y en América del Norte en general a través del tiempo.
Palabras clave: paleobiogeografía; paleoecología; Appalachia; Cretácico; Dinosauria
Traducción: Enrique Peñalver (Sociedad Española de Paleontología)
Résumé en Français
La biogéographie et l'écologie des dinosaures non-aviens du Crétacé de l'Appalachie
La période allant du Cénomanien au Maastrichtien au Crétacé récent a vu la transgression de la mer intérieure nord-américaine, ce qui a créé les masses continentales de l'Appalachie à l'est et de la Laramidie à l'ouest. Bien que les faunes de dinosaures de l'Appalachie soient mal connues, elles sont néanmoins importantes pour comprendre la paléobiogéographie et l'écologie des dinosaures au Crétacé. Afin de mieux identifier la vicariance des faunes orientales et occidentales de dinosaures d'Amérique du Nord pendant la durée du Crétacé, les faunes orientales et occidentales ont été comparées des stades de l'Aptien au Maastrichtien en utilisant plusieurs indices de similarité. Les données collectées à partir des indices de similarité suggèrent qu'une faune de dinosaures nord-américains quasi homogène au Crétacé ancien a subi une vicariance importante, se séparant en une faune laramidienne caractérisée par la présence de cératopsidés, pachycéphalosauridés, saurolophidés, lambéosaurinés, ankylosauridés, thérizinosauridés, et troodontidés, et une faune appalachienne caractérisée par une absence de ces groupes et une présence d'hadrosauroïdes non hadrosauridés, hadrosauroïdes de très grande taille, hadrosauridés basaux, leptoceratopsiens, tyrannosauroïdes de grade « intermédiaire », et nodosauridés entre le Cénomanien et le Campanien, avec ces deux faunes montrant par la suite des dispersions limitées après la disparition de la mer intérieure nord-américaine pendant le Maastrichtien. Le provincialisme et l'écologie des dinosaures sont aussi examinés et discutés. Bien que le registre fossile des dinosaures soit pauvre dans certaines parties du Crétacé en Amérique du Nord, et en particulier dans la partie orientale du continent, les analyses effectuées dans cet article permettent néanmoins une meilleure vision de la biogéographie et de l'écologie des dinosaures au cours du temps en Appalachie et plus généralement en Amérique du Nord.
Mots-clés : paléobiogéographie ; paléoécologie ; Appalachie ; Crétacé ; Dinosauria
Translator: Antoine Souron
Deutsche Zusammenfassung
Biogeographie und Ökologie der kreidezeitlichen nichtvogelartigen Dinosaurier von Appalachia
In der späten Kreide wurde vom Cenoman bis ins Maastricht das Landesinnere von Nordamerika durch den Western Interior Seaway geflutet und es entstand die östliche Landmasse von Appalachia und die westliche Landmasse von Laramidia. Obwohl nur wenig über die Dinosaurierfaunen von Appalachia bekannt ist, sind sie gleichwohl wichtig für das Verständnis der Paläobiogeographie und Ökologie kreidezeitlicher Dinosaurier. Um die Vicarianz westlicher und östlicher nordamerikanischer Dinosaurierfaunen besser nachvollziehen zu können, wurden erstere mit letzteren vom Apt bis ins Maastricht mittels verschiedener Ähnlichkeitsindizes miteinander verglichen. Daten aus biogeographischen Ähnlichkeitsindizes legen nahe, dass eine beinahe homogene nordamerikanische Dinosaurierfauna aus der frühen Kreide signifikante Vicarianz erlebte und sich in eine laramidische Fauna aufsplitterte, mit Ceratopsiden, Pachycephalosauriden, Saurolophiden, Lambeosaurinen, Ankylosauriden, Therizinosauriden und Troodontiden und in eine appalachische Fauna, der die zuvor genannten Gruppen fehlt und die charakterisiert war durch das Vorkommen von nicht-hadrosauriden Hadrosauroiden, massiven Hadrosauroiden, basalen Hadrosauriden, Leptoceratopsiern, "intermediären" Tyrannosauroiden und Nodosauriden zwischen dem Cenoman und Campan. Diese beiden Faunen machten nach dem Rückzug des Western Interior Seaway aus dem Landesinneren von Amerika während des Maastricht eine begrenzte Verbreitung durch. Provinzialismus und Ökologie der Dinosaurier in Appalachia werden ebenfalls untersucht und diskutiert. Obwohl der Fossilnachweis für Dinosaurier in Teilen der Kreide in Nordamerika und besonders im östlichen Teil des Kontinents spärlich ist, ermöglichen die Analysen hier trotzdem einen größeren Einblick in die Biogeographie und Ökologie der Dinosaurier in Appalachia und Nordamerika im Allgemeinen während dieser Zeit.
Schlüsselwörter: Paläobiogeographie; Paläoökologie; Appalachia; Kreide; Dinosauria
Translator: Eva Gebauer
Arabic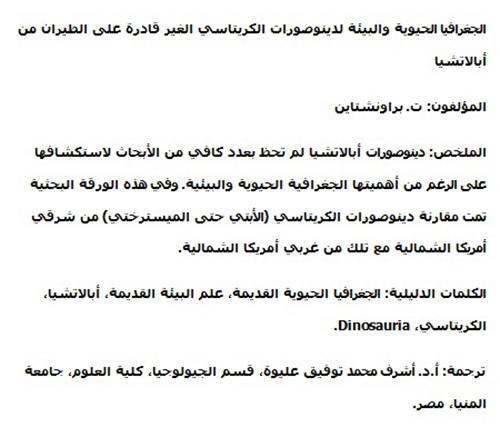 Translator: Ashraf M.T. Elewa