Revision of Oligo-Miocene kangaroos, Ganawamaya and Nambaroo (Marsupialia: Macropodiformes, Balbaridae)
Plain Language Abstract
In order to understand the temporal range, evolution, and extinction of Australian fauna it is essential to have a strong understanding of how many species are represented for a given group in the fossil record. One group that requires further study is Balbaridae, an extinct family of kangaroos with large canines, which notably includes the species Balbaroo fangaroo. In this study, we report that species diversity of balbarids is lower than previously suggested at Riversleigh. Although 12 species and two genera of balbarids had been proposed (eight of Nambaroo and four of Ganawamaya), we suggest that the specimens involved represent four species all of which belong to Ganawamaya. We also describe new material for each of these species including a partial cranium for G. acris and upper dentition of G. aediculis. This significantly reduces the number of balbarid species recorded prior to their extinction.
Resumen en Español
Revisión de canguros del Oligo-Mioceno, Ganawamaya y Nambaroo (Marsupialia: Macropodiformes, Balbaridae)
Se revisa el estatus taxonómico a nivel de género y especie de los especímenes de canguros fósiles atribuidos a Nambaroo y Ganawamaya de la Riversleigh's World Heritage Area, Australia, y se describe nuevo material. Los resultados indican que las 12 especies propuestas anteriormente (ocho de Nambaroo y cuatro de Ganawamaya) representan cuatro especies de un solo género (Ganawamaya). Los estudios previos distinguieron las especies del género Ganawamaya de las del género Nambaroo por carecer de un protostilo en el primer molar inferior. Sin embargo, nuestros análisis indican que la aparente presencia/ausencia de un protostilo está relacionada con el grado de desgaste dental, el cual está totalmente gastado en los individuos más viejos. Normalmente, los especímenes de Riversleigh sin este desgaste se atribuían anteriormente a Nambaroo, mientras que los especímenes con el desgaste se atribuían con mayor frecuencia a Ganawamaya. Con los resultados de análisis filogenéticos, asignamos las especies de Riversleigh N. couperi y N. gillespieae al género Ganawamaya. Se han revisado las diagnosis de ambos géneros. También asignamos los especímenes no descritos de los yacimientos Ngapakaldi Quarry y Leaf Locality, en el sur de Australia, a Gan. couperi comb. nov. y Gan. acris, respectivamente, y describimos nuevo material de Gan. acris y Gan. aediculis.
Palabras clave: Macropodiformes; Riversleigh; taxonomía; marsupiales; filogenia
Traducción: Enrique Peñalver (Sociedad Española de Paleontología)
Résumé en Français
Révision des kangourous oligo-miocènes Ganawamaya et Nambaroo (Marsupialia : Macropodiformes : Balbaridae)
Les statuts génériques et spécifiques des spécimens de kangourous fossiles attribués à Nambaroo et Ganawamaya de la « Riversleigh World Heritage Area », Australie, sont révisés et du nouveau matériel est décrit. Les résultats indiquent que les 12 espèces proposées précédemment (huit de Nambaroo et quatre de Ganawamaya) représentent quatre espèces d'un seul genre (Ganawamaya). Les précédentes études distinguaient les espèces de Ganawamaya de celles de Nambaroo par une absence de protostylide sur la première molaire inférieure. Cependant, nos analyses indiquent que la présence/absence du protostylide est liée au degré d'usure dentaire, étant totalement usé chez les individus âgés. Les spécimens non usés de Riversleigh étaient précédemment typiquement attribués à Nambaroo alors que les spécimens usés étaient généralement attribués à Ganawamaya. En s'appuyant sur des analyses phylogénétiques, nous attribuons les spécimens de N. couperi et N. gillespieae de Riversleigh à Ganawamaya. La diagnose des deux genres est révisée. Nous attribuons également des spécimens non décrits de la Carrière Ngapakaldi et de la Localité Leaf, Australie du Sud, à Gan. couperi comb. nov. et Gan. acris, respectivement, et nous décrivons du nouveau materiel de Gan. acris et Gan. aediculis.
Mots-clés : Macropodiformes ; Riversleigh ; taxinomie ; marsupiaux ; phylogénie
Translator: Antoine Souron
Deutsche Zusammenfassung
Revision der oligo-miozänen Kängurus Ganawamaya und Nambaroo (Marsupialia: Macropodiformes, Balbaridae)

Es wird der Gattung-und Artstatus fossiler Kängurus, die den Gattungen Nambaroo und Ganawamaya aus der Riversleigh Naturwelterbestätte von Australien zugerechnet werden, überarbeitet und neues Material beschrieben. Die Ergebnisse weisen darauf hin, dass die bisherigen vorgeschlagenen 12 Arten (acht von Nambaroo und vier von Ganawamaya) vier Arten einer einzigen Gattung (Ganawamaya) repräsentieren. Vorherige Studien unterschieden die Arten von Ganawamaya von Nambaroo durch das Fehlen eines Protostylids im unteren ersten Molaren. Unsere Analyse deutet darauf hin, dass das scheinbare Vorhandensein/Fehlen des Protostylids mit dem Grad der Abnutzung zusammenhängt und bei älteren Individuen komplett abgenutzt ist. Nicht abgenutzte Stücke aus Riversleigh wurden bisher typischerweise Nambaroo zugeschrieben, während abgenutzte Stücke meistens Ganawamaya zugeschrieben wurden. Unterstützt durch phylogenetische Analysen ordnen wir Riversleigh's N. couperi und N. gillespieae der Gattung Ganawamaya zu. Die Diagnose beider Gattungen wird überarbeitet. Außerdem weisen wir unbeschriebene Stücke aus dem Ngapakaldi Steinbruch und der Leaf Lokalität von South Australia Gan. couperi comb. nov. bzw. Gan. acris zu und beschreiben neues Material von Gan. acris und Gan. aediculis.
Schlüsselwörter: Macropodiformes; Riversleigh; Taxonomie; Beuteltiere; Phylogenie
Translator: Eva Gebauer
Arabic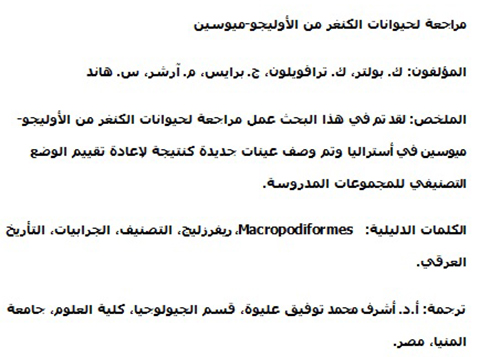 Translator: Ashraf M.T. Elewa