The early Pleistocene whale-fall community of Bargiano (Umbria, Central Italy): Paleoecological insights from benthic foraminifera and brachyuran crabs
Plain Language Abstract
When a whale carcass falls to the sea floor, it provides food for a large variety of organisms, and an unusual temporary ecosystem is established around the site of feeding and decomposition. A number of studies of both fossil and modern-day whale falls are reported in the research literature, and the organisms that have been associated with whale falls include bone-eating worms and snails, various grazers on sulphur bacteria, and typical mollusk and serpulid assemblages. Although benthic foraminifera and decapods have been documented from modern-day, deep-water whale fall events (WFE), little information exists regarding their presence or absence in shallow-water fossil WFEs. The deposits of the Bargiano site (early Pleistocene of southwestern Umbria, central Italy) are already known for the first report of Ambergrisichnus alleronae and associated sperm-whale cololites. The site preserves several fossil WFEs and provides an opportunity to describe new associations of benthic foraminifera and decapod fauna with those events.
Between 2015 and 2016, new paleontological expeditions at the Bargiano site led to the discovery of a benthic infaunal foraminifer community in a paleoenvironment rich in organic matter derived from the decaying carcass of a whale. In addition, several crab specimens, positioned between or adjacent to the bones of a baleen whale skeleton, were recovered during paleontological excavation. Foraminifers and crabs are only the first two groups studied in detail among the wide range of organisms (which included mollusks, echinoids, sharks, fish, and other species) that occupied this specialized biocenosis, but analyses completed to date make it possible to describe the paleoenvironment that developed in association with these fossil whale-fall events.
Resumen en Español
La comunidad en cadáveres de ballena de Bargiano (Umbría, Italia Central) del Pleistoceno temprano: implicaciones paleoecológicas de los foraminíferos bentónicos y los cangrejos braquiuros
Se presentan nuevos datos sobre las comunidades de foraminíferos bentónicos y decápodos asociados con eventos de cadáveres de ballenas (WFEs = whale-fall events) en un entorno marino relativamente poco profundo, por primera vez para el Pleistoceno temprano de Bargiano (suroeste de Umbría, Italia). La paleoprofundidad inferida de estos WFEs no es mayor a 100-150 m, a partir de datos estratigráficos generales, y ocurrieron durante un período estimado de aproximadamente 50.000 años. Las asociaciones de foraminíferos relacionadas con estos WFEs tienen un número bajo de taxones planctónicos y bentónicos, y predominan seis especies bentónicas: las especies infaunales poco profundas Bigenerina nodosaria, Bannerella gibbosa, Marginulinopsis costata y Vaginulina cf. V. striatissima, junto con las especies epifaunales Lenticulina calcar y Siphotextularia concava. Debido a que estas especies oportunistas responden a condiciones favorables a corto plazo aumentando su número y manteniendo poblaciones estables, la presencia de un gran número de individuos de estas especies en asociación con tres WFEs reconocidos constituye una evidencia de que un ambiente rico en nutrientes favoreció su proliferación. La presencia conjunta de taxones de foraminíferos bentónicos no citados previamente (ahora observados en tres WFEs), junto con la presencia de las especies de cangrejos Albaidaplax ispalensis (Goneplacidae) y Chlinocephalus demissifrons (Euryplacidae) (en al menos un WFE), ofrece nuevos datos sobre las paleocomunidades marinas de poca profundidad asociadas a cadáveres de ballena.
Palabras clave: comunidades bentónicas; Decapoda; Eventos de cadáveres de ballena; Paleoecología; Calabrés; Mar Paleo-Mediterráneo
Traducción: Enrique Peñalver (Sociedad Española de Paleontología)
Résumé en Français
Implications paléoécologiques des foraminifères benthiques et des crabes brachyoures des communautés d'épaves de baleines du Pléistocène ancien de Bargiano (Ombrie, Italie centrale)
Des nouvelles données sur les communautés de foraminifères benthiques et de décapodes associées avec des épaves de baleines dans des environnements de mer relativement peu profonde sont signalées ici pour la première fois dans le Pléistocène ancien de Bargiano (sud-ouest de l'Ombrie, Italie). La paléoprofondeur déduite pour ces épaves de baleines n'est pas plus importante que 100-150 m et, sur la base des données stratigraphiques plus générales, ces évènements ont eu lieu sur une période estimée d'environ 50000 ans. Les assemblages de foraminifères associés avec ces épaves de baleines sont pauvres en taxons planctoniques et benthiques, et six espèces benthiques dominent : les espèces endofauniques d'eau peu profonde Bigenerina nodosaria, Bannerella gibbosa, Marginulinopsis costata, et Vaginulina cf. V. striatissima, et les espèces épifauniques Lenticulina calcar et Siphotextularia concava. Comme ces espèces opportunistes répondent aux conditions favorables de courte durée en augmentant leurs effectifs et en maintenant des populations stables, la présence d'un nombre élevé d'individus de ces espèces en association avec les trois épaves de baleines reconnues indique qu'un environnement riche en nutriments a favorisé leur prolifération. L'occurrence non signalée précédemment de taxons de foraminifères benthiques (sur les trois épaves de baleines) et la présence (sur au moins une épave de baleine) des espèces de crabes Albaidaplax ispalensis (Goneplacidae) et Chlinocephalus demissifrons (Euryplacidae) offrent un nouvel aperçu sur les communautés fossiles d'épaves de baleines dans les mers peu profondes.
Mots-clés : communautés benthiques ; Decapoda ; épaves de baleines ; paléoécologie ; Calabrien ; paléo-mer Méditerrannée
Translator: Antoine Souron
Deutsche Zusammenfassung
Die frühpleistozäne Whale-Fall Gemeinschaft von Bargiano (Umbrien, Zentralitalien): paläoökologische Einblicke durch benthische Foraminiferen und echte Krabben
Es wird hier zum ersten Mal über neue Erkenntnisse zu Gemeinschaften von benthischen Foraminiferen und Dekapoden aus dem frühen Pleistozän von Bargiano (südwestliches Umbrien, Italien) berichtet, die sich auf Whale-Fall Events (WFE) im Flachwasserbereich beziehen. Die angenommene Paläotiefe dieser WFEs ist nicht tiefer als 100 bis 150 m und sie fanden, nach allgemeinen stratigrafischen Daten, über einen Zeitraum von 50 000 Jahren statt. Die mit diesen WFEs assoziierten Foraminiferen Assemblagen weisen eine geringe Anzahl planktonischer und benthischer Taxa auf, wovon sechs benthische Taxa dominieren: die infaunalen Flachwasserspezies Bigenerina nodosaria, Bannerella gibbosa, Marginulinopsis costata und Vaginulina cf. V. striatissima, zusammen mit den epifaunalen Arten Lenticulina calcar und Siphotextularia concava. Da diese opportunistischen Arten auf kurzfristige günstige Bedingungen mit einer steigenden Anzahl und stabilen Populationen reagieren, liefern diese hohen Individuenzahlen dieser Art zusammen mit drei erkennbaren WFEs den Nachweis, dass ihr Wachstum durch eine sauerstoffreiche Umgebung gefördert wird. Das Auftreten bisher nicht berichteter benthischen Foraminiferen-Taxa (bei allen drei WFEs) und das Vorhandensein der Krabbenarten Albaidaplax ispalensis (Goneplacidae) und Chlinocephalus demissifrons (Euryplacidae) (im letzten WFE), bieten neue Einblicke in fossile Whale-Fall Gemeinschaften in Flachwassergebieten.
Schlüsselwörter: Benthische Gemeinschaften; Decapoda; Whale-Fall Event; Paläoökologie; kalabrisch; Paläo-Mittelmeer
Translator: Eva Gebauer
Arabic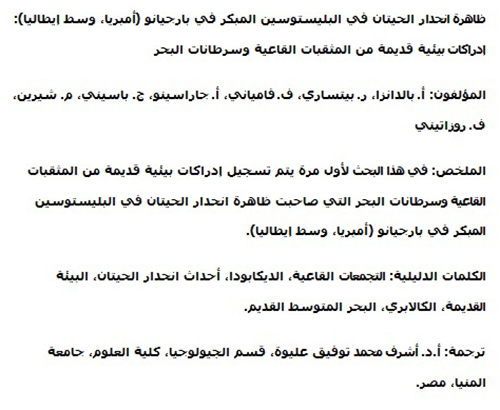 Translator: Ashraf M.T. Elewa