New proboscidean fossils from Middle Siwaliks of Haritalyangar area, Himachal Pradesh, India
Plain Language Abstract
The Middle Siwalik Hills of Indo-Pakistan regions are famous for the Sivapithecus and Indopithecus hominoids, which are associated with a rich palaeodiversity of the proboscidean elephants, useful as palaeoecological and bichronological markers. Proboscideans from the famous hominoid area of Haritalyangar area in Northwest India are, however sparingly reported. Present study therefore makes a significant contribution to the late Miocene proboscideans by reporting a number of rare dental fossil remains from many hitherto unknown localities exposed in the east of Haritalyangar mapped for the first time and reported here. These have been grouped under "Upper Alternation" = Dhok Pathan Formation. The present study is the major attempt on the Upper Alternations to retrieve a number of mammalian fossils of which several primitive elephant genera and species are reported here, namely, two types of Stegolophodon (S. sp. and S. cf. stegodontoides), a Choerolophodon (C. corrugatus), a Stegodon and a gomphotheriid or amebelodontid. Present finding corroborates with a very recent study suggesting the earliest appearance of Stegodon in the later Middle Siwaliks. This reveals a continuity of forested habitats favourable for the proboscideans and as well as to the hominoids, believed to have become extinct much earlier.
Resumen en Español
Nuevos fósiles de proboscídeos de los Siwaliks Medios del área de Haritalyangar, Himachal Pradesh, India
Presentamos aquí una serie de restos fósiles dentales de proboscídeos del área de Haritalyangar de los Siwaliks Medios en el distrito de Bilaspur en Himachal Pradesh, India del Norte, obtenidos por el primer autor (ARS) en diferentes temporadas de trabajo de campo, quien también ha localizado en un mapa los yacimientos paleontológicos. La mayoría de estas localidades fósiles, con muy poca exploración previa, caen en las Upper Alternations. Hemos asignado los fósiles a tres géneros principales, Stegolophodon, ?Stegodon y Choerolophodon, además existe un fragmento fósil que pertenece a un Gomphotheriidae o un Amebelodontidae. El del género Choerolophodon se puede clasificar bien en la especie Ch. corrugatus, un taxón común en los Siwaliks Medios. Stegolophodon está ampliamente representado en el registro fósil de proboscídeos del área distinguiéndose dos especies, una pequeña indeterminada (Stegolophodon sp.) y una más grande (S. cf. stegodontoides), que es un representante bien conocido del género en los Siwaliks Medios. Las capas superiores de las Upper Alternations han librado restos que pueden pertenecer a un estegodóntido derivado, Stegodon. Estos fósiles de proboscídeos documentan una asociación del Mioceno tardío, permiten una correlación entre las Upper Alternations y la Formación Dhok Pathan de los Siwaliks Medios y proporcionan datos paleoecológicos.
Palabras clave: Stegolophodon cf. stegodontoides stegodontoides; Stegodon; Choerolophodon; Lower Alternations; Upper Alternations
Traducción: Enrique Peñalver (Sociedad Española de Paleontología)
Nouveaux fossiles de proboscidiens de la région d'Haritalyangar (Siwaliks moyens, Himachal Pradesh, Inde)
Nous décrivons ici de nouveaux restes dentaires de proboscidiens provenant des Siwaliks moyens de la région d'Haritalyangar (district de Bilaspur, État d'Himachal Pradesh, Inde du Nord) collectés lors de plusieurs campagnes de terrain par le premier auteur (ARS) qui a également cartographié les localités fossilifères. La plupart de ces localités fossilifères sont situées dans la séquence supérieure de la série d'Haritalyangar qui a été jusqu'à présent très peu prospectée. Nous attribuons le matériel fossile aux trois genres Stegolophodon, ?Stegodon et Choerolophodon ainsi qu'à une espèce indéterminée de Gomphotheriidae ou d'Amebelodontidae. Le choerolophodonte correspond bien à l'espèce Choerolophodon corrugatus qui est un taxon commun dans les Siwaliks moyens. Stegolophodon est bien représenté dans le registre fossile de la région, étant documenté par deux taxons, l'un indéterminé et de petite taille (aff. Stegolophodon), l'autre de plus grande taille (S. cf. stegodontoides) qui correspond à un représentant bien connu du genre dans les Siwaliks moyens. Les niveaux sommitaux de la séquence supérieure ont livré des restes qui pourraient appartenir au stegodontidé dérivé Stegodon. Ces proboscidiens, qui indiquent un environnement boisé, documentent un assemblage d'âge Miocène supérieur et permettent de corréler la séquence supérieure de la série d'Haritalyangar avec la formation de Dhok Pathan des Siwaliks moyens.
Mots-clés: Stegolophodon cf. stegodontoides stegodontoides; Stegodon; Choerolophodon; séquence inférieure; séquence supérieure.
Translator: Authors
Deutsche Zusammenfassung
Neue Rüsseltier-Fossilien aus den mittleren Siwaliks des Haritalyangar-Gebiets, Himachal Pradesh, Indien
Wir berichten hier über mehrere fossile Überreste von Rüsseltieren aus dem Haritalyangar-Gebiet der mittleren Siwaliks im Bilaspur Distrikt von Himachal Pradesh, Nordindien, die Erstautor (ARS) über mehrere Grabungssaisons gesammelt wurden und der auch die Fundstellen kartiert hat. Die meisten dieser Fundstellen fallen in die oberen Alternations und sind bis jetzt sehr wenig untersucht. Wir haben diese Fossilien den drei Hauptgattungen Stegolophodon, ?Stegodon und Choerolophodon zugeordnet, abgesehen von einem Fossilfragment das entweder zu den Gomphotheriidae oder den Amebelodontidae gehört. Der Choerolophodontide lässt sich gut Choerolophodon corrugatus zuordnen, einem häufigen Taxon in den Mittleren Siwaliks. Stegolophodon kommt im Fossilnachweis der Rüsseltiere in diesem Gebiet oft vor. Die Gattung wird in zwei Arten unterschieden, eine kleine unbestimmte und eine größere (S. cf. stegodontoides), die anderswo ein bekannter Vertreter dieser Gattung in den Mittleren Siwaliks ist. Die obersten Schichten der oberen Alternations brachten viele Funde zutage, die möglicherweise zu dem abgeleiteten Stegodontiden Stegodon gehören. Diese Rüsseltier-Fossilien dokumentieren eine spätmiozäne Assemblage und erlauben eine Korrelation zwischen den unteren Alternations und der Dhok Pathan Formation der mittleren Siwaliks und sie treffen Aussagen über die Paläoökologie.
Schlüsselwörter: Stegolophodon cf. stegodontoides stegodontoides; Stegodon; Choerolophodon; untere Alternations; obere Alternations
Translator: Eva Gebauer
Arabic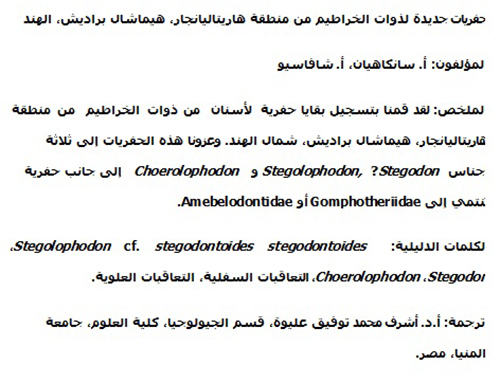 Translator: Ashraf M.T. Elewa
j. polski
Nowe skamieliny trąbowców z środkowego regionu Siwaliks w Haritalyangar, Himachal Pradesh, India
Przedstawiamy kilka przypadków kopalnych szczątków stomatologicznych z obszaru Haritalyangar w środkowych rejonach Siwalik w dzielnicy Bilaspur, w Himachal Pradesh, w Północnych Indiach. Materiał został zebrany przez pierwszego autora (ARS) w różnych sezonach. Pierwszy autor zmapował również lokalizacje tych znalezisk. Większość z tych skamielin znaleziono w Górnym Alternations i były wcześnie mało zbadane. Skamieniałości zostały przypisane do trzech głównych rodzajów, Stegolophodon, ? Stegodon oraz Choerolophodon, oprócz skamieniałego fragmentu należącego do Gomphotheriidae lub Amebelodontidae. Choerolophodontid jest dobrym odpowiednikiem Choerolophodon corrugatus, pospolitego taksonu w środkowym rejonie Siwaliks. Stegolophodon jest często reprezentowany w zapisie skamielin trąbowców obszaru wyróżnionego dwoma gatunkami, jednym małym, nieokreślonym (Stegolophodon sp.) i większym (S. c. Stegodopterides), który jest dobrze znanym przedstawicielem rodzaju w innych rejonach środkowego Siwalik. Z najwyższych warstw Górnych Alternations znane są skamieniałości, które mogą należeć do stegodontów, Stegodon. Te skamieliny trąbowców, dokumentujące późno mioceńskie nagromadzenie, pozwalają na korelację pomiędzy Górnymi Alternations a formacją Dhok Pathan środkowego Siwalik, co pozwala na omówienie paleoekologii regionu.
Słowa kluczowe: Stegolophodon cf. stegodontoides stegodontoides; Stegodon; Choerolophodon; Dolny Alternations; Górny Alternation
Translator: Dariusz Nowakowski