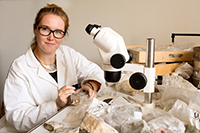 Marie-Béatrice Forel. CR2P, MNHN-CNRS-SU, Muséum national d'Histoire naturelle, 8 rue Buffon (CP38), 75005 Paris, France. This email address is being protected from spambots. You need JavaScript enabled to view it.
Marie-Béatrice Forel is Assistant Professor and Curator of micropalaeontology collections in the Muséum national d'Histoire naturelle, Paris (Centre de Recherche sur la Paléobiodiversité et les Paléoenvironnements, CR2P). She received a Master degree from the Bordeaux 1 University and PhD from the Université Pierre et Marie Curie (Paris 6). Her research focuses on taxonomy, palaeoecology and diversity dynamics of Permian and Triassic marine ostracods worldwide.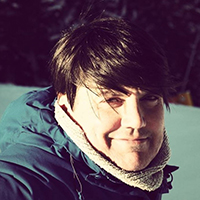 Péter Ozsvárt. MTA-MTM-ELTE, Research Group for Paleontology, P.O. Box 137, H 1431 Budapest, Hungary. This email address is being protected from spambots. You need JavaScript enabled to view it.
Péter Ozsvárt is a geologist and paleontologist. Recently, he is a Senior Research Fellow at the Research Group for Paleontology at the MTA-MTM-ELTE. He received his MSc and PhD from the Eötvös University, Budapest. Actually, his research is focusing on taxonomy, biostratigraphy and palaeoecology of Triassic and Jurassic radiolarians from the Neotethyan region.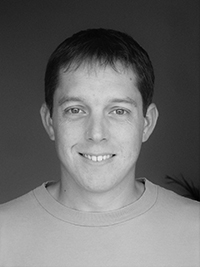 Patrice Moix. Rue de la Combe 55, 1969 Eison, Switzerland. This email address is being protected from spambots. You need JavaScript enabled to view it.
Patrice gained a MSc in Geology from the University of Lausanne, Switzerland, followed by a MSc in Hydrogeology from the University of Neuchâtel, Switzerland. In 2010, he has completed his PhD at University of Lausanne entitled "Contribution to the geology of Southern Turkey: new insights from the Mersin Mélanges and from the Lycian and Antalya Nappes". His PhD project focused on the study of fossil Tethyan continental margins and its accretion-related mélanges in Turkey, Greece, Cyprus, Iran, Oman, India and Tibet.