The air-abrasive technique: a re-evaluation of its use in fossil preparation
Plain Language Abstract
Air abrasion using powders is a well-established method of fossil preparation. This paper considers the properties of various powders and the effects of variables such as compressed air settings, nozzle size and angle of delivery. Incorporated within the paper are the results of an international survey and general, practical advice to both professional and amateur preparators.
Resumen en Español
La técnica de la abrasión por aire: una reevaluación de su uso en la preparación de fósiles
Este documento describe la historia de la abrasión por aire (también conocida como airbrasion) como una técnica de preparación paleontológica y evalúa varios polvos y sus propiedades. Explora los fundamentos detrás de la selección de polvos abrasivos y presenta, por primera vez, experimentos sobre el tipo de abrasión superficial ocasionada a través de fotografías de microscopio electrónico de barrido (SEM) y perfil tridimensional (3-D). Este artículo también ofrece consejos prácticos generales y detalla los resultados de una encuesta internacional realizada entre personas que preparan fósiles con esta técnica.
Palabras clave: airabrasive; preparación; fósil; conservación; abrasión por aire
Traducción: Enrique Peñalver (Sociedad Española de Paleontología)
Résumé en Français
La technique de sablage (abrasifs projetés par air comprimé) : une réévaluation de son utilisation en préparation des fossiles
Ce papier résume l'historique de l'utilisation d'abrasifs projetés par air comprimé (le sablage, aussi connu sous le nom anglais de « airbrasion ») comme technique de préparation paléontologique et évalue les différentes poudres et leurs propriétés. Nous explorons les différentes raisons déterminant la sélection des poudres abrasives, et nous présentons pour la première fois des expérimentations de tranchée de dispersion (« trench-scatter ») en utilisant la photographie par microscopie électronique et la profilométrie tridimensionnelle. Cet article offre aussi des conseils pratiques généraux et détaille les résultats d'une enquête internationale effectuée auprès des préparateurs de fossiles en activité.
Mots-clés : sablage ; préparation ; fossile ; préservation
Translator: Antoine Souron
Deutsche Zusammenfassung
Die Druckluft-Technik: eine Re-Evaluation zur Fossilpräparation
Dieser Beitrag umreißt die Geschichte der Druckluft als paläontologische Präparationstechnik und evaluiert verschiedene Pulver und deren Eigenschaften. Er untersucht die Gründe für die Auswahl der Schleifpulver und präsentiert zum ersten Mal Trench-Scatter Experimente mit Raster-Elektronen-Mikroskopie (REM) Aufnahmen und dreidimensionalem (3-D) Profiling. Der Artikel stellt darüber hinaus allgemeine Tipps zur Verfügung und geht auf die Ergebnisse einer internationalen Umfrage unter praktizierenden Fossilien-Präparatoren ein.
Keywords: Druckluft; Präparation; Fossil; Konservierung
Translator: Eva Gebauer
Arabic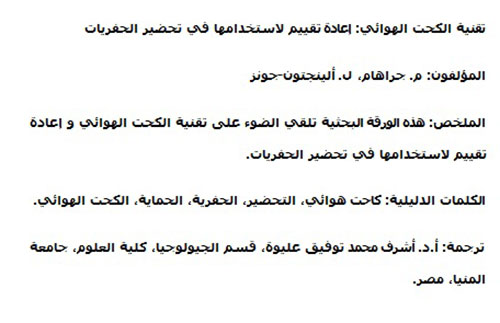 Translator: Ashraf M.T. Elewa
Polski
Technika sprężonego powietrza: ponowna ocena jej wykorzystania w preparacji skamieniałości
Artykuł przedstawia historię ścierania z użyciem sprężonego powietrza (znaną również jako aerograf), ocenę różnych proszków i ich właściwości jako technikę preparatyki stosowaną w paleontologii. W niniejszym artykule rozważono właściwości różnych proszków ściernych oraz wpływ zmiennych takich jak: ustawienia sprężonego powietrza, rozmiar i kąt dyszy.
Po raz pierwszy przedstawiamy skutki takich działań posiłkując się fotografią z mikroskopii skaningowej (SEM) oraz obrazowaniem trójwymiarowym (3-D). W artykule przedstawiono wyniki międzynarodowego sondażu oraz ogólne, praktyczne porady dla preparatorów zarówno zawodowych jak i amatorów.
Słowa kluczowe: sprężone powietrze, preparatyka, skamieniałości, konserwacja, aerograf
Translator: Dariusz Nowakowski