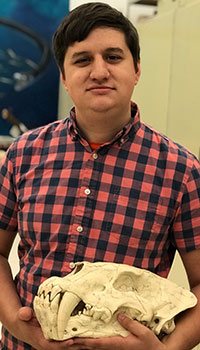 Joseph A. Frederickson. Sam Noble Museum, 2401 Chautauqua Avenue, Norman, Oklahoma, 73072, USA and Department of Biology, University of Oklahoma, Norman, Oklahoma, 73019, USA. This email address is being protected from spambots. You need JavaScript enabled to view it.
Joseph Alexander Frederickson is a vertebrate paleontologist broadly interested in the ecology of Early Cretaceous ecosystems, especially those of North America. Joseph received his BA in Geology (2011) from the University of Wisconsin-Milwaukee, Msc in Geology (2013) from Temple University, and a PhD (ex. July 2018) from the University of Oklahoma. In the fall of 2018, Joseph will be an Assistant Professor of Biology at Southwestern Oklahoma State University.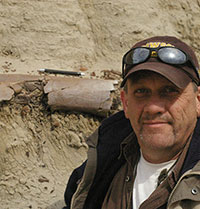 Thomas R. Lipka. Sam Noble Museum, 2401 Chautauqua Avenue, Norman, Oklahoma, 73072, USA This email address is being protected from spambots. You need JavaScript enabled to view it.
Tom Lipka earned a B.A. in geology at Towson University, and began collecting vertebrate fossils at the Muirkirk site, Arundel Clay, nearly 30 years ago. Although primarily interested in dinosaurs, he has published widely on fossil vertebrates from the unit. Lipka is an Affiliated Research Associate at the Sam Noble Museum and has also undertaken geological/ paleontological investigations in the Cloverly Formation, Montana; and the Antlers Formation, Oklahoma, among others.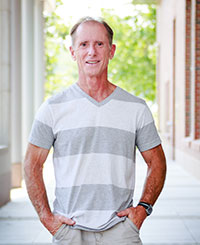 Richard L. Cifelli. Sam Noble Museum, 2401 Chautauqua Avenue, Norman, Oklahoma, 73072, USA and Department of Biology, University of Oklahoma, Norman, Oklahoma, 73019, USA. This email address is being protected from spambots. You need JavaScript enabled to view it.
Rich Cifelli graduated from Colby College in 1976, with an A.B. in Sociology. He earned an A.M. in Anthropology at the University of Chicago (1979) and an M. Phil. (1980) and Ph.D. (1983) in Geology & Geophysics at Columbia University. Cifelli was a Fellow-in-Residence (1983–1985) in the Division of Mammals at the Smithsonian Institution, and a Visiting Curator (1985–1986) at the Museum of Northern Arizona. Currently, he teaches in the Department of Biology at the University of Oklahoma and is a curator at the Oklahoma Museum of Natural History.