Paleoparasitology in Russia, history and prospects
Plain Language Abstract
Paleoparasitology is a science of ancient parasites. What are the remains of ancient parasites and can they continue to survive? Their eggs, larvae, or the parasites themselves. Parasites have been a nuisance for animals and people from the dawn of time. Findings of ancient parasites are often connected with those of frozen carcasses of fossil animals or prehistoric people's settlements. In Russia, in particular in the Arctic areas, such findings are quite frequent. The paper provides a thorough introduction of the most important findings of mammal's parasites and the state of parasitological research in Russian archeology.
РЕЗЮМЕ
Палеопаразитология в России. История и перспективы.
Палеопаразитология - наука, которая изучает паразитических животных и паразитические растения, как недалеком прошлом (включая историю человека), так и в более древние периоды жизни на Земле. История становления палеопаразитологии в странах Старого и Нового Света хорошо известна, однако, история палеопаразитологии в России до настоящего момента не рассматривалась. В статье приводится обзор плейстоценовых находок ископаемых паразитов млекопитающих и человека, обнаруженных на территории России. Приводятся данные о последних исследованиях в этой области.
(ключевые слова): палеопаразитология, археопаразитология, млекопитающие, древние болезни, Россия
Translation by author
Resumen en Español
Paleoparasitología en Rusia, historia y perspectivas
La ciencia de la paleoparasitología trata sobre los animales y plantas parásitos que han existido tanto en el pasado reciente (incluida la historia humana) como en períodos más remotos de la vida en la Tierra. La historia de la paleoparasitología y su desarrollo en los países del Viejo y Nuevo Mundo es bien conocida, sin embargo, en Rusia, la historia de esta ciencia apenas ha sido considerada. El presente artículo ofrece una revisión de los hallazgos de fósiles de parásitos del Pleistoceno, registrados en Rusia, tanto los que parasitaban a los humanos como a otros mamíferos. Se presentan nuevos datos sobre las últimas investigaciones en este campo.
Palabras clave: paleoparasitología; arqueoparasitología; mamíferos; enfermedades del pasado; Rusia
Traducción: Enrique Peñalver (Sociedad Española de Paleontología)
Résumé en Français
La paléoparasitologie en Russie, historique et perspectives
La science de la paléoparasitologie concerne les animaux et plantes parasitiques qui existaient à la fois dans le passé récent (incluant l'histoire humaine) et des périodes plus anciennes de la vie sur Terre. L'historique de la paléoparasitologie et son développement dans les pays de l'Ancien Monde et du Nouveau Monde sont bien connus, à l'exception de la Russie où l'historique de cette science a été à peine considéré. Ce papier présente une révision des découvertes de parasites fossiles pléistocènes, à la fois sur des humains et d'autres mammifères, en Russie. De nouvelles données sur les recherches récentes de cette discipline sont présentées.
Mots-clés : paléoparasitologie ; archéoparasitologie ; mammifères ; maladies anciennes ; Russie
Translator: Antoine Souron
Deutsche Zusammenfassung
Paläoparasitologie in Russland: Historie und Perspektive
Die Wissenschaft der Paläoparasitologie beschäftigt sich mit parasitischen Tieren und Pflanzen sowohl in der jüngeren Vergangenheit (inklusive der Menschheitsgeschichte) als auch in weiter zurückliegenden Perioden des Lebens auf der Erde. Die Historie der Paläoparasitologie und ihre Entwicklung in Ländern der alten und neuen Welt ist gut bekannt, jedoch wurde die Geschichte dieser Wissenschaft in Russland kaum berücksichtigt. Die vorliegende Arbeit stellt ein Review von pleistozänen Funden fossiler Parasiten aus Russland zur Verfügung, die sowohl Säugetiere als auch Menschen parasitieren. Neue Datensätze zur jüngsten Forschung auf diesem Gebiet werden vorgestellt.
Schlüsselwörter: Paläoparasitologie; Archäoparasitologie; Säugetiere; historische Krankheiten; Russland
Translator: Eva Gebauer
Arabic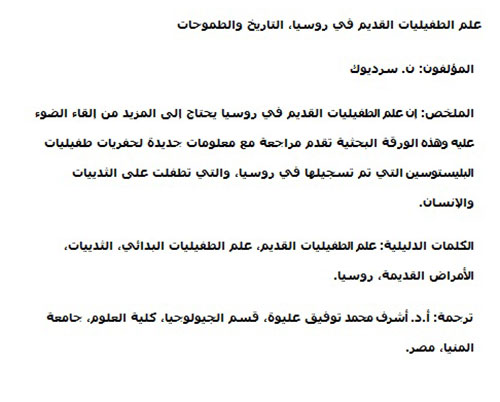 Translator: Ashraf M.T. Elewa
Polski
Paleoparazytologia w Rosji, historia i perspektywy
Paleoparazytologia, jako nauka obejmuje badania pasożytów zarówno zwierząt jak i roślin w niedawnej przeszłości (w tym historii ludzkości) oraz bardziej odległych okresach życia na Ziemi. Historycznie, parazytologia jako nauka i jej rozwój w krajach Starego i Nowego Świata jest dobrze poznana, jednak w Rosji nie była brana pod uwagę. W niniejszym artykule przedstawiono przegląd plejstoceńskich znalezisk pasożytów kopalnych, pasożytujących zarówno na ssakach, w tym ludziach, zarejestrowanych w Rosji. Przedstawiono nowe dane na temat najnowszych badań w tej dziedzinie.
Słowa kluczowe: paleoparazytologia; archaeoparazytologia; ssaki; choroby w starożytności; Rosja
Translator: Dariusz Nowakowski