Further contributions to the early Miocene forest vegetation of the Galatian Volcanic Province, Turkey
Plain Language Abstract
In the west and central parts of the Galatian Volcanic Province in central Anatolia (Turkey) many petrified trees have been preserved in volcanic sediments providing an indication of forest structure and climate some 20–17 million years ago. The oldest fossilized forests can be found in the west and comprise a woodland vegetation characterized by evergreen oak, ash, elm, maple, zelkova, 'cherry' and the conifers pine and juniper. Willow, sweetgum and palms probably grew along watercourses. Conifer forests of spruce, cedar, pine and podocarps were also present. In the central part of this province, swamp forests were relatively widespread and characterized by swamp cypress, redwood and bald cypress. These vegetation associations can also provide an indication of the different types of vegetation that grew across a floristically varied landscape and provides support for a warm climate prevailing at this time.
Resumen en Español
Contribuciones adicionales a la vegetación del bosque del Mioceno temprano de la provincia volcánica de Galacia, Turquía
Se han descubierto diez nuevos yacimientos de bosque petrificado en la provincia volcánica de Galacia (PVG). Las maderas silicificadas, conservadas en las formaciones Hançili y Pazar, del Mioceno inferior, representan un conjunto diverso de plantas que crecieron a lo largo y ancho de la PVG central durante el Burdigaliense, unos 20-17 millones de años. El conjunto comprende un total de 233 maderas petrificadas recolectadas en los 10 yacimientos en Ankara (Beypazarı, Çamlıdere, Kızılcahamam) y en Bolu (Kıbrısçık), y alrededores. Las identificaciones taxonómicas de los ejemplares de madera fósil sugieren una flora en la que se pueden reconocer cuatro asociaciones vegetales distintas en la PVG: (1) asociaciones de pantano con Glyptostrobus Endlicher, Sequoia Endlicher y Taxodium Richard; (2) bosque ripario compuesto por palmas, Salix L., Liquidambar L. y Quercus L., sección Ilex; (3) bosque mésico-xérico que incluía Acer L., Quercus L., Pinus L. y Juniperus L .; y (4) bosque mixto de angiospermas y coníferas que incluía Picea A. Dietrich, Cedrus Trew., Pinus L., Juniperus L. y Podocarpus L'Herit (ex Pers.) en las cercanías. Estas asociaciones apoyan la idea de que el paisaje era variado y el clima cálido y libre de heladas.
Palabras clave: Mioceno; madera silicificada; bosque petrificado; identificación de madera; provincia volcánica de Galacia; Volcanes de Köroglu, Turquía
Traducción: Enrique Peñalver (Sociedad Española de Paleontología)
Résumé en Français
In progress
Translator: Antoine Souron
Deutsche Zusammenfassung
Weitere Beiträge zur frühmiozänen Waldvegetation der Galatischen Vulkanprovinz, Türkei
In der Galatischen Vulkanprovinz (GVP) wurden zehn neue versteinerte Wälder entdeckt. Die verkieselten Hölzer aus den untermiozänen Hançili und Pazar Formationen stellen eine diverse Pflanzenassemblage dar, die vor ca. 20-17 Ma während des Burdigaliums entlang der westlichen und zentralen GVP wuchs. Die Assemblage umfasst insgesamt 233 versteinerte Hölzer, die in den zehn Fundstellen in und um Ankara gesammelt wurden (Beypazarı, Çamlıdere, Kızılcahamam) und Bolu (Kıbrısçık).Taxonomische Bestimmung der fossilen Hölzer deuten darauf hin, dass vier unterschiedliche Pflanzen-Gruppen in der GVP unterschieden werden können: (1) eine Sumpf-Gruppe mit Glyptostrobus Endlicher, Sequoia Endlicher und Taxodium Richard; (2) Auwälder mit Palmen, Salix L., Liquidambar L. und Quercus L. section Ilex; (3) mesisch-xerische Wälder mit Acer L., Quercus L., Pinus L. und Juniperus L.; und (4) Nadelholz-Angiospermen Mischwälder mit Picea A. Dietrich, Cedrus Trew., Pinus, Juniperus L. und Podocarpus L'Herit (ex Pers.) nahe bei. Diese Vergesellschaftungen unterstützen die Idee einer vielseitigen Landschaft mit warmem und frostfreiem Klima.
Schlüsselwörter: Miozän; verkieseltes Holz; versteinerter Wald; Holzbestimmung; Galatische Vulkanprovinz; Köroglu Vulkane, Türkei
Translator: Eva Gebauer
Arabic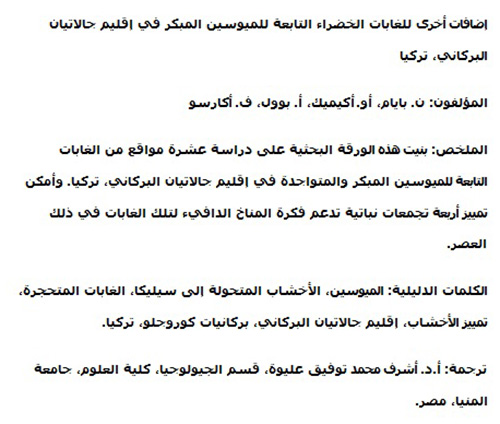 Translator: Ashraf M.T. Elewa
Polski
In progress
Translator: Dariusz Nowakowski