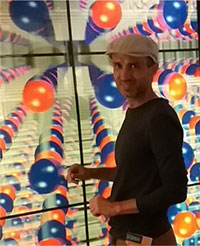 Gáspár Albert. Eötvös Loránd University, Department of Cartography and Geoinformatics, Pázmány Péter prom. 1/A, Budapest, 1117, Hungary. This email address is being protected from spambots. You need JavaScript enabled to view it.
Gáspár Albert is a geologist, cartographer and GIS specialist. He currently works at the Eötvös Loránd University as a lecturer, teaching geoscientific mapping and modelling. He works on several research and exploration projects requiring geoinformatics. By joining to the peleontological investigation of the Cretaceous dinosaur locality at Iharkút, Hungary, he experienced the usefulness of GIS and modelling in this discipline.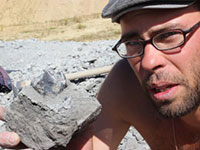 Gábor Botfalvai. Hungarian Natural History Museum, Department of Palaeontology and Geology, Baross st. 13, Budapest, 1088, Hungary; Eötvös Loránd University, Department of Physical and Applied Geology, Budapest, Pázmány Péter prom. 1/C, Budapest, 1117, Hungary; and Eötvös Loránd University, Department of Paleontology, Pázmány Péter prom. 1/C, Budapest, 1117, Hungary. This email address is being protected from spambots. You need JavaScript enabled to view it.
Gábor Botfalvai is a paleontologist working as an associate researcher at the Hungarian Natural History Museum in Budapest. His research focus on vertebrate taphonomical and paleoecological investigations. Most recently, he has worked on the sedimentological, taphonomical and paleoecological investigation of the famous dinosaur locality at Iharkút, Hungary, hoping to get a better understanding of the bone accumulation processes at this vertebrate site.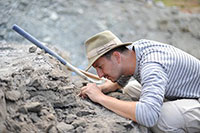 Attila Ősi. Hungarian Natural History Museum, Department of Palaeontology and Geology, Baross st. 13, Budapest, 1088, Hungary and Eötvös Loránd University, Department of Paleontology, Pázmány Péter prom. 1/C, Budapest, 1117, Hungary. This email address is being protected from spambots. You need JavaScript enabled to view it.
Attila Ősi is a paleontologist and completed his PhD at the Eötvös Loránd University in Budapest. His current research interests are functional morphology in Mezozoic archosaurs and European Late Cretaceous paleobiogeography.