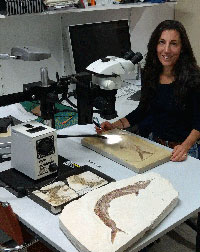 Adriana López-Arbarello. Department of Earth and Environmental Sciences, Palaeontology and Geobiology and GeoBio-Center, Ludwig Maximilian University, Richard-Wagner-Strasse 10, D-80333 Munich, Germany.
Adriana López-Arbarello is dedicated to the study of Mesozoic fishes with focus on early neopterygians. She received her PhD in 2000 from the University of Buenos Aires and worked as a postdoc Argentina at the Universidad de Buenos Aires and the Museo paleontológico Egidio Feruglio in Patagonia and in Germany at the Museum für Naturkunde in Berlin and the Bayerische Staatssammlung für Paläontologie und Geologie in Munich. Since 2015 she works as researcher at the Ludwig-Maximilians-University.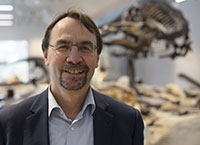 Toni Bürgin. Naturmuseum, Rorschacher Strasse 263, CH-9016 St. Gallen, Switzerland.
Toni Bürgin is director of the natural history museum in St.Gallen. He received a PhD from the university of Basel, Switzerland, in 1986. As a postdoc he studied flatfish anatomy at the Zoölogisch Laboratorium, university of Leiden, NL. Between 1987 and 1990 he worked in a Swiss National Foundation project on the small and medium sized actinopterygians from the Middle Triassic of Monte San Giorgio, Southern Switzerland.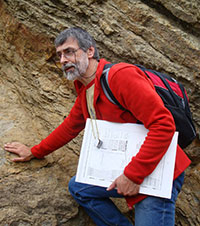 Heinz Furrer. Paläontologisches Institut und Museum der Universität Zürich, Karl Schmid-Strasse 4, CH-8006, Zürich, Switzerland.
Currently associate researcher and former curator (1994 to 2014) at the Palaeontological Institute and Museum, University of Zurich. Heinz Furrer's research interests are the palaeoecology and taphonomy of Triassic vertebrate fossil lagerstaetten, the palaeoecology and taphonomy of Late Pleistocene mammoth sites, and the stratigraphy and facies of the sediments at the Triassic/Jurassic boundary.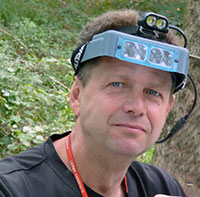 Rudolf Stockar. Museo cantonale di storia naturale, Dipartimento del territorio del Cantone Ticino, Viale Carlo Cattaneo 4, CH-6901 Lugano, Switzerland.
Rudolf Stockar is a curator of the Museo cantonale di storia naturale in Lugano (Switzerland). He got a degree in geology at the University of Genoa (Italy) in 1990 and a PhD in Geosciences and Environment at the University of Lausanne (Switzerland) in 2012. Since 2003 he is in charge of the coordination of the paleontological research (Middle Triassic) at the UNESCO WHL site Monte San Giorgio (Canton Ticino, Switzerland), where he also leads the current paleontological field works.