Fossil cetaceans from Duinefontein (Koeberg) an early Pliocene site on the southwestern Cape, South Africa
Plain Language Abstract
Koeberg is an early Pliocene (5 million years old) subsurface fossil locality on South Africa's west coast. It was discovered at ca.12 m below sea level during the excavations of the foundations for the Koeberg Power Station. Among the fossils discovered are baleen whales, a beaked whale, unidentified odontocetes and a porpoise. This cetacean assemblage suggests a rich and varied community as seen today off South Africa's coast. The cetacean faunal assemblage from Koeberg suggests a link with Langebaanweg on South Africa's west coast, Europe, the southeastern United States, Peru and the Mediterranean.
Resumen en Español
Cetáceos fósiles de Duinefontein (Koeberg), un yacimiento del Plioceno temprano en el suroeste del Cabo, Sudáfrica
Koeberg es una localidad subterránea del Zancliense en la costa oeste de Sudáfrica, que fue descubierta durante las excavaciones de las fundaciones de la Central Eléctrica de Koeberg. Se han identificado restos de misticetos y odontocetos de esta localidad que se encuentra a unos 12 m por debajo de la superficie. El estado de preservación de los restos impide la identificación a nivel de especie en algunos casos. Los balenópteros están representados por especímenes asignados a 'Balaenoptera' borealina, Diunatans sp. 1 y Fragilicetus sp., mientras que otros especímenes se consideran balenópteros indeterminados. Los odontocetos han sido referidos a Odontoceti indet. (posiblemente delfinidos), una ballena de pico (cf. Izikoziphius) y un único representante de la familia Phocoenidae, cf. Australithax. Se han encontrado odontocetos no descritos que seguramente corresponden a la familia Physeteridae. Los balenópteros y odontocetos sugieren una conexión de la costa oeste de Sudáfrica con el Atlántico norte de Europa y América del Norte, y el Pacífico sur oriental.
Palabras clave: cetáceos; balenóptero; odontoceto; Koeberg; Neógeno; Plioceno.
Traducción: Enrique Peñalver (Sociedad Española de Paleontología)
Résumé en Français
Les cétacés fossiles de Duinefontein (Koeberg), un site du Pliocène ancien au sud-ouest de la province du Cap-Occidental, Afrique du Sud
Koeberg est une localité zancléenne de subsurface, située sur la côte ouest d'Afrique du Sud et découverte pendant le creusement des fondations de la centrale électrique de Koeberg. Des mysticètes et des odontocètes ont été identifiés dans cette localité à environ 12 mètres sous la surface. La préservation ne permet pas toujours l'identification au niveau spécifique des spécimens. Les balaenopteridés sont représentés par des spécimens attribués à 'Balaenoptera' borealina, Diunatans sp. 1, et Fragilicetus sp. alors que d'autres spécimens sont seulement identifiés comme des balaenopteridés. Les odontocètes ont été attribués à Odontoceti indet. (potentiellement des delphinidés), à une baleine à bec (cf. Izikoziphius), et un seul spécimen a été attribué au phocoenidé cf. Australithax. Il y a des odontocètes non décrits, très vraisemblablement des physétéridés. Les balaenopteridés et les odontocètes suggèrent une connexion de la côte ouest de l'Afrique du Sud à l'Atlantique Nord d'Europe et d'Amérique du Nord, et à l'est du Pacifique Sud.
Mots-clés : cétacés ; balaenopteridé ; odontocète ; Koeberg ; Néogène; Pliocène
Translator: Antoine Souron
Deutsche Zusammenfassung
Fossile Cetaceen aus Duinefontein (Koeberg), eine frühpleistozäne Fundstelle im südwestlichen Kap, Südafrika
Koeberg ist eine unterirdische Fundstelle aus dem Zancleum an der Westküste von Südafrika, die beim Ausheben der Fundamente des Koeberg Kraftwerks entdeckt wurden. In dieser Fundstelle wurden Mysticeti und Odontoceti ca. 12 unter der Erdoberfläche identifiziert. Der Erhaltungszustand macht jedoch in einigen Fällen eine Bestimmung auf Artniveau nicht möglich. Die Balaenopteridae werden durch Stücke repräsentiert, die 'Balaenoptera' borealina, Diunatans sp. 1 und Fragilicetus sp. zugeschrieben werden können, während andere Stücke nur als Balaenopteridae identifiziert werden können. Die Odontoceti wurden als Odontoceti indet. (eventuell Delphiniden), ein Schnabelwal (cf. Izikoziphius) und ein einzelner Phocoenide, cf. Australithax eingeordnet. Es gibt unbeschriebene Odontoceti, höchstwahrscheinlich Physeteriden. Die Balaenopteridae und Odontoceti deuten auf eine Verbindung der südafrikanischen Westküste mit dem europäischen und nordamerikanischen Atlantik und dem östlichen Südpazifik hin.
Schlüsselwörter: Cetaceen; Balaenopteridae; Odontoceti; Koeberg; Neogen; Pliozän
Translator: Eva Gebauer
Arabic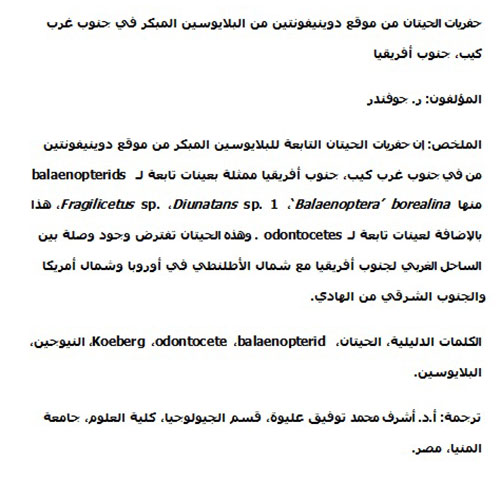 Translator: Ashraf M.T. Elewa
Polski
Kopalne walenie z Duinefontein (Koeberg), stanowisko z wczesnego pliocenu, na południowo-zachodnim Przylądku, Republika Południowej Afryki
Koeberg to pochodzące z okresu Zanclean, podpowierzchniowe stanowisko na zachodnim wybrzeżu Afryki Południowej, odkryte podczas budowy fundamentów elektrowni Koeberg. Z tego stanowiska zostały zidentyfikowane fiszbinowce i zębowce, leżące ok. 12 m pod powierzchnią. Konserwatywna budowa w niektórych przypadkach uniemożliwia identyfikację do poziomu gatunków. Płetwalowate są reprezentowane przez osobniki oznaczone jako "Balaenoptera" borealina, Diunatans sp. 1 i Fragilicetus sp. podczas gdy inne okazy są identyfikowane tylko jako płetwalowate. Zębowce zostały zaliczone do Odontoceti indet. (prawdopodobnie delfiny), zyfiowatych (cf. Izikoziphius) i pojedynczego morświnowategoy, cf. Australithax. Wystepuje także nieopisany zębowiec najprawdopodobniej kaszalowaty. Płetwalowate i zębowce sugerują połączenie zachodniego wybrzeża RPA z północnym Atlantykiem Europy i Ameryki Północnej oraz wschodnim południowym Pacyfikiem.
Słowa kluczowe: walenie; płetwalowate; zebowce; Koeberg; neogen, pliocen
Translator: Krzysztof Stefaniak