A Survey of Pliocene to Mid-Quaternary leaf cuticle from the North Island, New Zealand
Plain Language Abstract
Outcrops of low grade lignite or semi-lithified peat are common in coastal areas of the North Island. These were formed during the Pliocene, or from interglacial periods over the Quaternary. This paper is a survey of these peats/lignites for leaf cuticle. This compliments the pollen and spore content, which has already been documented. Although much less diverse, leaf cuticle can record taxa which appear sparsely, or not all in the pollen record. In this case, cuticle is able to distinguish between the extant New Zealand genera of Lauraceae, which do not normally occur in the pollen record. It also adds a genus, Cryptocarya, which is now extinct in New Zealand. Cuticle remains show that the native New Zealand broom, Carmichaelia, was common in some of these deposits, despite it being poorly represented or absent in the pollen record.
The results of this study show some plants were once growing near sea level, whereas at that latitude today, they only occur on mountains. The New Zealand kauri (Agathis) was never clearly south of its present distribution, except for a single specimen in the south of the North Island, which might represent Araucaria (currently extinct).
The cuticle record is consistent with the pollen and spore record in showing that the basic character of the North Island lowland forests, in terms of dominant plant types, dates to at least the early Pleistocene.
Resumen en Español
Examen de la cutícula foliar desde el Plioceno al Cuaternario Medio de la Isla Norte de Nueva Zelanda
Este estudio es un examen de la cutícula foliar de depósitos de lignito (principalmente costeros) desde el Plioceno tardío al Pleistoceno medio en la Isla Norte de Nueva Zelanda. Con pocas excepciones, las muestras contienen taxones de plantas comunes en Nueva Zelanda hoy en día, por ejemplo, Beilschmedia (Lauraceae) y numerosas coníferas. Sin embargo, algunos de ellos están fuera de su rango latitudinal-altitudinal actual. La presencia común de Halocarpus (Podocarpaceae) es notable, ya que casi todos los registros actuales en la Isla del Norte son de regiones de tierras altas. No hay evidencia clara de que Agathis (Araucariaceae) haya existido más al sur que su límite actual. Sin embargo, es notable un hallazgo único de una araucariácea en los Niveles Fosilíferos de Rangitawa (Rangitawa Fossil Beds) en el sur de la Isla Norte. Su identificación no es clara, pero es posible que corresponda a Araucaria (Araucariaceae), por lo que sería su presencia más reciente en el tiempo de este género en Nueva Zelanda. Si es Agathis, entonces se trata del registro macroscópico más meridional para el Pleistoceno. Cryptocarya (Lauraceae) está registrada en una turba no datada en Huriwai. Representa una aparente supervivencia del Pleistoceno de un género conocido del Mioceno en Nueva Zelanda, pero actualmente extinto localmente. La cutícula de Carmichaelia (Fabaceae) ha sido hallada comúnmente, pero esto ha sido inesperado, ya que es muy rara en el registro palinológico.
Palabras clave: epidermis; Lauraceae; Fabaceae; Araucariaceae; Podocarpaceae
Traducción: Enrique Peñalver (Sociedad Española de Paleontología)
Résumé en Français
Une synthèse des cuticules foliaires du Pliocène au Pléistocène moyen de l'île du Nord, Nouvelle Zélande
Cette étude présente une synthèse des cuticules foliaires dispersées, du Pliocène récent au Pléistocène moyen, provenant de lignites (essentiellement côtières) de l'île du Nord, Nouvelle Zélande. À part quelques exceptions, les échantillons contiennent des taxons de plantes actuellement communs en Nouvelle Zélande, par exemple, Beilschmedia (Lauraceae) et de nombreux conifères. Cependant, certains de ces taxons sont en dehors de leurs distributions latitudinales et altitudinales. La présence fréquente d'Halocarpus (Podocarpaceae) est remarquable, car presque toutes les occurrences actuelles sur l'île du Nord sont dans les régions situées en altitude. Il n'y a pas de preuve certaine de la présence d'Agathis (Araucariaceae) plus au sud que sa limite actuelle. Cependant, la présence d'un seul reste d'Araucariaceae dans les lits fossilifères de Rangitawa au sud de l'île du Nord est signalée. Son identité n'est pas claire mais il appartient possiblement à Araucaria, ce qui en ferait l'occurrence la plus récente de ce genre en Nouvelle Zélande. S'il s'agit d'Agathis, cela serait l'occurrence macroscopique la plus au sud au Pléistocène. Le genre Cryptocarya (Lauraceae) est signalé dans une tourbière non datée à Huriwai. Cette occurrence représenterait la survie au Pléistocène d'un genre connu dans le Miocène de Nouvelle Zélande, mais désormais éteint localement. Les cuticules de Carmichaelia (Fabaceae) sont communes, ce qui est inattendu car ce genre est très rare dans le registre palynologique.
Mots-clés : épiderme ; Lauraceae ; Fabaceae ; Araucariaceae ; Podocarpaceae
Translator: Antoine Souron
Deutsche Zusammenfassung
Untersuchung von pliozänen bis mitelquartären Blatt-Kutikula von der Nordinsel Neuseelands
Diese Studie berichtet über eine Untersuchung von verstreuten Blatt-Kutikula aus einer Reihe von spätpliozänen bis mittelpleistozänen (meist Küsten-)Braunkohlen auf der Nordinsel Neuseelands. Mit einigen Ausnahmen enthalten die Proben Pflanzentaxa die auch heute noch auf Neuseeland vorkommen, zum Beispiel Beilschmedia (Lauraceae) und zahlreiche Koniferen. Einige von ihnen liegen jedoch außerhalb ihres aktuellen Breiten- und Höhenspektrums. Das häufige Auftreten von Halocarpus (Podocarpaceae) ist bemerkenswert, da beinahe alle heutigen Nachweise von der Nordinsel aus höhergelegenen Regionen stammen. Es gibt keinen eindeutigen Hinweis auf Agathis (Araucariaceae), das weiter südlich vorkam als heute. Ein einziger Fund einer Araukarie in den Rangitawa Fossil Beds auf der südlichen Nordinsel ist jedoch auffallend. Die Identität ist nicht ganz klar, es handelt sich jedoch möglicherweise um Araucaria (Araucariaceae), wobei es sich um den jüngsten Nachweis dieser Gattung auf Neuseeland handeln würde. Falls es Agathis ist, handelt es sich um den südlichsten pleistozänen Makro-Fund. Cryptocarya (Lauraceae) wird in einem undatierten Torf in Huriwai nachgewiesen. Hier handelt es sich offensichtlich um eine überlebende Gattung aus dem Pleistozän, die aus dem Miozän in Neuseeland bekannt ist, aber nun lokal ausgestorben ist. Die Kutikula von Carmichaelia (Fabaceae) war häufig, wenn auch unerwartet, da sie sehr selten im palynologischen Nachweis vorkommt.
Schlüsselwörter: Epidermis; Lauraceae; Fabaceae; Araucariaceae; Podocarpaceae
Translator: Eva Gebauer
Arabic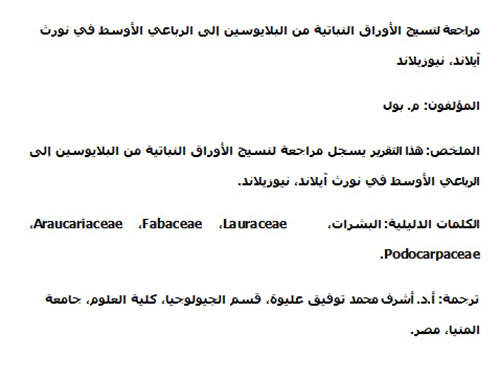 Translator: Ashraf M.T. Elewa
Polski
Badania kutikuli liści z pliocenu do środkowego czwartorzędu z Wyspy Północnej, Nowa Zelandia
To opracowanie dotyczy badań rozproszonego naskórka liściowego szeregu od późnoplioceńskich do środkowoplejstoceńskich lignitów (głównie przybrzeżnych) z Wyspy Północnej Nowej Zelandii. Poza kilkoma wyjątkami, próbki zawierają taksony roślinne rozpowszechnione współcześnie w Nowej Zelandii, na przykład Beilschmedia (Lauraceae) i liczne rośliny iglaste. Jednak niektóre z nich znajdują się poza swoim obecnym zasięgiem geograficznym i wysokościowym. Warte odnotowania jest powszechne występowanie Halocarpus (Podocarpaceae), ponieważ prawie wszystkie stanowiska jego występowania z Wyspy Północnej pochodzą z regionów wyżynnych. Nie ma wyraźnych dowodów na to, że Agathis (Araucariaceae) wykraczała na południe poza swój obecny zasięg. Jednak godne uwagi jest pojedyncze znalezisko araukarii w warstwach skamieniałości Rangitawa na południu Wyspy Północnej. Jego przynależność taksonomiczna nie jest jasna, ale prawdopodobnie jest to Araucaria (Araucariaceae), co czyni je najmłodszym wystąpieniem tego rodzaju w Nowej Zelandii. Jeśli jest to Agathis, to jest to najbardziej wysunięte na południe miejsce występowania tego taksonu w plejstocenie. W niedatowanym torfie w Huriwai jest obecna Cryptocarya (Lauraceae). Wskazuje to na przetrwanie tego rodzaju znanego z miocenu Nowej Zelandii, choć obecnie regionalnie wymarłego, do plejstocenu. Obecność kutikuli Carmichaelia (Fabaceae) była powszechna, choć niespodziewana, ze względu na swoją rzadkość w zapisie palinologicznym.
Słowa kluczowe: naskórek; Lauraceae; Fabaceae; Araucariaceae; Podocarpaceae
Translator: Krzysztof Stefaniak