A new early Pliocene locality Tepe Alagöz (Turkey) reveals a distinctive tooth phenotype of Trischizolagus (Lagomorpha, Leporidae) in Asia Minor
Pliocene mammal faunas of Turkey are still poorly understood. They are mostly represented by scarce and fragmentary rodent associations. Remains of leporids (members of Leporidae, the family of rabbits and hares) are very rare, occurring sporadically only in a few localities. Here we describe the new locality Tepe Alagöz (located ~100 km NE of Ankara) representing the first reported Pliocene locality of Turkey with sufficiently rich material of leporids allowing a reliable evaluation of features important for species identification. The locality also yielded several rodents suggesting the age at about 5 million years ago. The leporid under study represents a medium-sized species characterized by peculiar morphology of premolars and incisors. It was identified as Trischizolagus gambariani, the taxon first described from the coeval locality Nurnus in Armenia. The remarkable fossil material allowed a detailed morphometric re-description of this poorly known species and discussion on possible scenarios for the evolution and dispersal of the early leporids in Asia Minor.
Resumen en Español
La nueva localidad del Plioceno temprano de Tepe Alagöz (Turquía) revela un fenotipo de diente distintivo de Trischizolagus (Lagomorpha, Leporidae) en Asia Menor
Los restos de lepóridos del Plioceno son muy raros en Anatolia y solo se encuentran esporádicamente en unas pocas localidades. La nueva localidad de Tepe Alagöz (Cuenca de Çankırı) es la primera localidad del Plioceno documentada en Turquía con material de lepóridos suficientemente rico para determinar la variabilidad morfométrica en dientes de importancia taxonómica. La localidad también proporcionó restos de roedores Occitanomys debruijni, Allocricetus cf. ehiki, Pseudomeriones hansi, y un lagomorfo ocotónido. La asociación sugiere una edad de Plioceno temprano (MN14), de aproximadamente la misma edad o algo mayor que la de İğdeli (Cuenca de Sivas). El lepórido de tamaño mediano se caracteriza por un p3 de casi exclusivamente un patrón "Nekrolagus" con anterocónido estrecho y anterofléxido muy variable. Está asociado con un P2 con paraflexo corto, hipoflexo largo y mesoflexo de desarrollo moderado, y un I1 que se acorta de forma anteroposterior con una muesca anterior poco profunda, en forma de V, sin cemento. El lepórido se identificó conjuntamente con Trischizolagus gambariani descrito a partir de restos de la localidad costera de Nurnus (Armenia). En este trabajo se proporciona una designación de lectotipo y una diagnosis modificada de la especie. El registro fósil disponible de Trischizolagus indica que la parte noroeste del área peri-Paratetis estaba habitada por T. dumitrescuae, pero al sur y sureste por una distinta: T. gambariani. El único hallazgo adicional comprobado de Trischizolagus en Anatolia fue en Tozaklar (MN15), pero debido a la escasez de material fósil es imposible determinar la especie de forma definitiva.
Palabras clave: Tepe Alagöz; Turquía; Plioceno; Rodentia; Lagomorpha; Trischizolagus gambariani
Traducción: Enrique Peñalver (Sociedad Española de Paleontología)
Résumé en Français
Tepe Alagöz (Turquie), une nouvelle localité du Pliocène ancien révèle un phénotype dentaire unique de Trischizolagus (Lagomorpha, Leporidae) en Asie mineure
Les restes de léporidés pliocènes sont très rares en Anatolie, avec des occurrences sporadiques limitées à quelques localités. La nouvelle localité de Tepe Alagöz (bassin de Çankırı) est la première localité pliocène en Turquie avec un matériel de léporidés sufisamment riche pour déterminer la variabilité morphologique des dents importantes pour la taxinomie. La localité a également livré des restes des rongeurs Occitanomys debruijni, Allocricetus cf. ehiki, Pseudomeriones hansi, et d'un lagomorphe ochotonidé. L'assemblage suggère un âge pliocène ancien (MN14), environ le même âge ou un peu plus vieux que celui d'İğdeli (bassin de Sivas). Le léporidé de taille moyenne est caractérisé par une p3 avec un schéma presque exclusivement "Nekrolagus", avec un antéroconide étroit et un antéroflexide très variable. Cela est associé avec une P2 portant un paraflexus court, un hypoflexus long, et un mesoflexus moyennement développé, et une I1 qui est raccourcie antéropostérieurement avec une encoche antérieure peu profonde, en forme de V, et ne présentant pas de cément. Le léporidé a été co-identifié avec Trischizolagus gambariani décrit de la localité contemporaine Nurnus (Arménie). La désignation d'un lectotype et une diagnose émendée de l'espèce sont fournies dans ce papier. Le registre fossile disponible pour Trischizolagus indique que la partie nord-ouest de la zone entourant la Paratéthys était habitée par T. dumitrescuae, alors qu'une espèce différente, T. gambariani, était présente plus au sud et au sud-est. La seule autre preuve de présence de Trischizolagus en Anatolie a été signalée à Tozaklar (MN15), mais en raison de la rareté du matériel fossile, une détermination spécifique précise est impossible.
Mots-clés : Tepe Alagöz ; Turquie ; Pliocène ; Rodentia ; Lagomorpha ; Trischizolagus gambariani
Translator: Antoine Souron
Deutsche Zusammenfassung
Die neue frühpliozäne Fundstelle Tepe Alagöz (Turkei) offenbart einen besonderen Zahn-Phänotypen von Trischizolagus (Lagomorpha, Leporidae) in Asia Minor
Leporiden-Überreste aus dem Pliozän sind sehr selten in Anatolien und treten nur an einigen wenigen Stellen sporadisch auf. Die neue Fundstelle Tepe Alagöz (Çankırı Becken) ist die erste nachgewiesene pliozäne Fundstelle in der Türkei, die genug Leporiden-Material aufweist, um die morphometrische Variabilität bei taxonomisch wichtigen Zähnen bestimmen zu können. Die Fundstelle lieferte auch Überreste der Nagetiere Occitanomys debruijni, Allocricetus cf. ehiki, Pseudomeriones hansi und einen ochotoniden Lagomorphen. Die Assemblage weist auf ein frühpliozänes Alter (MN14) hin und ist damit genauso alt oder etwas älter als die in İğdeli (Sivas Becken). Der mittelgroße Leporide ist dadurch characterisiert, dass der p3 ein beinahe ausschliesliches "Nekrolagus" –Muster aufweist mit schmalem Anteroconid und sehr variablem Anteroflexid. Dazu kommt, dass der P2 einen kurzen Paraflexus, langen Hypoflexus und moderat entwickelten Mesoflexus hat und der I1 anteroposterior verkürzt ist mit einer flachen V-förmigen, zementfreien anterioren Kerbe. Der Leporide wurde mit Trischizolagus gambariani co-identifiziert, der in der gleichaltrigen Fundstelle Nurnus (Armenien) beschrieben wurde. Eine Lectotypen-Bezeichnung und verbesserte Diagnose der Art wird in dieser Arbeit vorgelegt. Der vorhandene Fossilnachweis von Trischizolagus weist darauf hin, dass der nordwestliche Teil des Peri-Paratethys-Gebiets von T. dumitrescuae bevölkert wurde, im Süden und Südwesten jedoch vom klar unterscheidbaren T. gambariani. Der einzig andere nachgewiesene Fund von Trischizolagus aus Anatolien wurde aus Tozaklar gemeldet (MN15), jedoch ist wegen des spärlichen Fossilmaterials eine endgültige Artbestimmung nicht möglich.
Schlüsselwörter: Tepe Alagöz; Turkei; Pliozän; Rodentia; Lagomorpha; Trischizolagus gambariani
Translator: Eva Gebauer
Arabic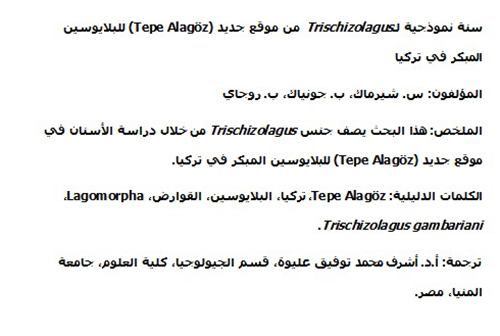 Translator: Ashraf M.T. Elewa
Polski
Nowe stanowisko z wczesnego lokalizacja pliocenu Tepe Alagöz (Turcja) ujawnia charakterystyczny fenotyp zęba Trischizolagus (Lagomorpha, Leporidae) w Azji Mniejszej
Plioceńskie szczątki zającowatych są bardzo rzadkie w Anatolii, występują sporadycznie tylko w kilku stanowiskach. Nowe stanowisko Tepe Alagöz (Basen Çankırı) jest pierwszym opisywanym stanowiskiem z pliocenu w Turcji z wystarczająco bogatym materiałem zającowatych do określenia zmienności morfometrycznej dla taksonomicznie istotnych zębów. Stanowisko zawiera także szczątki gryzoni Occitanomys debruijni, Allocricetus cf. ehiki, Pseudomeriones hansi i szczekuszek. Zespół szczątków sugeruje wiek określony na wczesny pliocen (MN14) podobny lub nieco starszy niż stanowisko İğdeli (Sivas Basin). Średniej wielkości zającowaty charakteryzuje się p3 prawie wyłącznie w typie "Nekrolagus" z wąskim anterokonidem i bardzo zmiennym anterofleksidem. Jest to związane z P2 o krótkim parafleksusie, długim hypofleksusie i umiarkowanie rozwiniętym mezofleksusie oraz przednio-tylnie skróconym I1 z płytkim, bezcementowym przednim wycięciem w kształcie litery V. Zającowaty był współzidentyfikowany z Trischizolagus gambariani opisanym w równowiekowym stanowisku Nurnus (Armenia). W tym artykule przedstawiono oznaczenie lektotypu i diagnostykę gatunku. Dostępny zapis kopalny Trischizolagus wskazuje, że północno-zachodnia część obszaru okołoparatetydowego była zasiedlona przez T. dumitrescuae, ale na południu i południowym wschodzie przez odrębnego T. gambariani. Jedyne inne udowodnione znalezienie Trischizolagus z Anatolii zostało opisane z Tozaklar (MN15), ale ze względu na niedobór materiału kopalnego niemożliwe jest określenie gatunku.
Słowa kluczowe: Tepe Alagöz; Indyk; Pliocen; Rodentia; Lagomorpha; Trischizolagus gambariani
Translator: Krzysztof Stefaniak