A new genus of ptyctodont (Placodermi) from the Late Devonian of Baltic area
Plain Language Abstract
Ptyctodonts belong to an extinct group of armoured fishes, the placoderms. Isolated tooth plates make up the majority of known ptyctodont fossil remains but rare body fossils show ptyctodonts had reduced dermal armour compared with other placoderms, large eyes and a long body terminating in a whip like tail. Here we describe a new genus and species of ptyctodont, recovered from carbonate deposits in the Baltic region, dated as 370 million years old. Although the fossil remains occur as isolated plates these show 3D preservation, which allow the fish to be accurately reconstructed and identified as a new genus Meeksiella. This new taxon shows a close relationship with forms from Europe and Australia demonstrating widespread dispersal of the group by this time.
Resumen en Español
Un nuevo género de ptictodonte (Placodermi) del Devónico Tardío del área Báltica
El ptictodonte primeramente referido como Chelyophorus pskovensis Obruchev, 1947 del Frasniano temprano (Devónico Tardío) del Río Velikaya River, Región de Pskov, Rusia, es aquí redescripto a partir de la recolección de materiales adicionales de los afloramientos contemporáneos de Meeksi Mill, en Estonia, y Piskovichi y Snetnaya Gora, en Rusia, y es aquí referido a Meeksiella gen. nov. Con la excepción de un techo craneano articulado, los fósiles son placas aisladas preservadas en tres dimensiones, y esto ha permitido una reconstrucción precisa del esqueleto dérmico. Un análisis filogenético resuelve a Meeksiella pskovensis gen. et sp. nov. dentro de un cluster de taxones previamente recuperado que incluye a Ctenurella de Europa y Austroptyctodus de Australia occidental, demostrando una distribución global de este clado durante el Devónico Tardío.
Palabras clave: Género nuevo; Placodermo; Ptictodonte; Filogenia; Frasniano; Estonia; Región de Pskov
Traducción: Diana Elizabeth Fernández
Résumé en Français
In Progess
Translator: Antoine Souron
Deutsche Zusammenfassung
Eine neue Gattung der Ptyctodontida (Placodermi) aus dem Spätdevon des Baltikums

Der ptyctodonte Fisch, der zunächst als Chelyophorus pskovensis Obruchev, 1947 bezeichnet wurde und der aus dem frühen Frasnium (spätes Devon) des Flusses Velikaya in der Pskov Regionvon Russland stammt, wird nach der Sammlung von zusätzlichem Material aus dem zeitgleichen Meeksi Mill Steibruch (Estland) und den Piskovichi und Snetnaya Gora Steinbrüchen (Russland) neu beschrieben und wird hier als Meeksiella gen. nov. bezeichnet. Außer einem artikulierten Schädeldach, bestehen die Fossilien aus dreidimensional erhaltenen isoloierten Platten, was eine genaue Rekonstruktion des dermalen Skeletts ermöglicht hat. Eine phylogenetische Analyse platziert Meeksiella pskovensis gen. et sp. nov. innerhalb eines zuvor gefundenen Taxa-Clusters, zu dem Ctenurella aus Europa und Austroptyctodus aus Westaustralien gehören, und zeigt die globale Verteilung dieser Gruppe im späten Devon.
Schlüsselwörter: neue Gattung; Placoderme; Ptyctodonte; Phylogenie; Frasnium; Estland; Pskov Region
Translator: Eva Gebauer
Arabic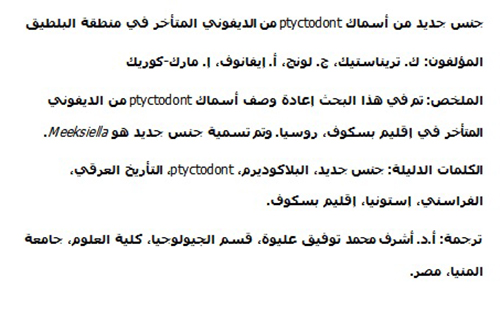 Translator: Ashraf M.T. Elewa
Polski
Nowy rodzaj ptyktodonta (Placodermi) z późnego dewonu obszaru bałtyckiego
Ptyktodont, ryba pancerna opisana po raz pierwszy jako Chelyophorus pskovensis Obruchev, 1947 z wczesnego franu (późny dewon) z rzeki Velikaya, okolice Pskówa, Rosja, została ponownie opisana po zebraniu dodatkowych materiałów ze współczesnego odsłonięcia Meeksi Mill w Estonii; odsłonięć Piskovichi i Snetnaya Gora w Rosji i zaliczone do Meeksiella gen. nov. Z wyjątkiem przegubowego dachu czaszki, okazy występują jako trzójwymiarowo zachowane izolowane płytki, co pozwoliło na dokładną rekonstrukcję szkieletu skórnego. Analiza filogenetyczna zalicza Meeksiella pskovensis gen. et sp. nov. w obręb wcześniej ustanowionego zespołu taksonów, który obejmuje Ctenurella z Europy i Austroptyctodus z zachodniej Australii, pokazując globalne rozprzestrzenienie tego kladu w późnym dewonie.
Słowa kluczowe: Nowy rodzaj; Placodermi; filogeneza ptyktodontów; Frasian; Estonia; Region Pskowa
Translator: Krzysztof Stefaniak