Early-Middle Pleistocene environmental and biotic transition in north-western Armenia, southern Caucasus
Plain Language Abstract
Sediments of ancient Pleistocene intermontane lakes occur in north-western Armenia, the southern Caucasus. These deposits are divided into two successive parts, the Ani and Arapi formations. They produced a rich paleontological record of pollen, molluscan shells, and bones of smaller vertebrates – fishes, frogs, and small mammals. Analysis of pollen showed a general environmental trend from more wooded towards more steppe-like biotopes. The vegetation of Ani time still included broad-leaved and conifer trees of Pliocene and Early Pliocene appearance. The Arapi time vegetation is less diverse and characterises birch forests and steppes. Fishes include common scrapers and more rare vairones. This assemblage indicates conditions of a river or lake with flowing water and rocky bottom overgrown with rich water vegetation. Amphibians, also indicative of aquatic conditions, are represented by a green toad and frog. Small mammals include several species of voles and shrews associated with riverine, meadow, and steppe habitats. The archaic water vole Mimomys with roots in cheek teeth is an important age marker of the fauna. Combined paleontological, radiometric, and paleomagnetic data determine the age of the ancient lake in the Shirak Depression in the range from late Early (ca. 1.5 millions of years) to early Middle Pleistocene (at least 0.6 millions of years).
Russian Abstract
Среда и биота на рубеже раннего и среднего плейстоцена на северо-западе Армении, Южный Кавказ
По материалам из нескольких местонахождений в аллювиально-озёрных отложениях анийской и арапийской свит в Ширакском и Верхнеахурянском осадочных бассейнах изучена четвертичная биота северо-западной Армении. Палинология озерных отложений анийской свиты указывает на циклическое чередование лесостепных и степных ценозов в Ширакской впадине. Отрывочная палинологическая летопись в разрезах арапийской свиты указывает на лесостепные ценозы. Среди водных моллюсков анийской свиты преобладают гастроподы и двустворки дрейссениды. Для моллюсков арапийской свиты характерны лимнофильные пресноводные виды, представленные в основном современными видами. Из арапийских отложений получены остатки рыб, земноводных и мелких млекопитающих. В составе пресноводной ихтиофауны определены карповые рыбы, происходящие от более древних плио-плейстоценовых рыбных сообществ Армении. Ассоциация рыб позволяют реконструировать озёрные и речные местообитания с каменистым дном и обильной водной растительностью. Герпетофауна из арапийской свиты включает остатки бесхвостых земноводных, которые указывают на водные биотопы. Мелкие млекопитающие представлены Sorex cf. runtonensis, Neomys cf. hintoni, Ochotona sp., Mimomys intermedius, Terricola sp., Microtus gr. nutiensis, Prolagurus pannonicus transylvanicus и Ellobius pomeli. Эта фауна характеризует Ленинаканский (Гюмрийский) фаунистический комплекс, который сопоставляется с поздним бихарием европейской биохронологической шкалы наземных млекопитающих, тираспольским фаунистическим комплексом Восточной Европы и кромером Северо-Западной Европы. Полученные данные имеют важное биогеографическое значение для южного обрамления понто-каспийского региона. Они показывает сложную историю биотических обменов и полигенного происхождения наземных сообществ на Южном Кавказе. Радиометрический, палеомагнитный и биотический контроль позволяют датировать отложения анийской свиты в интервале от конца раннего до самого начала среднего плейстоцена. Возраст формирования арапийской свиты – начало среднего плейстоцена, древнее 0,6 млн лет. Основная тенденция развития ландшафтов в регионе в
Ключевые слова: палинология; моллюски; рыбы; млекопитающие; ранний и средний плейстоцен; южный Кавказ
Translation by authors
Resumen en Español
Transición biótica y ambiental del Pleistoceno Temprano-Medio en el NO de Armenia, sur del Cáucaso
Se estudia la biota cuaternaria del noroeste de Armenia a partir de varias localidades en las formaciones fluviales Ani y Arapi de las cuencas sedimentarias Shirak y Akhuryan Superior. La palinología de los depósitos lacustres de la Formación Ani indica alternancia cíclica de cenosis de bosque-estepa y estepa en la Depresión Shirak. El registro irregular de granos de polen de las secciones de la Formación Arapi indica cenosis de bosque-estepa. Los moluscos acuáticos de la Formación Ani están dominados por gastrópodos y bivalvos dreisénidos. Los moluscos de la Formación Arapi están caracterizados por especies dulciacuícolas limnofílicas con formas principalmente actuales. En los depósitos de Arapi se encontraron restos de peces, anfibios y pequeños mamíferos. La asociación de peces de agua dulce comprende especies de ciprínidos que derivaron de comunidades de peces del Plio-Pleistoceno de Armenia. La asociación indica hábitats lacustres y fluviales con fondos rocosos y con presencia de sobrecrecimiento de plantas acuáticas. La herpetofauna de la Formación Arapi incluye restos de anfibios anuros que indican hábitats acuáticos. Los pequeños mamíferos incluyen a Sorex cf. runtonensis, Neomys cf. hintoni, Ochotona sp., Mimomys intermedius, Terricola sp., Microtus gr. nutiensis, Prolagurus pannonicus transylvanicus y Ellobius pomeli. Esta fauna caracteriza a la asociación faunística de Leninakan (Gyumri), correlacionada con el Bihariano tardío de la biocronología de mamíferos terrestres de Europa, el complejo faunístico Tiraspol de Europa Oriental, y el Cromeriano del NO de Europa. El registro estudiado tiene una importante significancia biogeográfica para el límite sur de la región Ponto-Caspiana. Muestra la completa historia de los intercambios bióticos y el origen poligénico de las comunidades terrestres en el sur del Cáucaso. Los controles radiométricos, paleomagnéticos y bióticos permiten datar los depósitos de Ani como pertenecientes al Pleistoceno Temprano tardío al Pleistoceno Medio más temprano. La edad de la Formación Arapi es Pleistoceno Medio temprano, mayor a 0.6 Ma. La principal tendencia en la evolución del paisaje en la región entre los 1.5 y los 0.7 Ma es una transición desde condiciones de bosque-estepa a estepa.
Palabra clave: palinología; moluscos; peces; mamíferos; Pleistoceno Temprano-Medio; sur del Cáucaso
Traducción: Diana Elizabeth Fernández
Résumé en Français
Transition biotique et environnementale au Pléistocène ancien-moyen dans le nord-ouest de l'Arménie, sud du Caucase
Les biotes quaternaires dans le nord-ouest de l'Arménie sont étudiés dans plusieurs localités des formations fluviatiles d'Ani et d'Arapi dans les bassins sédimentaires du Shirak et de l'Akhuryan supérieur. La palynologie des dépôts lacustres de la formation d'Ani indique une alternance cyclique de cénoses de forêt et de forêt-steppe dans la dépression de Shirak. Le registre pollinique lacunaire des sections de la formation d'Arapi indique des cénoses de forêt-steppe. Les mollusques aquatiques de la formation d'Ani sont dominés par les gastéropodes et les bivalves dreissenidés. Les mollusques de la formation d'Arapi sont caractérisés par des espèces limnophiles d'eau douce avec principalement des formes similaires aux espèces actuelles. Les dépôts d'Arapi ont livré des restes de poissons, d'amphibiens, et de petits mammifères. L'assemblage de poissons d'eau douce comprend des espèces de cyprinidés qui dérivent des communautés de poissons plus anciennes du Plio-Pléistocène d'Arménie. L'assemblage indique des habitats de lacs et de rivières avec des fonds rocheux et la présence d'une prolifération de plantes aquatiques. L'herpétofaune de la formation d'Arapi inclut des restes d'amphibiens anoures qui indiquent des habitats aquatiques. Les petits mammifères incluent Sorex cf. runtonensis, Neomys cf. hintoni, Ochotona sp., Mimomys intermedius, Terricola sp., Microtus gr. nutiensis, Prolagurus pannonicus transylvanicus, et Ellobius pomeli. Cette faune caractérise l'assemblage faunique de Leninakan (Gyumri) corrélé au Biharien récent de la biochronologie des mammifères terrestres d'Europe, le complexe faunique Tiraspol d'Europe de l'Est, et le Cromérien du nord-ouest de l'Europe. Le registre étudié est important pour la biogéographie de la marge sud de la région ponto-caspienne. Il montre l'histoire complexe des échanges biotiques et les origines polygéniques des communautés terrestres du sud du Caucase. Le contrôle radiométrique, paléomagnétique, et biotique permet de dater les dépôts d'Ani de la fin du Pléistocène ancien et du début du Pléistocène moyen. L'âge de la formation d'Arapi est du début du Pléistocène moyen, plus ancien que 0,6 Ma. La tendance principale de l'évolution des paysages dans la région entre ca. 1,5 Ma et 0,7 Ma est une transition entre des conditions de forêt-steppe et des conditions de steppe.
Mots-clés : palynologie ; mollusques ; poissons ; mammifères ; Pléistocène ancien-moyen ; sud du Caucase
Translator: Antoine Souron
Deutsche Zusammenfassung
Früher mittelpleistozäner Wandel von Umwelt und Biota im Nordwesten von Armenien (Südkaukasus)
Es wird die quartäre Biota von Nordwest-Armenien aus verschiedenen Fundstellen in den fluvialen Ani und Arapi Formationen der Shirak und oberen Akhuryan Sedimentbecken untersucht. Die Palynologie der lakustrinen Ablagerungen der Ani Formation weist auf zyklische Alternation von Wald-Steppe und Steppe Zönosen in der Shirak Depression hin. Der lückenhafte Pollennachweis aus den Sektionen der Arapi Formation weist auf Wald-Steppe Zönosen hin. Aquatische Mollusken aus der Ani Formation werden von Gastropoden und dreisseniden Bivalven dominiert. Mollusken der Arapi Formation sind durch limnophile Süßwasserarten mit meist auch heute noch vorkommenden Formen charakterisiert. Die Arapi Ablagerungen lieferten Überreste von Fischen, Amphibien und kleinen Säugetieren. Die Süßwasser-Fisch-Assemblage beinhaltet cyprinide Arten, die von den früheren plio-pleistozänen Fischgemeinschaften Armeniens abstammen. Die Assemblage weist auf lakustrine und Flusshabitate mit felsigem Grund und ein übermäßiges Wachstum an Wasserpflanzen hin. Die Herpetofauna der Arapi Formation beinhaltet Überreste von Anura, die auf aquatische Habitate hinweisen. Kleine Säugetiere beinhalten Sorex cf. runtonensis, Neomys cf. hintoni, Ochotona sp., Mimomys intermedius, Terricola sp., Microtus gr. nutiensis, Prolagurus pannonicus transylvanicus und Ellobius pomeli. Diese Fauna kennzeichnet die Leninakan (Gyumri) Faunenassemblage, die mit dem späten Biharium der europäischen Landsäugetier Biochronologie, dem Tiraspol Faunenkomplex von Osteuropa und dem Cromerium von Nordwesteuropa korreliert. Der untersuchte Nachweis hat eine wichtige biogeografische Bedeutung für den Südrand der pontokaspischen Region. Es zeigt die komplexe Geschichte des biotischen Austauschs und der polygenen Herkunft der terrestrischen Gemeinschaften im Südkaukasus. Radiometrische, paläomagnetische und biotische Kontrolle ermöglichen es, die Arapi Ablagerungen auf spätes Früh-bis frühestes Mittelpleistozän zu datieren. Das Alter der Arapi Formation ist frühes Mittelpleistozän und älter als 0.6 Ma. Der Haupttrend der Landschaftsentwicklung in der Region zwischen ca. 1,5-0,7 Ma ist ein Übergang von der Waldsteppe zur Steppe.
Schlüsselwörter: Palynologie; Mollusken; Fische; Säugetiere; frühes Mittelpleistozän; südlicher Kaukasus
Translator: Eva Gebauer
Arabic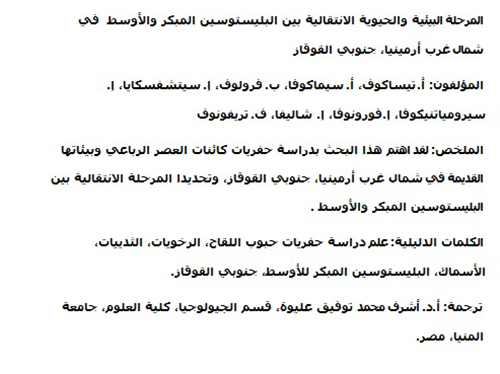 Translator: Ashraf M.T. Elewa
Polski
Wczesno-środkowo plejstoceńskie przemiany środowiskowe i biotyczne w NW Armenii, Kaukaz Południowy


Czwartorzędowa biota północno-zachodniej Armenii jest badana z kilku stanowisk w formacjach fluwialnych Ani i Arapi w basenach sedymentacyjnych Shirak i Górny Akhuryan. Palinologia osadów jeziornych formacji Ani wskazuje na cykliczną przemianę cenoz lasostepowych i stepowych w Depresji Shirak. Niejednolity zapis pyłkowy z odcinków formacji Arapi wskazuje na cenozy lasostepowe. Wodne mięczaki z formacji Ani są zdominowane przez ślimaki i małże racicznicowate. Mięczaki z formacji Arapi charakteryzują się limnofilnymi gatunkami słodkowodnymi z dominującymi formami współczesnymi. Osady Arapi zawierały pozostałości ryb, płazów i drobnych ssaków. Zespół ryb słodkowodnych składa się z gatunków karpiowatych, które pochodzą z wcześniejszych plio-plejstoceńskich zbiorowisk ryb kopalnych Armenii. Zespół wskazuje na siedliska jeziorne i rzeczne o twardym dnie, z obecnością roślin wodnych. Herpetofauna z formacji Arapi zawiera szczątki płazów bezogonowych, które wskazują na siedliska wodne. Małe ssaki obejmują Sorex cf. runtonensis, Neomys cf. hintoni, Ochotona sp., Mimomys intermedius, Terricola sp., Microtus gr. nutiensis, Prolagurus pannonicus transylvanicus i Ellobius pomeli. Ta fauna charakteryzuje zespół faunistyczny Leninakan (Gyumri) korelowany z późnym biharianem w europejską biochronologią ssaków lądowych, kompleksem faunistycznym Tiraspol z Europy Wschodniej i kromerskim z NW Europy. Opisywane znaleziska mają istotne znaczenie biogeograficzne dla południowego obrzeża regionu Ponto-Kaspijskiego. Pokazują złożoną historię wymiany biotycznej i poligenicznego pochodzenia lądowych zespołów na południowym Kaukazie. Kontrola radiometryczna, paleomagnetyczna i biotyczna umożliwia datowanie osadów Ani na późny wczesny i najwcześniejszy środkowy plejstocen. Wiek formacji Arapi na wczesny środkowy plejstocen starszy niż 0,6 miliona lat. Główny trend ewolucji krajobrazów w badanym regionie między ok. 1,5-0,7 Ma to przejście od warunków lasostepowych do stepowych.
Słowa kluczowe: palinologia; mięczaki; ryby; ssaki; dolny-środkowy plejstocen plejstocen; południowy Kaukaz
Translator: Krzysztof Stefaniak