Preliminary investigation of a diverse megafossil floral assemblage from the middle Miocene of southern Mississippi, USA
Plain Language Abstract
Few plant fossils are known from the Miocene Epoch of eastern North America, which is unfortunate as this time was critical in the development of modern ecosystems. This report describes a newly discovered middle Miocene fossil site from the Hattiesburg Formation along the Bouie River in southern Mississippi that is yielding one of the most extensive assemblages of leaf and fruit fossils from this time in all of eastern North America. Ferns are represented by specimens of Salvinia (a floating fern), chain fern (Woodwardia), and royal fern (Osmunda). Conifers are represented by bald cypress (Taxodium). Flowering plants include sycamore (Platanus), elderberry (Sambucus), redbud (Cercis), oak (Quercus), walnut (Juglans), hickory (Carya), mulberry (Morus), cottonwood (Populus), and willow (Salix). Of particular interest is a seed of Sargentodoxa. Today only one species of Sargentodoxa (S. cuneata) exists, growing as a vine native to parts of China, Laos, and Vietnam. This plant is widely used in Chinese herbal medicine under the name Hong Ten (red vine). The Hong Teng fossil is a new record for the southeastern coastal plain, and only the third example found in North America. Monocots (a large group of flowering plants) are represented by specimens of a sedge (Cyperus) and two kinds of palms (Arecaceae), including specimens with large spines on the leaf stalk. Also, among the monocots is the first fossil example (beyond seeds) of a modern type of duckweed (Lemna) from North America and only the second report globally. Because many of the fossils are related to plants still found in the area, it is probable that the climate during the middle Miocene was similar to the humid, subtropical conditions of the modern central Gulf Coastal Plain.
Resumen en Español
Investigación preliminar de una asociación floral diversa de megafósiles del Mioceno medio del sur de Mississippi, EE.UU.
Nuestra comprensión de las floras miocenas en el este de América del Norte se ve obstaculizada por la escasez de yacimientos con megarrestos fósiles. Un estudio inicial de la Formación Hattiesburg del Mioceno medio en Mississippi incluía palmas y Ulmus. Un estudio posterior enumeró Taxodium, Salix, Morus o Celtis, y fragmentos de monocotiledóneas. La asociación de plantas fósiles descrita aquí se recuperó recientemente a lo largo del río Bouie, en el sur de Mississippi. Los helechos están representados por especímenes completos de Salvinia, incluidos los esporocarpos, Woodwardia y Osmunda. Las coníferas están representadas por ramitas de Taxodium. Las angiospermas incluyen hojas atribuibles a Lauraceae. El género Platanus ha sido identificado a partir de hojas, estípulas y frutos. Los folíolos de Sambucus son comunes. Cercis se reconoce a partir de hojas con venación palmada y pulvinos. Se han encontrado hojas de Quercus secciones Lobatae y Quercur. Las Juglandaceae incluyen frutos de Juglans y dos especies de Carya. Se han recuperado hojas de Morus, Populus y Salix. De particular interés biogeográfico es una semilla de Sargentodoxa, que constituye el primer registro para este endemismo chino actual de la llanura costera del sureste. Las monocotiledóneas incluyen Cyperus y dos tipos de palma, incluyendo una con pecíolos armados. Han sido identificados los primeros fósiles vegetativos de Lemna de América del Norte. Debido a que la mayoría de los fósiles están relacionados con las plantas que actualmente aún se encuentran en la región, el clima fue probablemente similar al de la moderna llanura central del Golfo. Esta flora es ahora una de las más ampliamente conocidas en el Neógeno del sureste de América del Norte y ayuda a llenar un gran vacío en nuestro entendimiento de la evolución de la planta del Mioceno.
Palabras clave: Costa del Golfo; Formación Hattiesburg; Lemna; palmas fósiles; Salvinia; Sargentodoxa
Traducción: Enrique Peñalver (Sociedad Española de Paleontología)
Résumé en Français
In progress
Translator: Antoine Souron
Deutsche Zusammenfassung
Voruntersuchung einer diversen Pflanzen- Megafossil-Assemblage aus dem mittleren Miozän des südlichen Mississippi, USA
Unser Verständnis der miozänen Floren im östlichen Nordamerika wird durch die Seltenheit von Megafossil-Fundstellen erschwert. Ein früher Nachweis aus der mittelmiozänen Hattiesburg Formation in Mississippi beinhaltet Palmen und Ulmus. Eine späterer Mitteilung listet Taxodium, Salix, entweder Morus oder Celtis und Fragmente von einkeimblättrigen Pflanzen auf. Die hier beschriebene Pflanzen-Assemblage wurde kürzlich entlang des Flusses Bouie im südlichen Mississippi entdeckt. Farne sind vertreten durch vollständige Salvinia-Stücke mit Sporocarpen, Woodwardia und Osmunda. Koniferen sind durch kleine Zweige von Taxodium vertreten. Angiospermen beinhalten Blätter die den Lauraceae zugeschrieben werden können. Platanus ist bekannt von Blättern, Nebenblättern und Früchten. Es gibt viele Blättchen von Sambucus. Cercis ist erkennbar an den handnervigen Blättern und durch die Pulvini. Es wurden Blätter von Quercus Sektionen Lobatae und Quercus gefunden. Die Juglandaceae beinhalten Früchte von Juglans und zwei Arten von Carya. Es wurden Blätter von Morus, Populus und Salix gefunden. Von besonderem biogeographischem Interesse ist ein Samen von Sargentodoxa, der der erste Nachweis aus der südöstlichen Küstenebene dieser aktuell in China endemischen Form ist. Einkeimblättrige Pflanzen beinhalten Cyperus und zwei Palmen, von denen eine bewehrte Blattstiele hat. Es wurden die ersten vegetativen Fossilien von Lemna aus Nordamerika identifiziert. Da die meisten Fossilien mit Pflanzen verwandt sind, die heute noch in der Region vorkommen, war das Klima wahrscheinlich ähnlich dem der modernen zentralen Golfküstenebene. Diese Flora ist nun eine der am besten bekannten für das Neogen im Südosten Nordamerikas und hilft, eine große Lücke in unserem Verständnis der miozänen Pflanzenevolution zu schließen.
Schlüsselwörter: Golfküste; Hattiesburg Formation; Lemna; fossile Palmen; Salvinia; Sargentodoxa
Translator: Eva Gebauer
Arabic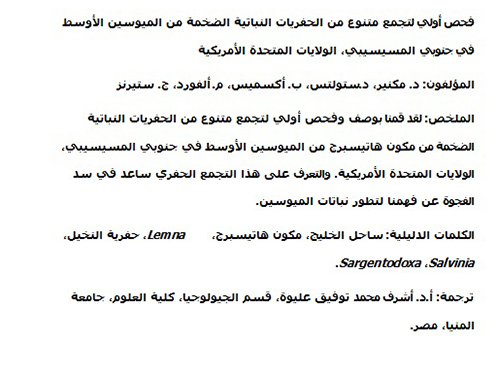 Translator: Ashraf M.T. Elewa
Polski
Wstępne badanie zróżnicowanego zbiorowiska kopalnych roślin ze środkowego miocenu w południowej Missisipi, USA
Nasze zrozumienie flor miocenu we wschodniej Ameryce Północnej jest utrudnione przez rzadkość występowania stanowisk. Wczesne doniesienie ze środkowo mioceńskiej formacji Hattiesburg w Mississippi obejmowało palmy i Ulmus. W późniejszej pracy wymieniono Taxodium, Salix, Morus lub Celtis oraz fragmenty roślin jednoliściennych. Opisany tutaj zbiór kopalnych roślin został niedawno odnaleziony nad rzeką Bouie w południowym Missisipi. Paprocie reprezentują kompletne okazy Salvinia, w tym z owocnikami, Woodwardia i Osmunda. Drzewa iglaste są reprezentowane przez gałązki Taxodium. Okrytozalążkowe reprezentują liście przypisywane Lauraceae. Platanus znany jest z liści, przylistków i owoców. Listki Sambucus są powszechne. Cercis został rozpoznany z liści z rozgałęzionymi żyłkami palmowymi i miąższem. Zostały oznaczone liście Quercus sekcja Lobatae i Quercus. Juglandaceae obejmują owoce Juglans i dwa gatunki Carya. Pozyskano także liście Morus, Populus i Salix. Szczególnie interesujące biogeograficznie są nasiona Sargentodoxa; jest to pierwsze doniesienie o występowania na południowo-wschodniej równinie przybrzeżnej tego obecnego endemicznego chińskiego rodzaju. Jednoliścienne obejmują Cyperus i dwa rodzaje palm, w tym jedną z uzbrojonymi ogonkami. Zidentyfikowano pierwsze wegetatywne skamieniałości Lemna z Ameryki Północnej. Ponieważ większość skamieniałości jest związana z roślinami wciąż występującymi w tym regionie, klimat był prawdopodobnie podobny do współczesnej centralnej równiny Gulf Coastal. Ta flora jest obecnie jedną z najbardziej znanych w neogenie południowo-wschodniej Ameryki Północnej i pomaga wypełnić poważną lukę w naszym zrozumieniu mioceńskiej ewolucji roślin.
Słowa kluczowe: Gulf Coast; formacja Hattiesburg; Lemna; kopalne palmy; Salvinia; Sargentodoxa
Translator: Krzysztof Stefaniak