Crown beaked whale fossils from the Chepotsunai Formation (latest Miocene) of Tomamae Town, Hokkaido, Japan
Plain Language Abstract
In the last decades, our knowledge of beaked whale evolution increased dramatically. However, their ear bone (periotic) shape is still poorly known. A fossil beaked whale (TTM-1) including the ear bones, isolated teeth and vertebrae from the Chepotsunai Formation (latest Miocene) of Hokkaido, Japan, is identified as a crown ziphiid based on three periotic features, and adds morphological information of the periotic. Among the Ziphiidae from the stem to crown, the periotic morphologies were changed to having a more robust anterior process, wider anterior bullar facet and posterior process. The crown Ziphiidae shares a feature; enlarged medial tubercle on the anterior process. Among the crown Ziphiidae, TTM-1 does not have swollen lateral side of the anterior process not like Tasmacetus, Nazcacetus and others. This new morphological information might represent useful future phylogenetic comparisons.
Resumen en Español
Fósiles de ballena de pico, del grupo corona, de la Formación Chepotsunai (Mioceno más tardío) de la ciudad de Tomamae, Hokkaido, Japón
En las últimas décadas, nuestro conocimiento de la evolución de los Ziphiidae ha aumentado mucho. Sin embargo, la morfología del hueso periótico es aún poco conocida. Un Ziphiidae fósil (TTM-1) que incluye el hueso periótico, bulla, dientes aislados de formas muy variadas y vértebras, de la Formación Chepotsunai (Mioceno más tardío) de la ciudad de Tomamae, Hokkaido, Japón, es identificado como del grupo corona de Ziphiidae al tener tres sinapomorfías relativas a este hueso; un proceso posterior posteriormente ancho, proceso anterior transversalmente grueso y proceso lateral lateralmente alargado. El espécimen aporta información morfológica del hueso periótico. Entre los Ziphiidae desde los basales a los corona, las morfologías del hueso periótico cambiaron para tener un proceso anterior más robusto, una faceta anterior de la bulla más ancha y proceso posterior. El grupo corona de Ziphiidae comparte la característica de tener un tubérculo medial agrandado en el proceso anterior. Entre los integrantes del grupo corona de Ziphiidae, TTM-1 no tiene un tubérculo medial inflamado, no como en Tasmacetus, Nazcacetus y otros. Esta nueva información morfológica podría favorecer futuras comparaciones filogenéticas útiles.
Palabras clave: Ziphiidae; Odontoceti; Messiniense; Periótico; Petrosal
Traducción: Enrique Peñalver (Sociedad Española de Paleontología)
Résumé en Français
In progress
Translator: Antoine Souron
Deutsche Zusammenfassung
Kronengruppen-Schnabelwal-Fossilien aus der Chepotsunai Formation (spätestes Miozän) von Tomamae, Hokkaido, Japan
In den letzten Jahrzehnten hat sich unser Wissen über die Evolution der Ziphiidae deutlich erweitert. Allerdings weiß man immer noch ziemlich wenig über die Morphologie ihres Perioticums. Ein fossiler Schnabelwal (TTM-1) mit Perioticum, Bulla, isolierten polydonten Zähnen und Wirbeln aus der Chepotsunai Formation (spätestes Miozän) von Tomamae, Hokkaido (Japan) wird durch drei Synapomorphien im Perioticum als Kronengruppen-Schnabelwal identifiziert: posterior breiter Posteriorfortsatz, transversal dicker Anteriorfortsatz und lateral verlängerter Lateralfortsatz. Das Stück liefert morphologische Information über das Perioticum. Bei den Ziphiidae änderte sich die Morphologie des Perioticums vom Stamm zur Kronengruppe dahingehend, dass der Anteriorfortsatz robuster wurde und die anteriore Bullafacette sowie der Posteriorfortsatz breiter. Die Kronengruppe der Ziphiidae teilt das Merkmal eines vergrößerten Tuberkels auf dem Anteriorfortsatz. Unter der Kronengruppe Ziphiidae, hat TTM-1 keinen wulstigen medialen Tuberkel wie Tasmacetus, Nazcacetus und andere. Diese neuen morphologischen Informationen könnten nützliche zukünftige phylogenetische Vergleiche darstellen.
Schlüsselwörter: Ziphiidae; Odontoceti; Messinium; Perioticum; Petrosum
Translator: Eva Gebauer
Arabic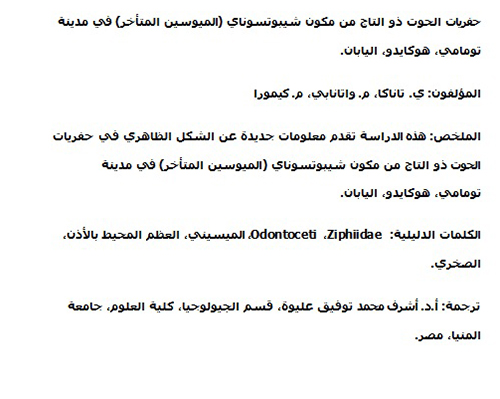 Translator: Ashraf M.T. Elewa
Polski
Skamieniałości wali dziobiastych z formacji Chepotsunai (późny miocen) z Tomamae Town, Hokkaido, Japonia
W ostatnich dziesięcioleciach nasza wiedza na temat ewolucji wali dziobiastych dramatycznie wzrosła. Jednak ich morfologia części okolosłuchowej czaszki jest wciąż słabo znana. Okaz wala dziobiastego (TTM-1), z zachowaną częścią okołosłuchową, puszką bębenkową, izolowane zęby polidontowe i kręgi z formacji Chepotsunai (późny miocen) w Tomamae Town, Hokkaido, Japonia, zidentyfikowano jako skamieniałość wala dziobiastego przez posiadanie trzech synapomorfii części okołosłuchowej; szeroki wyrostek tylny, poprzecznie masywny wyrostek przedni i bocznie wydłużony wyrostek boczny. Okaz dostarcza informacji morfologicznych o oklicy okołosłuchowej. Wśród Ziphiidae ewolucja morfologii części okołosłuchowej postępowała w kierunku zwiększenia wytrzymałości wyrostka przedniego, rozszerzenia przedniej powierzchni i wyrostka tylnego. Dziobiaste Ziphiidae mają wspólną cechę; powiększony guzek przyśrodkowy w wyrostku przednim. U dziobiastych Ziphiidae, TTM-1 nie ma kopulastego guzka przyśrodkowego w odróżnieniu od Tasmacetus, Nazcacetus i innych. Te nowe informacje morfologiczne mogą być przydatne dla przyszłych porównań filogenetycznych.
Słowa kluczowe: Ziphiidae; Odontoceti; Messinian; Periotyczny; Petrosal
Translator: Krzysztof Stefaniak