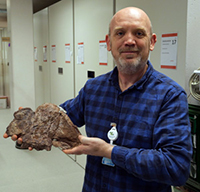 Michael Newman. Vine Lodge, Vine Road, Johnston, Haverfordwest, Pembrokeshire, SA62 3NZ, United Kingdom.
Michael Newman is a geology graduate from the University of Aberdeen. He is a non-professional palaeontologist specializing in the taxonomy and biostratigraphy of Palaeozoic fish particularly from the Old Red Sandstone Continent. He is also a fellow of the Geological Society of London.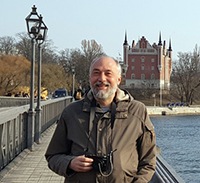 Jan den Blaauwen. University of Amsterdam, Science Park 904, 1098 XH, Amsterdam, Netherlands.
Jan den Blaauwen works at the University of Amsterdam in the research group Structural and Functional Plasticity of the Nervous System. Since 1977 he has been working, as a non-professional palaeontologist, on the histology and morphology of the Middle Devonian fishes (especially acanthodians) of the north of Scotland and related areas. Furthermore is he involved in several research projects involving the biostratigraphy of Devonian fishes.

David Leather. Woodlands, Panorama Drive, Ilkley, West Yorkshire LS29 9RA, UK
David Leather BA, MSc (Keele) was for 20 years Head of Geology at Sir Titus Salt School, West Yorkshire. He has written several walking books on the Yorkshire Dales containing natural history and geological interest and is author of 'Geology Trail on Ilkley Moor'. Since the year 2000 he has made a study of the Middle Devonian geology of Westray, Orkney with particular interest in the biostratigraphy of the Rousay Formation.