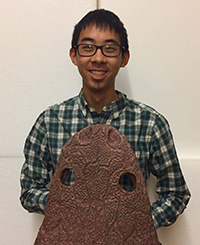 Bryan M. Gee. Department of Biology, University of Toronto Mississauga, 3359 Mississauga Road, ON L5L 1C6, Canada. This email address is being protected from spambots. You need JavaScript enabled to view it.
Bryan Gee received his B.A. in geology from Pomona College and is currently a PhD candidate at the University of Toronto (Mississauga campus) studying under the direction of Dr. Robert Reisz. His dissertation research is focused on the Permo-Carboniferous dissorophoid temnospondyls, with a particular focus on the Richards Spur locality from Oklahoma, USA. His broader research interests are centered on improving the understanding of temnospondyl paleobiology, development, and phylogeny through descriptive anatomy, paleohistology, and computed tomography (CT), with occasional forays into other Paleozoic tetrapods.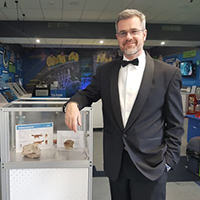 Joseph J. Bevitt. Australian Centre for Neutron Scattering, Australian Nuclear Science and Technology Organisation, New Illawara Road, Lucas Heights, NSW 2234, Australia. This email address is being protected from spambots. You need JavaScript enabled to view it.
Dr. Joseph Bevitt received both of his degrees in chemistry from the University of Sydney. Joseph is currently an instrument scientist at the Australian Nuclear and Science Technology Organisation (ANSTO) who specializes in x-ray and neutron-beamline tomography using the DINGO radiography/tomography/imaging station. Although a chemist by education, Joseph has a soft spot for extinct animals and utilizes his instrumentation skills to help paleontologists study fossils (among other ventures into the past).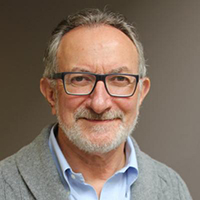 Robert R. Reisz. Department of Biology, University of Toronto Mississauga, 3359 Mississauga Road, ON L5L 1C6, Canada and International Centre of Future Science, Jilin University, 2699 Qianjin Street, Changchun, 130012, China. This email address is being protected from spambots. You need JavaScript enabled to view it.
Dr. Robert Reisz received all three of his degrees from McGill University in Quebec. Robert has been a professor in Biology at the University of Toronto (Mississauga campus) since 1975, where he continues to teach and maintain active research pursuits. Robert has a long history of studying Paleozoic tetrapod evolution and phylogenetic relationships but is a true renaissance scientist, having also worked on various dinosaurs, lungfish, and other tetrapods from across the world in his lengthy career.