Shark-cetacean trophic interactions during the late Pliocene in the Central Eastern Pacific (Panama)
Plain Language Abstract
Mysticete whales, commonly known as baleen whales, are the largest marine mammals that ever existed. Major morphological characteristics are their streamlined bodies and their huge forelimbs modified into flippers. Although the fossil record of mysticetes has been widely studied, little is known about the fossil baleen whales from the Neotropics. We examined a right forelimb of a fossil whale from the late Pliocene of Panama (Central Eastern Pacific). Given the morphological affinities with Balaenopteridae, we referred the studied remains to this family. We found shark bite marks on some of the bones, indicating scavenging by sharks, possibly Carcharodon. This new fossil record described here provides useful information about the ecology of baleen whales during the late Pliocene and encourages further exploration of the paleontological sites on the Pacific side of Central America.
Resumen en Español
Presentamos una descripción de unos restos fósiles de ballena del occidente de Panamá. El registro consiste en unos restos apendiculares de un misticeto, el cual asignamos a Balaenopteridae. Estos restos, encontrados en los sedimentos del Plioceno tardío de la Formación Burica, representan el primer registro de un mamífero marino en la sucesión sedimentaria del Neógeno de la Península de Burica. Dos tipos distintos de marcas de tiburón, serradas y aserradas (y profundas), encontradas sobre el radio y las falanges, sugieren carroñeo causado por al menos dos individuos de tiburón blanco (Carcharodon). Las marcas aserradas y profundas son posiblemente el resultado de mordidas continuas por los tiburones. Tanto la morfología de las marcas como su posición relativa sobre los huesos de la ballena, constituyen evidencia de interacción trófica entre tiburón-ballena. Aunque el espécimen no presenta caracteres diagnósticos que permita su identificación a nivel específico, este sí proporciona información útil sobre la fauna de vertebrados de una región poco prospectada, como es el Pacífico Centro Oriental, lo cual brinda una gran oportunidad para explorar la fauna marina durante un episodio crítico en la historia de la Tierra, la transición del Plio-Pleistoceno.
Traducción: Author
Résumé en Français
Interactions trophiques requins-cétacés au Pliocène récent dans la partie est du Pacifique central (Panama)
Nous fournissons une description des restes d'une baleine fossile de l'ouest du Panama. Le matériel comprend des restes appendiculaires d'un mysticète qui a été attribué à la famille Balaeonopteridae. Ces restes, trouvés dans les sédiments du Pliocène récent de la formation de Burica, représentent la première occurrence d'un mammifère marin dans la succession sédimentaire néogène de la péninsule de Burica. Deux différents types de marques de manducation de requins (des marques profondes et sans crénelures et des marques avec crénelures), trouvées sur le radius et les phalanges, suggèrent du charognage par au moins deux individus de requins blancs (Carcharodon). Les marques profondes et sans crénelures ont possiblement été causées par des morsures continues des requins. La morphologie et la position relative des marques sur les os des membres de la baleine sont deux preuves d'interactions tropiques requins-cétacés. Bien que le spécimen ne présente pas de caractères diagnosiques qui permettraient une identification au niveau de l'espèce, il fournit tout de même de nouvelles informations sur la faune de vertébrés d'un affleurement très peu prospecté de l'est du Pacifique central, offrant une opportunité d'explorer les faunes marines pendant un épisode critique de l'histoire de la Terre, la transition Plio-Pléistocène.
Mots-clés : Mysticeti ; marques de manducation de requins ; Néogène ; Pliocène récent ; Amérique centrale ; interaction trophique
Translator: Antoine Souron
Deutsche Zusammenfassung
Trophische Interaktionen zwischen Haien und Walen während des späten Pliozäns im zentralöstlichen Pazifik (Panama)
Wir beschreiben die Überreste eines fossilen Wals aus Westpanama. Der Nachweis besteht aus den Extremitäten eines Bartenwals, der den Balaenopteridae zugeordnet wurde. Diese Fundstücke aus den Sedimenten der spätpliozänen Burica Formation stellen den ersten Nachweis eines marinen Säugetiers in der neogenen Sedimenetabfolge der Burica Halbinsel dar. Zwei unterschiedliche Hai-Bissspuren, gezähnt und tief-ungezähnt, auf dem Radius und den Phalangen deuten auf mindestens zwei Weiße Haie (Carcharodon) hin. Sowohl die Morphologie der Hai-Bissspuren als auch die relative Position auf den Extremitäten-Knochen des Wals stellen einen Beweis für eine trophische Interaktion zwischen Hai und Wal dar. Obwohl dem Stück diagnostische Merkmale fehlen, die eine Identifizierung auf Artniveau ermöglichen würden, liefert es neue Informationen über die Wirbeltierfauna einer sehr schlecht untersuchten Gegend im Zentralöstlichen Pazifik und eröffnet so die Möglichkeit, die Meeresfauna während einer kritischen Episode in der Erdgeschichte, der Plio- Pleistozän Transition, zu erforschen.
Schlüsselwörter: Mysticeti; Hai-Bissspuren; Neogen; spätes Pliozän; Zentralamerika; trophische Interaktion
Translator: Eva Gebauer
Arabic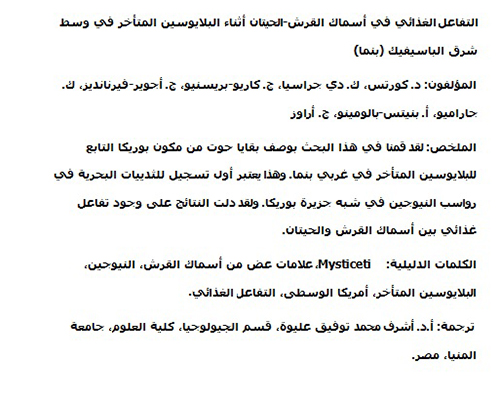 Translator: Ashraf M.T. Elewa
Polski
Interakcje troficzne rekinów z waleniami w czasie późnego pliocenu w środkowo-wschodniej części Pacyfiku (Panama)

Podajemy opis szczątków kopalnego wieloryba z zachodniej Panamy. Okaz składa się z pozostałości fiszbinowca, które zostały przypisane do Balaenopteridae. Szczątki te, znajdujące się w osadach późnej formacji plioceńskiej Burica, stanowią pierwszy zapis ssaka morskiego w sukcesji osadowej neogenu na Półwyspie Burica. Dwa różne rodzaje śladów ugryzień rekina, ząbkowane i głębokie nieząbkowane, znajdujące się na kości promieniowej i paliczkach sugerują ogryzanie przez co najmniej dwa osobniki białego rekina (Carcharodon). Głębokie, nieząbkowane ślady były prawdopodobnie spowodowane ciągłym gryzieniem przez rekiny. Zarówno morfologia śladów ugryzienia rekina, jak i ich względne położenie na kościach kończyn wielorybich stanowią dowód interakcji troficznej z rekinów z waleniami. Chociaż okazowi brakuje cech diagnostycznych, które pozwoliłyby na identyfikację na poziomie gatunku, dostarcza on nowych informacji na temat fauny kręgowców o bardzo słabo rozpoznanej ekspozycji na środkowo-wschodnim Pacyfiku, otwierając tym samym okazję do zbadania fauny morskiej podczas krytycznego epizodu w historii Ziemi, granicy pliocen-plejstocen.
Słowa kluczowe: Mysticeti; ślady ugryzienia rekina; neogen; późny pliocen; Ameryka środkowa; interakcja troficzna
Translator: Krzysztof Stefaniak