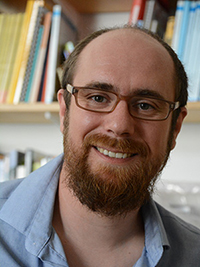 Bastien Mennecart. Naturhistorisches Museum Wien, Burgring 7, 1010 Vienna, Austria and Naturhistorisches Museum Basel, Augustinergasse 2, 4001 Basel, Switzerland This email address is being protected from spambots. You need JavaScript enabled to view it.
Dr. Bastien Mennecart mainly works on mammal anatomy and evolution, but his broad interest cover the entire vertebrate palaeontology. Since 2005, he contributes to and organizes field work around the world. He got his PhD at the University of Fribourg (Switzerland) in 2012 on phylogeny and evolution of ruminants. As postdoc at the Natural History Museum in Paris, Munich, Vienna, and Basel, he studied the connections between Asia and Europe during the Cainozoic. Since 2015, he also works on projects to define the phylogeny of the extent and extinct ruminant based on 3D models of the inner ear region.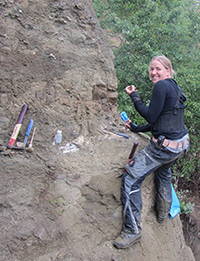 Manuela Aiglstorfer. Staatliches Museum für Naturkunde Stuttgart, Rosenstein 1, 70191 Stuttgart, Germany. This email address is being protected from spambots. You need JavaScript enabled to view it.
Dr. Manuela Aiglstorfer studied Geology / Palaeontology at the Ludwig-Maximilians-Universität München. After her PhD on herbivorous large mammals from the late middle Miocene Gratkorn Locality (Styria, Austria) she worked as a scientific trainee in the Public Relations Department and then as a PostDoc in the Palaeontology Department at the State Museum of Natural History in Stuttgart. Her scientific work focuses on Miocene large mammals with a special interest in ecology and phylogeny of Moschidae.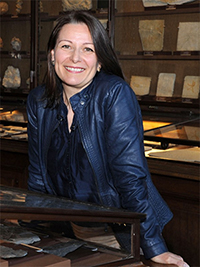 Ursula B. Göhlich. Naturhistorisches Museum Wien, Burgring 7, 1010 Vienna, Austria. This email address is being protected from spambots. You need JavaScript enabled to view it.
Dr. Ursula Göhlich is curator of vertebrate paleontology at the Natural History Museum of Vienna since 2007. She received her PhD in 1997 from the University of Munich (Germany) followed by several Postdoc projects e.g. at the University of Lyon (France) (as an Alexander-von-Humboldt fellow) and at the Natural History Museum of Los Angeles (USA). In 2011 she obtained her habilitation from the University of Munich, where she is an associated professor since then. She is specialized on European Neogene proboscideans and birds and addresses taxonomy, biogeography, biostratigraphy, and paleoecology, but her research also covers other vertebrate groups and topics.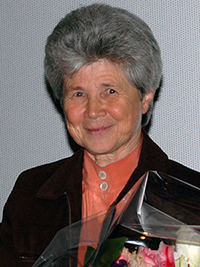 Gudrun Daxner-Höck. Naturhistorisches Museum Wien, Burgring 7, 1010 Vienna, Austria. This email address is being protected from spambots. You need JavaScript enabled to view it. and This email address is being protected from spambots. You need JavaScript enabled to view it.
Dr. Gudrun Daxner-Höck is born in 1941. She made her studies, PhD thesis, and habilitation at the University in Vienna. She worked as lecturer of Vertebrate Paleontology at the Universities Salzburg, Vienna and Graz, and was curator of fossil vertebrates at the Museum of Natural History in Vienna. Since 2007, she is retired. G. Daxner-Höck is a long time investigator of Oligocene and Miocene continental deposits in Europe and Mongolia and managed several Paleontological research projects granted by the Austrian Science Fund (FWF).