Astrapotheres from Cañadón Vaca, middle Eocene of central Patagonia. New insights on diversity, anatomy and early evolution of Astrapotheria
Plain Language Abstract
Astrapotheres are puzzling extinct mammals that inhabited the South American terrestrial ecosystems during most of the Cenozoic Era. At least the younger species were enormous herbivorous bearing a bizarre combination of ankle, dental, and cranial adaptations similar to each one of those modern tapirs, rhinos, and elephants. These mammals co-existed in the South American continent with other extinct, endemic, more-or-less hoofed mammals, like notoungulates and litopterns. All they are supposed to have evolved from an archaic common ancestor, closer to perissodactyls (horses, rhinos, and tapirs) than to any other mammals.
Herein we study new astrapothere remains derived from a famous fossil locality in central Patagonia, Argentina, known as Cañadón Vaca. This site was discovered by the prominent US paleontologist George G. Simpson in an expedition to Patagonia organized by the American Museum of Natural History of New York during 1930-1931. Later US and Argentinean scientists also collected numerous remains of fossils mammals and other vertebrates. The fossils-bearing rocks of Cañadón Vaca are 43 Ma. Old (middle Eocene); they are not the oldest known in South America, but the oldest yielding very abundant, well preserved cranial and mandibular remains, some associated with postcranial elements. Thus, mammals from Cañadón Vaca are critical for the knowledge of the early evolution of most South American native mammals.
Previous reports of astrapotheres from Cañadón Vaca encompassed the co-occurrence of four genera: Trigonostylops, Tetragonostylops, Albertogaudrya, and Scaglia, being the earliest known multi-specific assemblage of this group. However, only the record of the latter genus was unequivocal. New materials from Cañadón Vaca described herein confirms the occurrence of Trigonostylops (T. wortmani) and of Tetragonostylops (also recorded in Early Eocene deposits in Eastern Brazil, but likely represented by a distinct species). Additionally, two other taxa are identified: the former is represented by a partial skull with an astonishing combination of cranial characters, although it could correspond more likely to an adult of Scaglia kraglievichorum (only known by a juvenile skull); the other taxon is represented by a partial mandible with positively distinctive osteological and dental features, but the possibility of its belonging to Scaglia cannot be discarded. The occurrence of Albertogaudrya in Cañadón Vaca could not be confirmed by the examination of the new and previous collections. Astrapotheres from Cañadón Vaca show a wide morphological disparity of cranial designs, but all consistently share long, unreduced nasals bones, thus the presumed possession of a short, tapir-like proboscis only typifies the latest astrapotheres.
Resumen en Español
Astrapoterios de Cañadón Vaca, Eoceno medio de Patagonia central. Nueva perspectiva sobre la diversidad, anatomía y evolución temprana de Astrapotheria
Astrapotheria es uno de los grupos más emblemáticos de mamíferos ungulados extinguidos sudamericanos, tradicionalmente comparados con los tapires y rinocerontes modernos. Los más antiguos astrapoterios son conocidos de la fauna eocena temprana de Itaboraí (Brazil), pero la más antigua asociación diversa de astrapoterios se conoce del Miembro Cañadón Vaca de la Formación Sarmiento del Eoceno medio expuesto en el Cañadón Vaca (sub-edad Vaquense de la Edad Mamífero Casamayorense), en Patagonia central, Argentina. Reportes previos de astrapoterios de Cañadón Vaca incluyeron a Trigonostylops, Tetragonostylops, Albertogaudrya y Scaglia, pero sólo el registro del último era inequívoco. Nuevos materiales de Cañadón Vaca descriptos aquí confirman la presencia de Trigonostylops (T. wortmani) y de Tetragonostylops (probablemente representado por una especie distinta de la especie nominal de Itaboraí). Además, se identificaron otros dos taxones: el primero, descripto como cf. Scaglia cf. kraglievichorum, está representado por un cráneo incompleto con una sorprendente combinación de caracteres craneanos, aunque podría corresponder más probablemente a un adulto de Scaglia kraglievichorum (conocido por un cráneo juvenil); el otro taxón está representado por una mandíbula incompleta con rasgos osteológicos y dentarios definitivamente distintivos, pero la posibilidad de su pertenencia a Scaglia no puede ser descartada. La presencia de Albertogaudrya en Cañadón Vaca no pudo ser confirmada mediante el examen de nuevas y previas colecciones. Los astrapoterios de Cañadón Vaca muestran una amplia disparidad morfológica de diseños craneanos, pero todos consistentemente comparten nasales largos no reducidos, por lo que la presunta posesión de una corta proboscis tipo tapir sólo caracteriza a los astrapoterios post-Casamayorenses.
Palabras clave: Astrapotheria; Sistemática; Formación Sarmiento; Eoceno; Cañadón Vaca; Patagonia.
Traducción: Authors
Résumé en Français
Les astrapothères de Cañadón Vaca, Éocène moyen de Patagonie centrale. Nouvelles données sur la diversité, l'anatomie, et le début de l'histoire évolutive des Astrapotheria
Le groupe des Astrapotheria est un des plus emblématiques parmi les mammifères éteints endémiques à l'Amérique du Sud et similaires à des ongulés. Ils sont traditionnellement comparés aux tapirs et aux rhinocéros actuels. Les plus anciens astrapothères sont connus dans l'Éocène ancien avec la faune d'Itaboraí (Brésil). Cependant, l'assemblage diversifié d'astrapothères le plus ancien est connu dans le membre Cañadón Vaca de la formation de Sarmiento, affleurant à Cañadón Vaca (sous-âge « Vacan » de l'âge Casamayorien dans l'échelle biochronologique des mammifères terrestres), en Patagonie centrale, Argentine. Les études précédentes des astrapothères de Cañadón Vaca incluaient Trigonostylops, Tetragonostylops, Albertogaudrya, et Scaglia, mais seule l'occurrence de ce dernier genre était sans équivoque. Le nouveau matériel de Cañadón Vaca décrit dans cet article confirme les occurrences de Trigonostylops (T. wortmani) et de Tetragonostylops (probablement représenté par une espèce différente de l'espèce-type d'Itaboraí). Deux autres taxons sont également identifiés : le premier, décrit comme cf. Scaglia cf. kraglievichorum, est représenté par un crâne partiel avec une combinaison inhabituelle de caractères crâniens, et pourrait correspondre à un adulte de Scaglia kraglievichorum (espèce connue par le crâne d'un individu juvénile) ; l'autre taxon est représenté par une mandibule partielle avec des caractères ostéologiques et dentaires uniques, mais la possibilité qu'elle appartienne au genre Scaglia ne peut pas être écartée. L'occurrence du genre Albertogaudrya à Cañadón Vaca n'a pas pu être confirmée par l'examen des nouvelles et des anciennes collections. Les astrapothères de Cañadón Vaca montrent une grande disparité morphologique d'architectures crâniennes mais ils partagent tous des nasaux longs, non réduits. La présence supposée d'une courte trompe semblable à celle d'un tapir n'est donc caractéristique que des astrapothères plus récents que le Casamayorien.
Mots-clés : Astrapotheria ; systématique ; formation de Sarmiento ; Cañadón Vaca ; Patagonie
Translator: Antoine Souron
Deutsche Zusammenfassung
In progress
Translator: Eva Gebauer
Arabic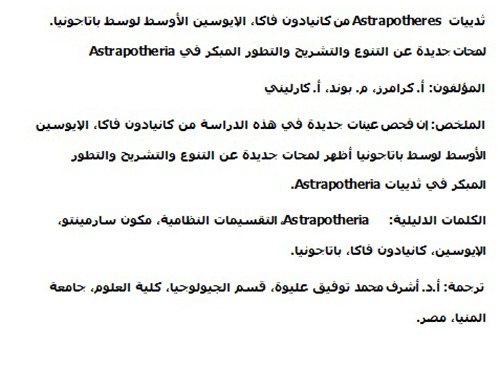 Translator: Ashraf M.T. Elewa
Polski
Astrapoteria z Cañadón Vaca, środkowego eocenu środkowej Patagonii. Nowe spojrzenie na różnorodność, anatomię i wczesną ewolucję Astrapoteria

Astrapoteria są jedną z najbardziej charakterystycznych grup endemicznych wymarłych ssaków kopytnych w Ameryce Południowej, tradycyjnie porównywalną z nowoczesnymi tapirami i nosorożcami. Najstarsze Astrapoteria znane są z wczesnej eoceńskiej fauny itaborskiej (Brazylia), ale najwcześniejszy różnorodny zespół astrapoteriów znany jest od środkowego eocenu Cañadón Vaca - części formacji Sarmiento odsłonietej w Cañadón Vaca (podokres Vacan okresu ssaków lądowych Casamayoran), w centralnej Patagonii, Argentyna. Poprzednie doniesienia o astrapoteriach z Cañadón Vaca obejmowały rodzaje Trigonostylops, Tetragonostylops, Albertogaudrya i Scaglia, ale tylko zapis tego ostatniego był jednoznaczny. Nowe materiały z Cañadón Vaca opisane w niniejszej pracy potwierdzają występowanie Trigonostylops (T. wortmani) i Tetragonostylops (prawdopodobnie reprezentowanych przez gatunek inny niż gatunek nominatywny z Itaborí). Ponadto wyróżniono dwa inne taksony: pierwszy, opisany jako cf. Scaglia cf. kraglievichorum, jest reprezentowany przez fragmentaryczną czaszkę z niezwykłą kombinacją cech i może odpowiadać dorosłej Scaglia kraglievichorum (znanej z młodocianej czaszki); drugi takson jest reprezentowany przez fragmentaryczną żuchwę o charakterystycznych cechach osteologicznych i zębowych, ale nie można odrzucić możliwości jego przynależności do Scaglia. Występowanie Albertogaudrya w Cañadón Vaca nie zostało potwierdzone przez badanie nowych i wcześniejszych kolekcji. Astrapoteria z Cañadón Vaca wykazują znaczną morfologiczną dysproporcję czaszki, ale dla wszystkich wspólne są długie, nieskrócone nozdrza, dlatego domniemane posiadanie krótkiej trąby podobnej do tapirów jest jedynie typowe jest dla astrapoteriów z okresu post-Casamayoran.
Słowa kluczowe: Astrapotheria; systematyka; formacja Sarmiento; eocen; Cañadón Vaca; Patagonia
Translator: Krzysztof Stefaniak