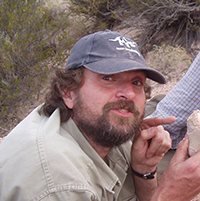 Alejandro G. Kramarz. Consejo Nacional de Investigaciones Científicas y Técnicas (CONICET), Sección Paleontología de Vertebrados, Museo Argentino de Ciencias Naturales Bernardino Rivadavia, Av. Ángel Gallardo 470, C1405DJR, Ciudad Autónoma de Buenos Aires, Argentina. This email address is being protected from spambots. You need JavaScript enabled to view it.
Alejandro Kramarz was graduated in Biology at the Universidad de Buenos Aires in 1994 and obtained a PhD degree in Biology in 2001. From 2004 to 2017, he was the head of the Division of Vertebrate Paleontology of the MACN and Curator for the National Paleovertebrate Collection and Ameghino Collection. Since 2004 he is researcher of the Consejo Nacional de Investigaciones Científicas y Técnicas (CONICET). Formerly, his research was focused on systematics, evolution, and biochronology of caviomorph rodents, and more recently on the South American native ungulates, with emphasis on the giant land mammals Astrapotheria and Pyrotheria, their evolution and comparison with Cenozoic megamammals.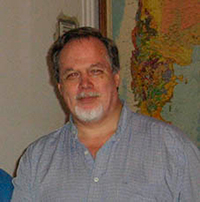 Mariano Bond. Consejo Nacional de Investigaciones Científicas y Técnicas (CONICET); Departamento Científico Paleontología de Vertebrados, Museo de La Plata, Paseo del Bosque s/n, La Plata B1900FWA, Provincia de Buenos Aires, Argentina. This email address is being protected from spambots. You need JavaScript enabled to view it.
Mariano Bond investigates the sytematics and evolution of the native South American "ungulates" (Notoungulata, Litopterna, Astrapotheria, Pyrotheria, and Notopterna). He teaches Vertebrate Paleontology at the Universidad Nacional de La Plata.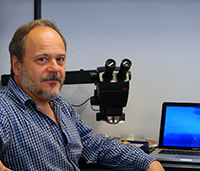 Alfredo A. Carlini. Consejo Nacional de Investigaciones Científicas y Técnicas (CONICET); Departamento Científico Paleontología de Vertebrados, Museo de La Plata, Paseo del Bosque s/n, La Plata B1900FWA, Provincia de Buenos Aires, Argentina. This email address is being protected from spambots. You need JavaScript enabled to view it.
Alfredo Carlini investigates mammalian evolution in the Cenozoic of South America; he is based at the Museo de La Plata and teaches comparative anatomy at the University.