A fish fauna from the lowermost Bartonian of the Transylvanian Basin, Romania
Plain Language Abstract
A new fossil fish fauna unearthed near the Luna de Sus village, in the Paleogene Transylvanian Basin (central Romania), is herein analyzed and described. This fauna is rich in cartilaginous and bony fishes and documents the middle part of the Eocene Age (around 42 million years old). Some of the fish taxa found in this area are the first reported occurrences in Romania. It is also important to mention that two of the bony fish species discovered in this locality have very rare occurrences on the Romanian territory. One concerns the oldest Romanian Labridae, while the other represents the second occurrence of a fish, which had survived the extinction at the end of the Cretaceous, namely Phacodus punctatus. A parallel between the fossil fish genera and their similar extant representatives allows us to conclude that the Eocene fish lived in a tropical sea of medium depth (about 100-200 m). To verify these paleoecological conclusions, the Luna de Sus fauna was compared with 13 other localities of the same or close ages. The diversity of the fauna was found to be average compared to some areas from Western Europe or North Africa, but it falls within the regional diversity range of the Eastern European localities.
Resumen en Español
In progress
Traducción: Enrique Peñalver (Sociedad Española de Paleontología) or Diana Elizabeth Fernández
Résumé en Français
In progress
Translator: Antoine Souron
Deutsche Zusammenfassung
Eine Fisch-Fauna aus dem untersten Bartonium des Transsilvanischen Beckens, Rumänien
Eine kürzlich in mitteleozänen marinen Sedimenten entdeckte Fisch-Fauna, die nahe der Ortschaft Luna de Sus in Rumänien aufgeschlossen ist, vervollständigt den Fossilnachweis der osteuropäischen Region. Es werden hier Zähne von 15 Chondrichthyer-Arten und zwei Actinopterygier-Arten aus den untersten Schichten des Bartoniums erfasst. Diese paläogenen Fische dokumentieren eine marine tropische Umwelt mit mitteltiefem Wasser im Nordwesten des Transsilvanischen Beckens. Die vertikale Verteilung der vorhandenen äquivalenten Taxa erlaubt eine Tiefenschätzung von 100 bis 200 m. Das warme Klima wird sowohl durch die vorliegende Faunenassemblage als auch durch frühere palynologische Untersuchungen dokumentiert. Es ist wichtig, das Vorhandensein der kaum bekannten und schlecht verstandenen Pyknodontier-Art Phacodus punctatus und des ältesten Vertreters der Labridae aus diesem Karpatengebiet festzuhalten. Die Vielfalt der Fauna war im Vergleich zu einigen Gebieten Westeuropas oder Nordafrikas durchschnittlich, fällt aber in den regionalen Diversitätsbereich der osteuropäischen Standorte.
Schlüsselwörter: Haie; Knochenfisch; Eozän; Căpuș Formation; Tethys
Translator: Eva Gebauer
Arabic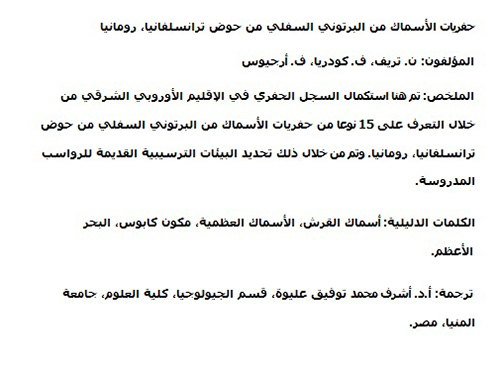 Translator: Ashraf M.T. Elewa
Polski
Fauna ryb z najniższego bartonianu w basenie Transylwanii w Rumunii
Nowo odkryta fauna ryb ze środkowo eoceńskich osadów morskich występuje w pobliżu wioski Luna de Sus w Rumunii, i uzupełnia zapis kopalny regionu Europy Wschodniej. Zęby należące do 15 gatunków Chondrichthyes i dwóch gatunków Actinopterygii odnotowano z najniższych warstw bartonianu. Te paleogeńskie ryby dokumentują morskie środowisko tropikalne o średnio głębokich wodach w północno-zachodnim obszarze dorzecza Transylwanii. Pionowe rozmieszczenie żyjącyh ekwiwalentnych taksonów pozwalaj na oszacowanie głębokości morza na 100 do 200 m. O ciepłym klimacie świadczy zarówno obecny zespół fauny, jak i wcześniejsze badania palinologiczne. Należy zwrócić uwagę na obecność mało znanego i słabo poznanego gatunku pyknodonta Phacodus punctatus oraz najstarszego przedstawiciela Labridae z tego obszaru karpackiego. Stwierdzono, że różnorodność fauny jest przeciętna w porównaniu z niektórymi obszarami Europy Zachodniej lub Afryki Północnej, ale mieści się w regionalnym zakresie różnorodności stanowisk z wschodniej Europy.
Słowa kluczowe: rekiny; ryby kościste; Eocen; formacja Căpuș; Ocean Tetydy
Translator: Krzysztof Stefaniak