New occurrences of Belonostomus (Teleostomorpha: Aspidorhynchidae) from the Late Cretaceous
of the North American Gulf Coastal Plain, USA
Plain Language Abstract
We describe six new specimens of the extinct, primitive bony fish, Belonostomus from Late Cretaceous (100.5 million years ago - 66 million years ago) of Texas, Mississippi, and Alabama, USA. Belonostomus was a member of the order Aspidorhynchiformes, a sister-group to the more diverse teleostean fishes. We also examine and comment on the geographic distribution of this species in North America.
Resumen en Español
Nuevos registros de Belonostomus (Teleostomorpha: Aspidorhynchidae) del Cretácico tardío de la Llanura Costera del Golfo Norteamericano, EE.UU.
Esta investigación amplía el pobre registro cretácico de peces Aspidorhynchidae del género Belonostomus de la Llanura Costera del Golfo Norteamericano. Este pez único ha pasado casi desapercibido en las colecciones de fósiles debido a la gran diversidad y popularidad de otros teleósteos del Cretácico. Se han documentado seis nuevos especímenes de los diversos yacimientos de fósiles en Texas, Mississippi y Alabama. La mayoría de estas localidades fósiles no habían proporcionado material de estos peces hasta ahora y ayudan a completar los registros entre el Cretácico Inferior y Superior del continente norteamericano. Estos nuevos registros de Belonostomus también ayudan a mejorar nuestra comprensión de este enigmático pez.
Palabras clave: Cretácico; Aspidorhynchiformes; Costa del Golfo; Alabama; Mississippi; Texas
Traducción: Enrique Peñalver (Sociedad Española de Paleontología)
Résumé en Français
In progress
Translator: Antoine Souron
Deutsche Zusammenfassung
Neue Vorkommen von Belonostomus (Teleostomorpha: Aspidorhynchidae) aus der späten Kreide der Nordamerikanischen Golfküste, USA
Diese Forschung bestätigt die unzureichend dokumentierte kreidezeitliche Aufzeichnung des aspidorhynchiden Fisches Belonostomus, der an der Nordamerikanischen Golfküste gefunden wurde. Dieser einzigartige Fisch ist wegen der höheren Diversität und Popularität anderer kreidezeitlicher Teleostier in den Fossilsammlungen weitgehend unbemerkt geblieben. Es werden sechs neue Stücke aus den verschiedenen Fundstellen in Texas, Mississippi und Alabama dokumentiert. Die meisten dieser Fundstellen haben bis jetzt kein Aspidorhynchiden-Material produziert und helfen nun, die Lücke im stratigrafischen Nachweis zwischen der unteren und oberen Kreide des nordamerikanischen Kontinents zu schließen. Diese neuen Nachweise von Belonostomus helfen auch, unser Verständnis für diesen rätselhaften Fisch zu verbessern.
Schlüsselwörter: Kreide; Aspidorhynchiformes; Golfküste; Alabama; Mississippi;Texas
Translator: Eva Gebauer
Arabic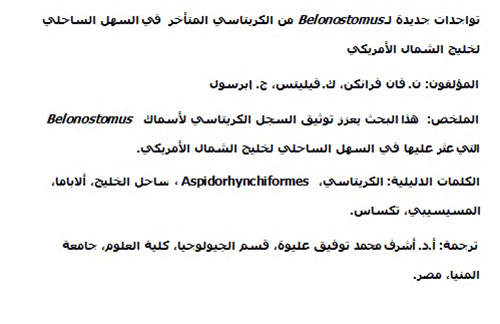 Translator: Ashraf M.T. Elewa
Polski
Nowe wystąpienia Belonostomus (Teleostomorpha: Aspidorhynchidae) z późnej kredy północnoamerykańskiego wybrzeża Zatoki, USA
Badania te potwierdzają słabo udokumentowany zapis kredowy ryby z rodziny Aspidorhynchidae Belonostomus znalezionej na równinie przybrzeżnej Zatoki Północnoamerykańskiej. Ta wyjątkowa ryba przeszła w większości niezauważona w kolekcjach kopalnych ze względu na zwiększoną różnorodność i popularność innych kredowych Teleostei. Sześć nowych okazów zostało znalezione w różnych stanowiskach w Teksasie, Missisipi i Alabamie. Na większości tych stanowisk wcześniej nie znaleziono ryb z tej rodziny; pomagają one wypełnić lukę między zapisami stratygraficznymi dolnej i górnej kredy kontynentu północnoamerykańskiego. Włączenie tych nowych znalezisk Belonostomus pomaga również pogłębić naszą znajomość tej zagadkowej ryby.
Słowa kluczowe: kreda; Aspidorhynchiformes; Wybrzeże Zatoki Perskiej; Alabama; Missisipi; Teksas
Translator: Krzysztof Stefaniak