A new species of "gigantic" capsular fruits of Vaccinioideae from the Miocene of Idaho
Plain Language Abstract
The blueberry subfamily (Vaccinioideae) of the heath family (Ericaceae) contains plant species with capsular fruits in addition to the well-known fleshy ones. Here, we present the first fossil fruit from the blueberry subfamily from North America. The fossil record of this group is known primarily from Europe. The fossil fruiting branch includes several seed capsules embedded in 15 million year old shale from northern Idaho. These capsules are twice the size of any modern species in the subfamily. Although this fossil has a new combination of features, the variability of characters in the blueberry subfamily makes it hard to assign to a modern genus, which prompts us to establish a new genus and species for the fossil, Juddicarpon benewahensis. Today, there are no species of blueberry subfamily plants with capsular fruit that grow in Idaho; this indicates a range shift and/or extinction.
Resumen en Español
Una nueva especie de frutos en cápsula "gigantes" de Vaccinioideae del Mioceno de Idaho
Frutos en cápsula grandes de Ericaceae han sido identificados en el sitio Emerald Creek de la flora Clarkia, Mioceno Medio del norte de Idaho. Reconocemos la similaridad morfológica de estos fósiles con frutos de la subfamilia Vaccinioideae, especialmente con el género actual Oxydendrum (oxidendro), el cual tiene una única especie actual y vive principalmente en el sudeste de Estados Unidos junto con miembros de Lyonieae y Gaultherieae. Presentamos una nueva especie de fruto de cápsula vaccinioide como Juddicarpon benewahensis Smith y Manchester gen. et sp. nov. a partir de una fructificación. La nueva especie tiene frutos con el doble de tamaño de los actuales de Oxydendrum y que están por fuera del rango de tamaño moderno de los vaccinioides con fruto en cápsula. Este fósil es significativo como el primer registro de frutos vacciniodes fósiles del oeste de América del Norte.
Palabras clave: fructificación; flora de Clarkia; Ericaceae; paleobotánica; escaneo CT; oeste de América del Norte; Idaho
Traducción: Diana Elizabeth Fernández
Résumé en Français
Une nouvelle espèce de Vaccinioideae à fruits capsulaires gigantesques provenant du Miocène de l'Idaho
Des fruits capsulaires de grande taille appartenant à des Ericaceae ont été identifiés dans le site de Emerald Creek de la flore de Clarkia, datant du Miocène moyen et situé dans le nord de l'Idaho. Nous reconnaissons la similarité morphologique de ces fossiles avec les fruits de la sous-famille Vaccinioideae, et en particulier avec le genre actuel Oxydendrum (andromède en arbre), comprenant une seule espèce actuelle qui habite principalement le sud-est des États-Unis d'Amérique, et avec des membres des Lyonieae et des Gaultherieae. Nous présentons une nouvelle espèce de vaccinioïde à fruits capsulaires, Juddicarpon benewahensis gen. et sp. nov., décrite à partir d'une infrutescence. La nouvelle espèce présente des fruits qui font deux fois la taille de ceux des Oxydendrum actuels et sortent de la gamme de taille des vaccinioïdes actuels qui présentent des fruits capsulaires. Ce fossile est important car il constitue la première occurrence fossile de fruit de vaccinioïde dans l'ouest de l'Amérique du Nord.
Mots-clés : infrutescence ; flore de Clarkia ; Ericaceae ; paléobotanique ; tomodensitométrie ; ouest de l'Amérique du Nord ; Idaho
Translator: Antoine Souron
Deutsche Zusammenfassung
Eine neue Art "gigantischer" Kapselfrüchte der Vaccinioideae aus dem Miozän von Idaho
Große, Kapselfrüchte von Ericaceae wurden in der Emerald Creek Fundstelle der mittelmiozänen Clarkia-Flora im nördlichen Idaho identifiziert. Wir erkennen eine morphologische Ähnlichkeit dieser Fossilien mit Früchten der Unterfamilie Vaccinioideae, insbesondere mit der heutigen Gattung Oxydendrum (Sauerbaum), deren einzige heutige Art hauptsächlich im Südosten der USA vorkommt, und mit Mitgliedern der Lyonieae und Gaultherieae. Wir stellen eine neue Art vaccinioider Kapselfrüchte als Juddicarpon benewahensis Smith und Manchester gen. et sp. nov. aus einer Infrukteszenz vor. Die Früchte der neuen Art sind doppelt so groß wie die des heutigen Oxydendrum und außerhalb der Größenordnung der heutigen Vaccinioiden mit Kapselfrüchten. Dieses Fossil ist bemerkenswert als der erste Nachweis fossiler vaccinioder Früchte aus dem westlichen Nordamerika.
Schlüsselwörter: Infrukteszenz; Clarkia Flora; Ericaceae; Paläobotanik; CT Scan; westliches Nordamerika; Idaho
Translator: Eva Gebauer
Arabic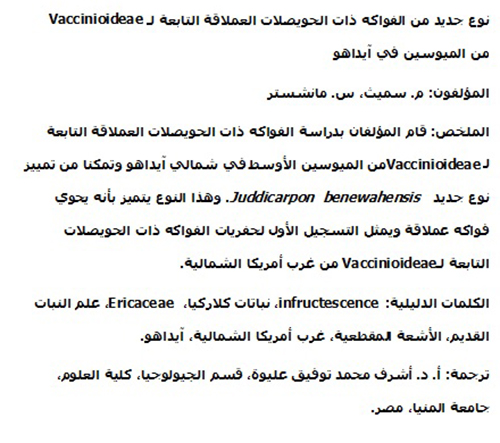 Translator: Ashraf M.T. Elewa
Polski
Nowy gatunek "gigantycznych" torebek owocostanów Vaccinioideae z miocenu z Idaho

Duże torebki owocostanów Ericaceae zostały zidentyfikowane na stanowisku Emerald Creek ze środkowo mioceńskiego zespołu flory kopalnej Clarkia w północnej części Idaho. Istnieje morfologiczne podobieństwo tych skamieniałości do owoców podrodziny Vaccinioideae, szczególnie do współczesnego rodzaju Oxydendrum (kwaśnodrzew), z jedynym żyjącym gatunkiem, który występuje głównie w południowo-wschodnich Stanach Zjednoczonych oraz z przedstawicielami Lyonieae i Gaultherieae. Opisujemy tu nowy gatunek Vaccinioideae jako Juddicarpon benewahensis Smith i Manchester gen. et sp. nov. Na podstawie owocostanu. Owoce nowego gatunku są dwa razy większe niż u współczesnego Oxydendrum; ich rozmiary wykraczają poza zakres zmienności torebek owocowych u Vaccinioideae. Ta skamieniałość jest pierwszym znaleziskiem tych owoców z zachodniej Ameryki Północnej.
Słowa kluczowe: owocostan; flora Clarkia; Ericaceae; paleobotanika; tomografia komputerowa; zachodnia Ameryka Północna; Idaho
Translator: Krzysztof Stefaniak
Ukrainian
Новий вид "гігантських" капсульних плодів Vaccinioideae з міоцену Айдахо
Великі капсульні плоди представника родини вересові (Ericaceae) були знайдені на ділянці Emerald Creek середньоміоценової флори Clarkia на півночі Айдахо. Ці зразки морфологічно подібні до плодів підродини Vaccinioideae, зокрема рецентного роду Oxydendrum з видом, поширеним на південному сході США, а також із представниками Lyonieae та Gaultherieae. Ми представляємо новий вид вересових капсульних плодів як Juddicarpon benewahensis Smith et Manchester gen. et sp. nov. із супліддя. Новий вид має плоди, які в два рази більше таких у нині існуючого Oxydendrum і виходять за межі діапазону розмірів вересових рослин із капсульними фруктами. Ці зразки є першою знахідкою викопних плодів вересових із західної частини Північної Америки.
Ключові слова: супліддя; флора Clarkia; Ericaceae; палеоботаніка; комп'ютерна томографія; західна частина Північної Америки; Айдахо.
Translator: Oleksandr Kovalchuk
Russian
Новый вид "гигантских" капсульных плодов Vaccinioideae из миоцена Айдахо
Крупные капсульные плоды представителя семейства вересковые (Ericaceae) были обнаружены на участке Emerald Creek среднемиоценовой флоры Clarkia в северном Айдахо. Эти образцы морфологически сходны с плодами подсемейства Vaccinioideae, в частности рецентного рода Oxydendrum с видом, произрастающим на юго-востоке США, а также с представителями Lyonieae и Gaultherieae. Мы представляем новый вид вакциниоидных капсульных плодов как Juddicarpon benewahensis Smith и Manchester gen. et sp. nov. Из соплодия. Новый вид имеет плоды, которые в два раза больше таковых у ныне существующего Oxydendrum и выходят за пределы диапазона размеров вересковых растений с капсульными фруктами. Эти образцы являются первой находкой ископаемых плодов вересковых из западной части Северной Америки.
Ключевые слова: соплодие; флора Clarkia; Ericaceae; палеоботаника; компьютерная томография; западная часть Северной Америки; Айдахо.
Translator: Oleksandr Kovalchuk