Old-timers and newcomers: The shrews and heterosoricids from the Ribesalbes-Alcora Basin (East of Spain)
Plain Language Abstract
The zone of Araia d'Alcora in the Ribesalbes-Alcora Basin yielded a relatively rich assemblage of fossil shrews for an early Miocene Iberian site. Four species were found, Oligosorex thauensis, cf. Soricella discrepans, Paenelimnoecus micromorphus and Heterosorex neumayrianus. The fossils of O. thauensis, the most abundant taxon, significantly increase our knowledge regarding the morphology of the species. It signals the last known occurrence of this shrew and extending its record. Paenelimnoecus micromorphus is recorded for the first time in the Iberian Peninsula. Soricella discrepans is a typical species from Central Europe, it would represent the only record of this species in the last part of early Miocene from Iberian Peninsula. The material of Heterosorex neumayrianus, a species relatively common in the Iberian Peninsula but always poorly represented, constitutes the best Spanish collection described.
Resumen en Español
Veteranos y recien llegados: Las musarañas y los heterosorícidos de la Cuenca de Ribesalbes-Alcora (Este de España)
La zona de Araia d'Alcora en la cuenca del Ribesalbes-Alcora (España, Mioceno inferior, biozona C, MN 4) dio lugar a un conjunto relativamente rico de musarañas para un yacimiento ibérico, la lista faunística la comprenden los taxones Oligosorex thauensis, cf. Soricella discrepans, Paenelimnoecus micromorphus y Heterosorex neumayrianus. Los fósiles de O. thauensis, la especie más abundante, nos permiten aumentar significativamente nuestro conocimiento sobre la morfología de la especie. Además, estos hallazgos son el último registro conocido de esta musaraña y extiende su registro hasta la biozona MN4. Esta especie aparentemente compite con otras musarañas en los yacimientos en estudio. Paenelimnoecus micromorphus se registra por primera vez en la Península Ibérica. Soricella discrepans es una especie típica de Europa Central; y si se confirma su presencia en Ribesalbes-Alcora, representaría el único registro de esta especie en la biozona MN4 de la Península Ibérica. El material de Heterosorex neumayrianus, que es una especie relativamente común en la Península Ibérica pero siempre aparece escasamente, constituye la mejor colección española descrita. Cuando los dimílidos están presentes, Heterosorex es poco común.
Palabras clave: Soricidae, Heterosoricida, Mioceno inferior, sistemática, península ibérica, paleoecología
Traducción: Authors
Résumé en Français
Des vétérans et des novices : les musaraignes et les hétérosoricidés du Bassin de Ribesalbes-Alcora (est de l'Espagne)
La zone d'Araia d'Alcora dans le Bassin de Ribesalbes-Alcora (Espagne, Miocène ancien, biozone C, MN 4) a livré un assemblage de musaraignes relativement riche pour un site ibérique, composé des espèces Oligosorex thauensis, cf. Soricella discrepans, Paenelimnoecus micromorphus, et Heterosorex neumayrianus. Les fossiles d'O. thauensis, le taxon le plus abondant, améliorent considérablement notre connaissance de la morphologie de cette espèce. Cela représente la dernière occurrence connue de cette musaraigne et étend son registre fossile à un site du MN 4. Cette espèce était en compétition avec les autres musaraignes dans les sites étudiés. L'espèce Paenelimnoecus micromorphus est signalée pour la première fois dans la péninsule Ibérique. Soricella discrepans est une espèce typique d'Europe centrale ; si cette occurrence est confirmée à Ribesalbes-Alcora, elle représenterait la seule occurrence de cette espèce au MN 4 dans la péninsule Ibérique. Le matériel d'Heterosorex neumayrianus, une espèce relativement commune dans la péninsule Ibérique mais toujours mal représentée, constitue la meilleure collection espagnole décrite jusqu'à présent. Quand les dimylidés sont présents, Heterosorex est rare.
Mots-clés : Soricidae ; Heterosoricidae ; Miocène ancien ; systématique ; péninsule Ibérique ; paléoécologie
Translator: Antoine Souron
Deutsche Zusammenfassung
Oldtimer und Newcomer: die Spitzmäuse und Heterosoriciden aus dem Ribesalbes-Alcora-Becken (Ostspanien)


Die Zone Araia d'Alcora im Ribesalbes-Alcora-Becken (Spanien, frühes Miozän, Biozone C, MN 4) ergab eine relativ reiche Assemblage an Spitzmäusen für einen iberischen Standort, die sich aus Oligosorex thauensis, cf. Soricella discrepans, Paenelimnoecus micromorphus und Heterosorex neumayrianus zusammensetzt. Die Fossilien von O. thauensis, dem am häufigsten vorkommenden Taxon, erhöhen unser Wissen über die Morphologie der Art erheblich. Sie signalisieren das letzte bekannte Vorkommen dieser Spitzmaus und erweitern den Nachweis auf einen MN4-Standort. Diese Art steht im Wettbewerb mit anderen Spitzmäusen in den untersuchten Fundstellen. Paenelimnoecus micromorphus wird erstmals auf der iberischen Halbinsel nachgewiesen. Soricella discrepans ist eine typische Art aus Mitteleuropa; wenn ihr Vorkommen in Ribesalbes-Alcora bestätigt wird, würde sie den einzigen Nachweis dieser Art in MN4 von der iberischen Halbinsel darstellen. Das Material von Heterosorex neumayrianus, einer auf der iberischen Halbinsel relativ häufigen, aber immer schlecht vertretenen Art, stellt die beste beschriebene spanische Sammlung dar. Wenn Dimyliden vorhanden sind, ist Heterosorex selten.


Schlüsselwörter: Soricidae; Heterosoricidae; frühes Miozän; Systematik; Iberische Halbinsel; Paläoökologie
Translator: Eva Gebauer
Arabic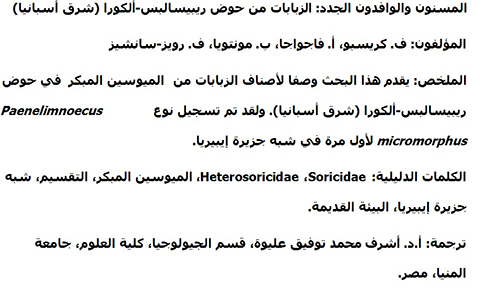 Translator: Ashraf M.T. Elewa
Polski
Dawni i nowoprzybyli: ryjówki i heterosorycydy z basenu Ribesalbes-Alcora (wschodnia Hiszpania)
Zona Araia d'Alcora w dorzeczu Ribesalbes-Alcora (Hiszpania, wczesny miocen, biozona C, MN 4) dała stosunkowo bogaty zespół ryjówkowatych dla stanowisk iberyjskich, składającego się z Oligosorex thauensis, cf. Paenelimnoecus micromorphus i Heterosorex neumayrianus. Skamieniałości O. thauensis, najliczniejszego taksonu, znacznie powiększają naszą wiedzę na temat morfologii gatunku. Sygnalizują ostatnie znane wystąpienie tej ryjówki i rozszerzenie jego zapisu na stanowiska z zony MN4. Gatunek ten konkuruje z innymi ryjówkowatymi w badanych stanowiskach. Paenelimnoecus micromorphus po raz pierwszy odnotowano na Półwyspie Iberyjskim. Soricella discrepans jest typowym gatunkiem z Europy Środkowej i jeżeli jego występowanie zostanie potwierdzone w Ribesalbes-Alcora, byłby to jedyny zapis tego gatunku w zonie MN4 z Półwyspu Iberyjskiego. Materiał Heterosorex neumayrianus, gatunku stosunkowo powszechnego na Półwyspie Iberyjskim, ale zawsze słabo reprezentowany, stanowi do tej pory najlepszą opisaną kolekcję hiszpańską. Tam gdzie Dimylidae są obecne, Heterosorex jest rzadki.
Słowa kluczowe: Soricidae; Heterosoricidae; wczesny miocen; systematyka; Półwysep Iberyjski; paleoekologia
Translator: Krzysztof Stefaniak