Stasis in the smaller owls from Rancho La Brea during the last glacial-interglacial climate change
Plain Language Abstract
Evolution is conventionally portrayed as a gradual transformation of species in response to selection pressures, such as climate change. A famous example is the Galápagos finches, which changed gradually in a few years due to drought. However, the punctuated equilibria model, supported by various paleontological data, contends that most species are stable and static over geological spans of time despite evidence of strong pressure from climate change. At La Brea tar pits, we have thousands of fossils spanning a continuous record of climate change from the last interglacial 35,000 years ago to the peak of the last glaciation 20,000-18,000 years ago, to the warming of the present interglacial. All of the fossil birds and mammals studied so far show no change in size or shape despite this climate change. But what about smaller birds closer to the size of finches? The two smallest owls at La Brea, the Long-Eared Owl (Asio otus) and the Burrowing Owl (Athene cunicularia), show no size or shape changes despite climate changes, just like all the rest of the La Brea birds and mammals. This further confirms that most species do not change quickly in response to climate, but instead are capable of coping with major changes in their environment without changing their size or shape.
Resumen en Español
Estasis morfológica y de tamaño en los búhos de menor tamaño de Rancho La Brea durante el último cambio climático glacial-interglacial
La biología evolutiva convencional destaca ejemplos como los pinzones de Galápagos, que muestran respuestas rápidas al cambio climático. Estudios previos de muchas aves comunes de La Brea, incluyendo Teratornis merriami, cóndores de La Brea (Gymnogyps amplus), águilas reales (Aquila chrysaetos), águilas calvas (Haliaeetus leucocephalus), pavos californianos (Meleagris californica), caranchos (Caracara plancus prelutosus) y buitres negros (Coragyps occidentalis), así como los dos búhos de mayor tamaño, el búho real (Bubo virginianus) y la lechuza común (Tyto alba), mostraron una completa estasis morfológica y de tamaño a lo largo del último ciclo glacial-interglacial. ¿Son las aves más pequeñas, especialmente los búhos pequeños, tan poco sensibles al cambio climático como las aves más grandes, o se parecen más en este aspecto a los pinzones de Galápagos? Para esta investigación medimos las extensas muestras que se tienen de dos especies de búho chico (Asio otus y Athene cunicularia) de las colecciones del La Brea Tar Pits Museum para determinar si estas especies mostraban cambios de tamaño o forma en respuesta a los cambios climáticos de los últimos 35.000 años. A pesar de que los mochuelos de madriguera actuales (Burrowing Owls) exhiben un débil efecto de la regla de Bergmann, con subespecies más grandes en climas más fríos, ambas especies de búhos chicos de Rancho La Brea no mostraron cambios estadísticamente significativos en tamaño o robustez, incluso durante el intervalo glaciar pico de hace 20.000-18.000 años, cuando la región del Rancho La Brea estaba dominada por bosques de coníferas en un contexto de inviernos nevados. Aparentemente, la mayoría de las aves no responden a los cambios climáticos a largo plazo de una manera simple, sino que son ecológicamente flexibles y viven en una amplia gama de hábitats y climas sin cambios en el tamaño o la robustez de las extremidades.
Palabras clave: Pleistoceno; aves; evolución; equilibrio puntuado; cambio climático; búhos.
Traducción: Enrique Peñalver (Sociedad Española de Paleontología)
Résumé en Français
La stase chez les hiboux/chouettes de petite taille de Rancho La Brea pendant le changement climatique du dernier glaciaire-interglaciaire
La biologie évolutive met traditionnellement en avant des exemples comme les géospizes des Galápagos qui montrent des réponses rapides aux changements climatiques. Les études précédentes de nombreux oiseaux communs à La Brea, incluant Teratornis merriami, le condor de La Brea (Gymnogyps amplus), l'aigle royal (Aquila chrysaetos), le pyrargue à tête blanche (Haliaeetus leucocephalus), le dindon de Californie (Meleagris californica), le caracara huppé (Caracara plancus prelutosus), et le vautour noir (Coragyps occidentalis), ainsi que les deux hiboux/chouettes de grande taille, le grand-duc de Virginie (Bubo virginianus) et la chouette effraie (Tyto alba), indiquent une stase totale en termes de taille et de forme au cours du dernier cycle glaciaire-interglaciaire. Les oiseaux de plus petite taille, et spécifiquement les hiboux/chouettes de petite taille, montrent-ils aussi peu de réponses aux changements climatiques que les oiseaux de plus grande taille ou sont-ils plus similaires aux géospizes des Galápagos ? Nous avons mesuré les grands échantillons du hibou moyen-duc (Asio otus), de la taille d'un corbeau, et de la chouette des terriers (Athene cunicularia), de la taille d'un merle américain, dans les collections du Muséum de La Brea Tar Pits pour déterminer si ils montraient des changements de taille ou de forme en réponse aux changements climatiques des derniers 35000 ans. Même si les chouettes des terriers actuelles montrent un faible effet de la loi de Bergmann, avec des sous-espèces de plus grande taille dans les climats plus froids, les deux espèces de hiboux/chouettes de petite taille de Rancho La Brea n'ont pas montré de changements statistiquement significatifs en termes de taille et de robustesse, et ce même pendant l'intervalle du pic glaciaire entre 20000 ans et 18000 ans, quand le climat de Rancho La Brea était dominé par des forêts de conifères et des hivers neigeux. Apparemment, la plupart des oiseaux ne répondent pas d'une manière simple aux changements climatiques à long terme, mais sont au contraire souples écologiquement et vivent dans une grande gamme d'habitats et de climats sans changements de taille et de robustesse des membres.
Mots-clés : Pléistocène ; oiseaux ; évolution ; équilibres ponctués ; changements climatiques ; hiboux/chouettes
Translator: Antoine Souron
Deutsche Zusammenfassung
Stase bei den kleineren Eulen aus Rancho La Brea während des letzten glazial-interglazialen Klimawandels
Die konventionelle Evolutionsbiologie betont Beispiele wie die Galápagos-Finken, die schnelle Reaktionen auf den Klimawandel zeigen. Vorherige Untersuchungen vieler häufiger Vögel in La Brea, inklusive Teratornis merriami, La Brea Kondore (Gymnogyps amplus), Steinadler (Aquila chrysaetos), Weisskopfseeadler (Haliaeetus leucocephalus), kalifornischer Truthahn (Meleagris californica), Karakaras (Caracara plancus prelutosus), und Rabengeier (Coragyps occidentalis), ebenso wie zwei größere Eulen, Virginia-Uhu (Bubo virginianus) und Schleiereule (Tyto alba), zeigten eine komplette Stasis bezüglich Größe und Form während es letzen Interglazials. Reagieren die kleineren Vögel, vor allem die kleinen Eulen, so wenig auf Klimaveränderungen wie die größeren Vögel, oder verhalten sie sich eher wie die Galápagosfinken? Wir haben die großen Proben der krähengroßen Waldohreule (Asio otus) und der rotkehlchengroßen Kaninchen-Eule (Athene cunicularia) aus den Sammlungen des La Brea Tar Pit Museums gemessen, um Größen- oder Formänderungen als Reaktion auf die Klimaänderungen der letzten 35.000 Jahre nachzugehen. Obwohl lebende Kaninchen-Eulen einen schwachen Bergmann'schen Regeleffekt aufweisen, mit größeren Unterarten in kälteren Klimazonen, zeigten beide Kleineulenarten aus Rancho La Brea auch während des Höhepunkts des Glazialintervalls vor 20.000-18.000 Jahren, als das Klima in Rancho La Brea von Nadelwäldern und schneereichen Wintern dominiert wurde, keine statistisch signifikanten Veränderungen in Größe und Robustheit. Offensichtlich reagieren die meisten Vögel nicht auf einfache Weise auf langfristige Klimaveränderungen, sondern sind ökologisch flexibel und leben in einer Vielzahl von Lebensräumen und Klimazonen, ohne dass sich Größe oder Robustheit der Gliedmaßen ändern.


Schlüsselwörter: Pleistozän; Vögel; Evolution; punctuated Equilibria; Klimawandel; Eulen
Translator: Eva Gebauer
Arabic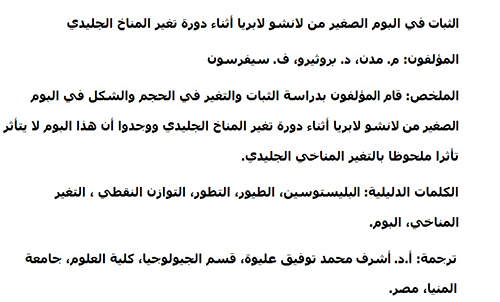 Translator: Ashraf M.T. Elewa
Polski
Staza u małych sów z Rancho La Brea podczas ostatniej zmiany klimatu galcjał-interglacjał
Konwencjonalna biologia ewolucyjna zwraca uwagę na przykłady takie jak zięby Galapagos, które wykazują szybką reakcję na zmiany klimatu. Poprzednie badania wielu pospolitych ptaków z La Brea, w tym Teratornis merriami, kondora z La Brea (Gymnogyps amplus), orła przedniego (Aquila chrysaetos), bielików amerykańskich (Haliaeetus leucocephalus), indyków kalifornijskich (Meleagris californica), karakaryu czarnobrzuchej (Caracara plancus prelutosus) i czarnych sępów amerykańskich (Coragyps occidentalis), a także dwu większych sów, puchacza wirginijskiego (Bubo virginianus) i płomykówki (Tyto alba), wykazywały całkowitą stazę rozmiarów i kształtu w ostatnim cyklu glacjalno-interglacjalnym. Czy mniejsze ptaki, zwłaszcza małe sowy, nie reagują na zmiany klimatu tak jak większe ptaki, czy raczej przypominają zięby z Galapagos? Zmierzyliśmy duże serie sowy uszatej (Asio otus) i pójdźki ziemnej (Athene cunicularia) ze zbiorów La Brea Tar Pits Museum, aby ustalić, czy wykazywały one zmiany wielkości lub kształtu w odpowiedzi na zmiany klimatu w ciągu ostatnich 35 000 lat. Mimo, że żyjące pójdźki ziemne wykazują słaby efekt związany z regułą Bergmana, z większymi podgatunkami w chłodniejszych klimatach, oba gatunki małych sów z Rancho La Brea nie wykazywały statystycznie istotnych zmian wielkości ani masywności nawet w maksimum ostatniego zlodowacenia 20 000–18 000 lat temu, kiedy w otoczeniu Rancho La Brea przeważały lasy iglaste i śnieżne zimy. Najwyraźniej większość ptaków nie reaguje na długoterminowe zmiany klimatu w prosty sposób, ale jest ekologicznie elastyczna i żyje w wielu różnych siedliskach i klimatach bez zmiany rozmiarów i masywności kończyn.
Słowa kluczowe: plejstocen; ptaki; ewolucja; teoria przerywanej równowagi; zmiany klimatu; sowy
Translator: Krzysztof Stefaniak