A long-necked tanystropheid from the Middle Triassic Moenkopi Formation (Anisian) provides insights into the ecology and biogeography of tanystropheids
Plain Language Abstract
Archosauromorpha includes all groups of reptiles more closely related to birds and crocodiles than to lizards, snakes, and tuataras. Tanystropheids are one such group of archosauromorphs, and they greatly diversified in the early part of the Triassic Period after the end-Permian extinction, the most devastating mass extinction in the history of the planet. Some tanystropheids evolved extreme body plans where their long and slender necks were longer than the body and tail combined. Tanystropheus is the most well-known of these extremely long-necked members of this group. These types of Tanystropheus-like tanystropheids are typically associated with semi-aquatic saltwater environments of eastern Pangaea. Neck elements of an extremely long-necked tanystropheid from the Moenkopi Formation of the southwest United States, a paleoenvironment in western Pangaea that is associated with a semi-aquatic freshwater environment, are described in this manuscript. We find that the Moenkopi tanystropheid elements belong to a tanystropheid more closely related to Tanystropheus because of the highly elongate neck vertebrae and presence of other features unique to Tanystropheus-like tanystropheids. These finds suggest that Tanystropheus-like tanystropheids were perhaps behaviorally bound to general semi-aquatic environments, both saltwater and freshwater, due to their unique morphology. These fossils also greatly extend the biogeographic range of the extremely long-necked tanystropheids and increase the diversity of tanystropheids known from North America, demonstrating that the group thrived in a wide variety of environments throughout the Triassic Period.
Resumen en Español
In progress
Traducción: Enrique Peñalver (Sociedad Española de Paleontología) or Diana Elizabeth Fernández
Résumé en Français
In progress
Translator: Antoine Souron
Deutsche Zusammenfassung
Ein langhalsiger Tanystropheide aus der mitteltriassischen Moenkopi Formation (Anisium) liefert Erkenntnisse über die Ökologie und Biogeographie der Tanystropheiden
Archosauromorphe sind eine vielfältige und diverse Reptilgruppe die an der Perm-Trias Grenze in eine Reihe von Gruppen diversifizierte. Eine dieser Archosauromorphen-Gruppen, die Tanystropheiden, bestehen aus verschiedenen Formen und einige der größten Mitglieder dieser Gruppe besaßen extrem verlängerte Halswirbel (mehr als fünfmal länger als hoch), was in einem hyperlangen Hals resultierte. Diese abgeleiteten Tanystropheiden wurden in marinen Ablagerungen der Tethys von Pangäa gefunden. In diesem Manuskript sind vier unvollständige Halswirbel eines Tanystropheiden mit hyperlangem Hals aus der mitteltriassischen Moenkopi Formation von Arizona und New Mexico beschrieben. Diese Halswirbel werden den Tanystropheidae zugeschrieben, besonders zu der Klade welche den hyperlanghalsigen Tanystropheus einschließt, basierend auf den Merkmalen die ein verlängertes Zentrum (Länge /Höhenverhältnis 6.2), das Vorhandensein von Epipophysen und ein verlängertes Axiszentrum beinhalten. Die tanystropheiden Elemente aus Moenkopi wurden in Fluvialsequenzen niedriger Breitengrade ohne Meereseinfluss gefunden und korrespondieren mit dem westlichen Pangäa, wohingegen Tanystropheus-artige Tanystropheiden typischerweise mit randmarinen Meeresbereichen in mittleren bis hohen Breitengraden des östlichen Pangäas verbunden sind. Diese Fossilien legen nahe, dass hyperlanghalsige Tanystropheus-artige Tanystropheiden aufgrund ihrer einzigartigen Morphologie vielleicht allgemein an eine semi- aquatische Umwelt gebunden waren und zwar sowohl im Meer als auch im Süßwasser. Diese Fossilien erweitern auch das biogeografische Spektrum der großen Tanystropheiden erheblich und erhöhen die anatomische Vielfalt der aus Nordamerika bekannten Tanystropheiden, was zeigt, dass die Klade während der Trias in einer Vielzahl von Umgebungen bestehen blieb.


Schlüsselwörter: Tanystropheidae; Archosauromorpha; Biogeographie; Paläoökologie; Trias
Translator: Eva Gebauer
Arabic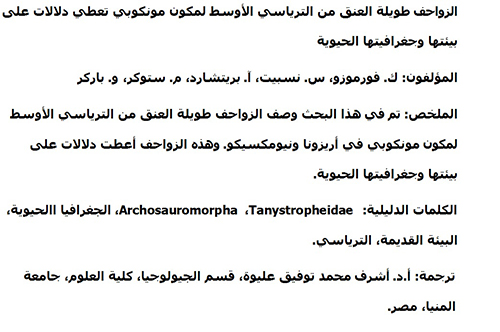 Translator: Ashraf M.T. Elewa
Polski
Tanystrofeid o długiej szyi z formacji Moenkopi ze środkowego triasu (Anisian) zapewnia wgląd w ekologię i biogeografię tanystrofów
Archosauromorfa to różnorodna i odnosząca sukcesy grupa gadów, która uległa radiacji dając szereg linii ewolucyjnych w okresie wymierania późnopermskiego. Jedna z tych linii archozauromorfów, tanystrofeidy, obejmuje różnorodne formy, a niektórzy z jej największych przedstawicieli mieli wyjątkowo wydłużone kręgi szyjne (ponad pięć razy dłuższe niż ichwysokość), co skutkowało wydłużeniem szyi. Te zaawansowane ewolucyjnie tanystrofeidy znaleziono w morskich osadach Tetydy na obszarze Pangei. W tej pracy opisano cztery fragmentaryczne kręgi szyjne tanystrofeida o wydłużonej szyi ze środkowo triasowej formacji Moenkopi w Arizonie i Nowym Meksyku. Te kręgi zaliczono do Tanystropheidae, a konkretnie do kladu, który obejmuje Tanystropheus o wydłużonej szyi i kombinacji cech obejmującej wydłużone centrum (stosunek długości do wysokości 6,2), obecność epipofyzów i wydłużonej osi. Szczątki tanystrofeidów Moenkopi znaleziono w sekwencjach fluwialnych na niższych szerokościach geograficznych, nie w środowiskach morskich, co odpowiada zachodniej Pangei, podczas gdy tanystrofeidy podobne do Tanystropheus są zwykle związane z brzeżnymi środowiskami morskimi w średnich i dużych szerokościach geograficznych wschodniej Pangei. Te szczątki sugerują, że tanystrofeidy o wydłużonej szyi, podobne do Tanystropheus, były prawdopodobnie behawioralnie związane z ogólnymi środowiskami ziemnowodnymi, zarówno morskimi, jak i słodkowodnymi, ze względu na ich unikalną morfologię. Opisany materiał znacznie poszerza także zasięg geograficzny dużych tanystrofeidów i zakres anatomicznej różnorodności tanystrofeidów z Ameryki Północnej, co dowodzi, że klad przetrwał w różnych środowiskach przez cały okres triasu.


Słowa kluczowe: Tanystropheidae; Archozauromorfa; biogeografia; paleoekologia; triasowy
Translator: Krzysztof Stefaniak