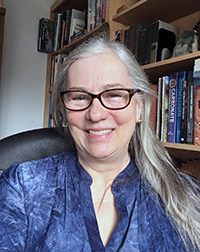 Catherine A. Forster. Department of Biological Sciences, The George Washington University, 2029 G ST. NW, Washington, DC 20052 USA.
Catherine Forster is a Professor of Biological Sciences at The George Washington University. She received her Ph.D. from the University of Pennsylvania, and spent a number of years at Stony Brook University teaching human anatomy to professional students. Dr. Forster currently teaches undergraduates in the Geology Program at The George Washington University. Her present research focuses on the anatomy and phylogeny of ornithischian dinosaurs, and the primary description of dinosaur taxa. She has been involved in extensive field work in Madagascar, China, and South Africa.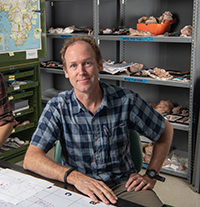 Patrick M. O'Connor. Ohio Center for Ecological and Evolutionary Studies, Irvine Hall, Ohio University, Athens, Ohio 45701 USA.
Patrick O'Connor is a paleontologist who combines field paleontology with laboratory- and museum-based comparative studies to address a variety of topics in vertebrate evolutionary biology. He completed his PhD in Anatomical Sciences at Stony Brook University in 2003 and has been faculty at Ohio University since that time. His current research focuses on the evolution of Late Cretaceous terrestrial/freshwater biotas, with ongoing field projects in Madagascar, Antarctica, and different regions of continental Africa (e.g., Tanzania, Kenya, Egypt).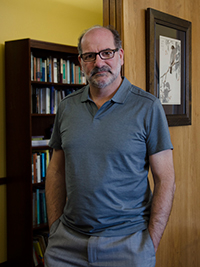 Luis M. Chiappe. Section of Vertebrate Paleontology, Los Angeles County Museum, 900 Exposition Blvd., Los Angeles, California 90007 USA.
Luis M. Chiappe is Senior Vice President for Research and Collections at the Natural History Museum of Los Angeles County (NHMLA). He oversees the research programs of more than 25 PhD scientists and the vast biological, geological, and cultural collections of NHMLA. A vertebrate paleontologist and the Director of the Dinosaur Institute, Dr. Chiappe has conducted extensive research on the evolution of dinosaurs, from their reproductive behavior to their evolutionary connection with birds. He is considered to be one of the world's authorities on the subject. One other important focus of his is science communication, conveying the relevance of NHMLA's scientists' discoveries to the media, the public, and Museum visitors. Chiappe's commitment to public communication is reflected in the Museum's Jane G. Pisano Dinosaur Hall, an award-winning permanent exhibition that he curated about the nature of science and the lives of dinosaurs, as well as in his many popular books and articles. Chiappe's research has been published in more than 170 scholarly articles. He is the author of Walking on Eggs, Glorified Dinosaurs, and Birds of Stone. He is also a J. S. Guggenheim Fellow, a Humboldt Awardee, and a professor at the University of Southern California.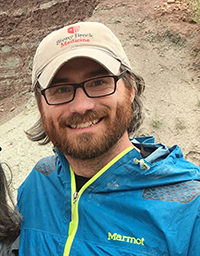 Alan H. Turner. Department of Anatomical Sciences, Health Sciences Center T8 (040), Stony Brook University, Stony Brook, New York 11794 USA.
Associate Professor Alan Turner is a vertebrate paleontologist and evolutionary anatomist that specializes in Mesozoic archosaurs (the lineage that includes dinosaurs and crocodiles). Dr. Turner received his BS from the University of Cincinnati, an MS from University of Iowa, and his PhD from Columbia University where he worked with Mark Norell at the American Museum of Natural History. Dr. Turner has research associate positions at the American Museum of Natural History and the Denver Museum of Nature and Science, and is currently the Senior Editor for the Journal of Vertebrate Paleontology. The research done by Dr. Turner and his lab seeks to understand terrestrial vertebrate evolution in deep time, with a focus on how phenotypes evolve and diversity arises. Dr. Turner employs a fieldwork-oriented, specimen-based approach that uses both classic and modern techniques ranging from comparative osteology and gross dissection to histological analysis and CT scanning. To unravel macroevolutionary trends he utilize quantitative phylogenetics and comparative methods and seeks to adapt model-based tools to the paleontological record. Dr. Turner's fieldwork has taken him to the Cretaceous of Mongolia, Madagascar, and Kenya; and he is one of the principle leaders of the 14 year-long project excavating the Late Triassic Hayden Quarry at Ghost Ranch New Mexico. To date, he has named 10 new species of dinosaur or dinosaur precursors and four new species of crocodile relatives.