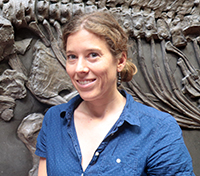 Erin E. Maxwell. Staatliches Museum für Naturkunde, Rosenstein 1, 70191 Stuttgart, Germany,
Erin Maxwell received a BSc from University of Alberta (2003), PhD from McGill University (2008), and since 2014 has worked as the curator of fossil aquatic vertebrates at the Staatliches Museum für Naturkunde Stuttgart.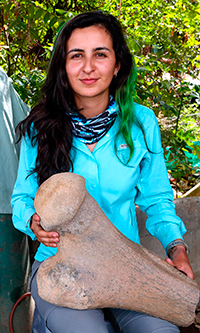 Dirley Cortés. Redpath Museum, McGill University, 859 Sherbrooke St. W., Montreal QC H3A 0C4, Canada. Smithsonian Tropical Research Institute, Balboa-Ancón 0843-03092, Panamá, Panamá.
Dirley Cortés is a PhD student at the Redpath Museum of McGill University and a Smithsonian Tropical Research Institute's fellow. Her research explores the marine diversity of the Early Cretaceous deposits of Colombia.