The genera that never were: The impact of Janeia and Janacekia on phyletic and taxonomic relations within the Solemyidae (Bivalvia: Protobranchia)
Plain Language Abstract
This study is a reappraisal of the taxonomic and evolutionary relationships of Solemya and Acharax, two closely related genera of bivalve mollusks commonly called awning shells (Family Solemyidae). Past misconceptions linked to William King's (1850) controversial genus, Janeia, have obscured the evolutionary ties that closely link these two iconic genera. Of especial importance is King's erroneous inference, still commonly held, that in Janeia, as in extant Solemya, the main part of the ligament responsible for attaching the shells together was placed internally. Inasmuch as the name Janeia has been applied exclusively to Paleozoic solemyids that superficially resemble Solemya, it has been incorrectly presumed that the internal placement of the ligament of Solemya represents an ancestral condition inherited from Janeia. However, a review of the fossil basis for both Janeia and its problematic offshoot, Janacekia, reveals numerous errors and misinterpretations. Whereas Janacekia and certain examples of Janeia are shown to be synyonyms of Acharax, many other alleged Janeia are shown to be other solemyid genera such as Dystactella or Clinopistha. All of these have external ligaments. Study here argues the external ligament seen in the earliest (Devonian) examples of Acharax represents the ancestral condition, whereas the internal ligament seen in Solemya is a much later (Mesozoic) derivation. Analysis of the ligament and its shelly support structures further suggest that Solemya is a lineal descendant of Acharax, a conclusion consistent with recent DNA studies. Thus, popular classification systems placing the two genera in separate families or superfamilies are not supported; rather, placement of the two genera together in a single family or subfamily is here preferred. An additional benefit of this study is a new means of distinguishing Acharax and Solemya from internal molds, where the ligament and its support structures are not preserved, by assessing the morphologies of other internal features of the shell that are directly influenced by ligament placement.
Resumen en Español
Los géneros que nunca fueron: El impacto de Janeia y Janacekia en las relaciones filéticas y taxonómicas dentro de Solemyidae (Bivalvia: Protobranchia)
Las taxonomías propuestas de Solemyoidea siguen en conflicto, particularmente con respecto a los géneros familiares, Solemya y Acharax, cuyo parentesco filético cercano se ha oscurecido por: 1) comprensión imperfecta de la morfogénesis cronológica de estructuras de soporte de ligamentos de importancia diagnóstica, y 2) conceptos erróneos provocados por dos problemáticos géneros paleozoicos, Janeia y Janacekia, incluida la caracterización errónea prevalente de que el ligamento primario en Janeia estaba ubicado en un condróforo interno. Mientras que Janacekia y ciertas Janeia son sinónimos de Acharax, se muestra que otras supuestas Janeia son clinopistinos como Dystactella y Clinopistha. El análisis morfológico respalda los estudios de ADN que sugieren que Acharax y Solemya son monofiléticos, lo que desafía las taxonomías recientes que los colocan en familias o superfamilias separadas. Los ligamentos primarios de Acharax y Solemya son básicamente similares (opistodéticos, parivinculares, unidos a las ninfas), siendo las principales diferencias la ubicación: externa en Acharax pero ligeramente interna (submarginal) en Solemya. Los análisis de caracteres sugieren que las ninfas externas de Acharax son plesiomórficas, que surgen en el Devónico temprano, mientras que la ubicación submarginal de las ninfas en Solemya se muestra como una apomorfía mesozoica que involucra depresión y envoltura secundaria del ligamento y las ninfas por una capa externa de concha. El encierro de la ninfa ha tenido dos efectos concomitantes: 1) oclusión dorsal del músculo aductor posterior; 2) fusión de las ninfas con contrafuertes internos que funcionaban plesiomórficamente como refuerzo simple para el margen anterior de los músculos aductores posteriores mientras que, por exaptación, se modifican apomórficamente para servir como tirantes de apoyo para las ninfas submarginales uniéndose dorsalmente con ellas.
Palabras clave: Solemyidae; Acharax; Solemya; Janeia; Janacekia; clasificación bivalva
Traducción: Francesco Gascó (Grupo de Biología Evolutiva, UNED y Sociedad Española de Paleontología)
Résumé en Français
In progress
Translator: Antoine Souron
Deutsche Zusammenfassung
Die Gattungen, die es nie gab: Der Einfluss von Janeia und Janacekia auf phyletische und taxonomische Beziehungen innerhalb der Solemyidae (Bivalvia: Protobranchia)
Vorgeschlagene Taxonomien der Solemyoidea sind nach wie vor widersprüchlich, insbesondere hinsichtlich der bekannten Gattungen Solemya und Acharax, deren enge phyletische Verwandtschaft verdeckt wurde wurde weil 1) die chronologische Morphogenese diagnostisch wichtiger Ligament-Stützstrukturen unvollkommen verstanden war und 2) Missverständnisse vorlagen, ausgelöst durch zwei problematische paläozoische Gattungen, Janeia und Janacekia, einschließlich der weit verbreiteten Fehlcharakterisierung, dass das primäre Ligament in Janeia in einem internen Chondrophor lokalisiert war. Während Janacekia und bestimmte Janeia Synonyme von Acharax sind, erweisen sich andere angebliche Janeia als Clinopisthine wie Dystactella und Clinopistha. Morphologische Analysen unterstützen DNA-Studien, die darauf hindeuten, dass Acharax und Solemya monophyletisch sind, und stellen damit neuere Taxonomien in Frage, die sie in separate Familien oder Überfamilien einordnen. Die primären Ligamente von Acharax und Solemya sind grundsätzlich ähnlich (opisthodetisch, parivincular, an den Nymphen befestigt), die Hauptunterschiede liegen in der Anordnung: extern bei Acharax, aber leicht intern (submarginal) bei Solemya. Merkmalsanalysen deuten darauf hin, dass die äußeren Nymphen von Acharax plesiomorph sind und im frühen Devon entstanden sind, während die submarginale Anordnung der Nymphen bei Solemya eine mesozoische Apomorphie ist, die eine Vertiefung und eine sekundäre Umschließung des Ligaments und der Nymphen durch eine äußere Schuppenschicht beinhaltet. Die Umfassung der Nymphen hatte zwei begleitende Effekte: 1) dorsale Okklusion des hinteren Adduktorenmuskels; 2) Verschmelzung der Nymphae zu internen Stützen, die plesiomorph als einfache Verstärkung für den vorderen Rand der hinteren Adduktorenmuskeln fungierten, während sie durch Exaptation apomorph modifiziert wurden, um als stützende Klammern für die submarginalen Nymphae zu dienen, indem sie sich dorsal mit ihnen vereinigten.
Schlüsselwörter: Solemyidae; Acharax; Solemya; Janeia; Janacekia; Muschelklassifizierung
Translator: Eva Gebauer
Arabic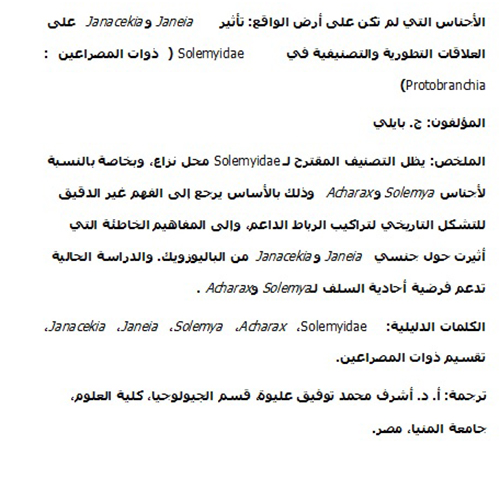 Translator: Ashraf M.T. Elewa
Polski
Rodzaje, których nigdy nie było: Wpływ Janeia i Janacekia na relacje filetyczne i taksonomiczne w obrębie Solemyidae (Bivalvia: Protobranchia)
Proponowane powiązania taksonomiczne Solemyoidea pozostają sprzeczne, szczególnie w odniesieniu do znanych rodzajów, Solemya i Acharax, których bliskie pokrewieństwo filetyczne jest niejasne w wyniku: 1) niedoskonałego zrozumienienia chronologicznej morfogenezy ważnych diagnostycznie struktur podtrzymujących więzadła oraz 2) błędnego przekonania wywołanego dwoma problematycznymi paleozoicznymi rodzajami, Janeia i Janacekia, w tym powszechne błędne mniemanie, że więzadło pierwotne u Janeia znajduje się w wewnętrznym chondroforze. Podczas gdy Janacekia i niektóre Janeia są synonimami Acharax, inne rzekome Janeia są klinopistami, takimi jak Dystactella i Clinopistha. Analizę morfologiczna wspierają badania DNA sugerujące, że Acharax i Solemya są monofiletyczne, co stanowi wyzwanie dla najnowszych systemów klasyfikacji, umieszczające je w oddzielnych rodzinach lub nadrodzinach. Więzadła pierwotne Acharaxa i Solemya są zasadniczo podobne (opistodetyczne, okołokolumnowe, przyczepione do nimfy), główne różnice polegają na umiejscowieniu: zewnętrznym u Acharax, ale nieco wewnętrznym (podbrzeżnym) u Solemya. Analizy cech sugerują, że zewnętrzne nimfy Acharax są plezjomorficzne, powstałe we wczesnym dewonie, podczas gdy podbrzeżne umiejscowienie nimf w Solemya jest apomorfią mezozoiczną obejmującą depresję i wtórne zamknięcie więzadła i nimf przez muszlową warstwę zewnętrzną. Pokrycie nimfalne wywołuje jednocześnie dwa efekty: 1) okluzję grzbietową mięśnia przywodziciela tylnego; 2) zespolenie nimf z wewnętrznymi przyporami, które plezjomorficznie funkcjonowały jako proste wzmocnienie przedniego brzegu mięśnia przywodziciela tylnego, podczas gdy w wyniku egzaptacji ulegają one apomorficznej modyfikacji, aby służyć jako usztywniacze dla nimf podbrzeżnych, łącząc się z nimi grzbietowo.
Słowa kluczowe: Solemyidae; Acharax; Solemya; Janeia; Janacekia; klasyfikacja małży
Translator: Krzysztof Stefaniak
Russian
In progress
Translator: Oleksandr Kovalchuk or Zoltán Barkaszi
Ukrainian
In progress
Translator: Oleksandr Kovalchuk or Zoltán Barkaszi
Chinese
In progress
Translator: Hongshan Wang