New findings of Stephanorhinus kirchbergensis in Siberia
Plain Language Abstract
New findings of Stephanorhinus kirchbergensis (Jäger, 1839) remains, obtained from the Asian part of Russia, are described. The material includes 39 specimens from 13 localities in West Siberia and East Siberia. It considerably expands the geographic distribution of this species of rhinoceros. A series of 11 mandibles from Siberia, including one juvenile individual with deciduous teeth, is described for the first time. We also present a large set of data on well-preserved postcranial remains. The morphology and sizes of mandibles, teeth, and postcranial remains of adult individuals of S. kirchbergensis from Siberia are similar to individuals of this species described from European localities. A series of upper teeth was subjected to mesowear analysis to assess the diet of S. kirchbergensis from West Siberia. The chemical composition (including stable isotopes) of the Siberian Stephanorhinus teeth is analyzed for the first time. Comparisons of Siberian S. kirchbergensis with European S. kirchbergensis and West Siberian Coelodonta antiquitatis broaden our understanding of the ecology, variability, and evolution of S. kirchbergensis under climatic changes in continental settings from the Middle to the Late Pleistocene. Despite small samples, we can suppose that S. kirchbergensis was widely distributed in Siberia.
Resumen en Español
Nuevos hallazgos de Stephanorhinus kirchbergensis en Siberia
En este trabajo se describen nuevos hallazgos de restos de Stephanorhinus kirchbergensis (Jäger, 1839), obtenidos de la parte asiática de Rusia. El material incluye 39 especímenes de 13 localidades en Siberia Occidental y Siberia Oriental. Amplía considerablemente la distribución geográfica de esta especie de rinoceronte. Se describe por primera vez una serie de 11 mandíbulas de Siberia, incluido un individuo juvenil con dientes deciduales. También presentamos un gran conjunto de datos sobre restos poscraneales bien conservados. La morfología y el tamaño de las mandíbulas, los dientes y los restos poscraneales de los individuos adultos de S. kirchbergensis de Siberia son similares a los de los individuos de esta especie descritos en localidades europeas. Una serie de dientes superiores se sometió a análisis de meso-desgaste para evaluar la dieta de S. kirchbergensis de Siberia occidental. Se analiza por primera vez la composición química (incluidos los isótopos estables) de los dientes de Stephanorhinus siberianos. Las comparaciones de S. kirchbergensis siberiano con S. kirchbergensis europeo y Coelodonta antiquitatis de Siberia occidental amplían nuestra comprensión de la ecología, variabilidad y evolución de S. kirchbergensis bajo cambios climáticos en entornos continentales desde el Pleistoceno medio hasta el superior. A pesar de las pequeñas muestras, podemos suponer que S. kirchbergensis se distribuyó ampliamente en Siberia.
Palabras clave: Stephanorhinus kirchbergensis Jäger; morfología ósea; Siberia; Pleistoceno medio; análisis de mesodesgaste.
Traducción: Francesco Gascó (Grupo de Biología Evolutiva, UNED y Sociedad Española de Paleontología)
Résumé en Français
In progress
Translator: Antoine Souron
Deutsche Zusammenfassung
Neue Funde von Stephanorhinus kirchbergensis in Sibirien
Es werden neue Funde von Stephanorhinus kirchbergensis (Jäger, 1839) aus dem asiatischen Teil Russlands beschrieben. Das Material umfasst 39 Exemplare aus 13 Fundstellen in West- und Ostsibirien. Es erweitert die geografische Verbreitung dieser Nashornart erheblich. Eine Serie von 11 Unterkiefern aus Sibirien, darunter ein juveniles Individuum mit Milchzähnen, wird zum ersten Mal beschrieben. Wir präsentieren auch einen großen Datensatz zu gut erhaltenen postkranialen Überresten. Die Morphologie und Größe von Unterkiefer, Zähnen und postkranialen Überresten erwachsener Individuen von S. kirchbergensis aus Sibirien ähneln Individuen dieser Art aus europäischen Fundstellen. Eine Serie von Oberkieferzähnen wurde einer Mesowear-Analyse unterzogen, um die Ernährung von S. kirchbergensis aus Westsibirien zu beurteilen. Die chemische Zusammensetzung (einschließlich stabiler Isotope) der sibirischen Stephanorhinus-Zähne wird zum ersten Mal analysiert. Vergleiche des sibirischen S. kirchbergensis mit dem europäischen S. kirchbergensis und dem westsibirischen Coelodonta antiquitatis erweitern unser Verständnis der Ökologie, Variabilität und Evolution von S. kirchbergensis unter klimatischen Veränderungen in kontinentalen Umgebungen vom Mittel- bis zum Spätpleistozän. Trotz weniger Proben können wir annehmen, dass S. kirchbergensis in Sibirien weit verbreitet war.
Schlüsselwörter: Stephanorhinus kirchbergensis Jäger; Knochenmorphologie; Sibirien; Mittleres Pleistozän; Mesowear-Analyse
Translator: Eva Gebauer
Arabic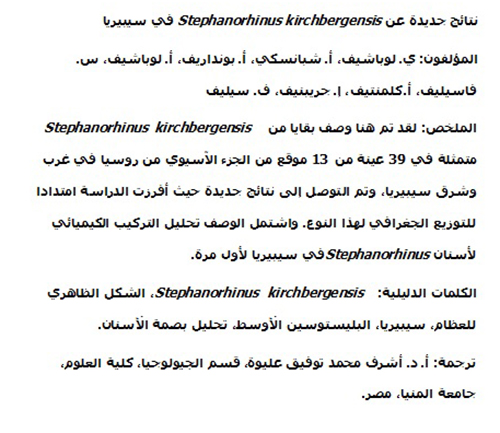 Translator: Ashraf M.T. Elewa
Polski
Nowe znaleziska Stephanorhinus kirchbergensis z Syberii

Opisano nowe znaleziska szczątków Stephanorhinus kirchbergensis (Jäger, 1839), pozyskanych z azjatyckiej części Rosji. Materiał obejmuje 39 okazów z 13 stanowisk na obszarze Syberii Zachodniej i Syberii Wschodniej. Znacznie poszerza on rozmieszczenie geograficzne tego gatunku nosorożców. Po raz pierwszy opisano serię 11 żuchw z Syberii, w tym jednego młodego osobnika z zębami mlecznymi. Przedstawiono również obszerny zbiór danych dotyczących dobrze zachowanych szczątków szkieletu pozaczaszkowego. Morfologia i rozmiary żuchwy, zębów i szczątków postkranialnych dorosłych osobników S. kirchbergensis z Syberii są podobne do osobników tego gatunku opisywanych z stanowisk europejskich. Seria zębów górnych została poddana analizie mesowear w celu oceny diety S. kirchbergensis z Zachodniej Syberii. Po raz pierwszy przeanalizowano skład chemiczny (w tym izotopy stabilne) zębów syberyjskiego Stephanorhinus. Porównania syberyjskiego S. kirchbergensis z europejskimi okazami tego gatunku i pochodzącymi z zachodniej Syberii szczątkami Coelodonta antiquitatis poszerzają naszą wiedzę na temat ekologii, zmienności i ewolucji S. kirchbergensis pod wpływem zmian klimatycznych w warunkach kontynentalnych od środkowego do późnego plejstocenu. Pomimo nielicznych materiałów możemy przypuszczać, że S. kirchbergensis był szeroko rozpowszechniony na Syberii.
Słowa kluczowe: Stephanorhinus kirchbergensis Jäger; morfologia kości; Syberia; środkowy plejstocen; analiza mesowear
Translator: Krzysztof Stefaniak
Russian
Новые находки Stephanorhinus kirchbergensis в Сибири
Описаны новые находки остатков Stephanorhinus kirchbergensis (Jäger, 1839), полученные из азиатской части России. Материал включает 39 экз. из 13 местонахождений Западной и Восточной Сибири. Это значительно расширяет географию распространения этого вида носорогов. Впервые описана серия из 11 нижних челюстей из Сибири, в том числе от одной ювенильной особи с молочными зубами. Мы также представляем большой набор данных о хорошо сохранившихся посткраниальных остатках. Морфология и размеры нижних челюстей, зубов и посткраниальных остатков взрослых особей S. kirchbergensis из Сибири сходны с описанными особями этого вида из европейских местонахождений. Для оценки рациона S. kirchbergensis из Западной Сибири были проанализированы серии верхних зубов. Впервые проанализирован химический состав (включая стабильные изотопы) зубов сибирского Stephanorhinus. Сравнение сибирского S. kirchbergensis с европейским S. kirchbergensis и западносибирским Coelodonta antiquitatis расширяет наши представления об экологии, изменчивости и эволюции S. kirchbergensis в условиях климатических изменений в континентальной обстановке от среднего до позднего плейстоцена. Несмотря на малочисленность выборок, можно предположить, что S. kirchbergensis был широко распространен в Сибири.
Ключевые слова: Stephanorhinus kirchbergensis Jäger; морфология костей; Сибирь; средний плейстоцен; мезоанализ
Translator: Oleksandr Kovalchuk
Ukrainian
Нові знахідки Stephanorhinus kirchbergensis в Сибіру
Описано нові знахідки решток Stephanorhinus kirchbergensis (Jäger, 1839), отримані з азіатської частини Росії. Матеріал включає 39 екз. із 13 місцезнаходжень на території Західного і Східного Сибіру. Це значно розширює географію поширення цього виду носорогів. Вперше описана серія з 11 нижніх щелеп із Сибіру, у тому числі одна від ювенільної особини з молочними зубами. Ми також представляємо великий набір даних про добре збережені посткраніальні рештки. Морфологія і розміри нижніх щелеп, зубів і посткраніальних решток дорослих особин S. kirchbergensis із Сибіру подібні до описаних особин цього виду із європейських місцезнаходжень. Для оцінки раціону S. kirchbergensis із Західного Сибіру були проаналізовані серії верхніх зубів. Вперше проаналізовано хімічний склад (включаючи стабільні ізотопи) зубів сибірського Stephanorhinus. Порівняння сибірського S. kirchbergensis з європейським S. kirchbergensis і західносибірським Coelodonta antiquitatis розширює наші уявлення про екологію, мінливість та еволюцію S. kirchbergensis в умовах кліматичних змін у континентальній обстановці від середнього до пізнього плейстоцену. Незважаючи на нечисленність вибірок, можна припустити, що S. kirchbergensis був широко поширений у Сибіру.
Ключові слова: Stephanorhinus kirchbergensis Jäger; морфологія кісток; Сибір; середній плейстоцен; мезоаналіз
Translator: Oleksandr Kovalchuk
Chinese
In progress
Translator: Hongshan Wang