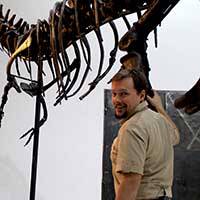 Frederik Spindler. Dinosaurier Museum Altmühltal, Dinopark 1, 85095 Denkendorf, Germany.
Frederik Spindler is a German palaeontologist dealing with late Palaeozoic to Mesozoic vertebrates, currently working on early synapsids and various archosaurs. He studied fossils in a number of collections in North America, Europe, and China. Additional fields are teaching, popular science, and palaeoart, which he combines as the scientific director of the Dinosaurier Museum Altmühltal.

René Lauer. Lauer Foundation for Paleontology, Science and Education, Wheaton, Illinois, USA.
René Lauer is a Co-Director and Co-Curator of the Lauer Foundation along with Bruce Lauer. She went through advertising, design and illustration programs, as well as fine art. Her interests in photography led her to train with renowned nature photographers. She specialized in a variety of photography disciplines, including UV techniques. The Lauer Foundation curates Solnhofen Lithographic Limestone fossils, which René Lauer uses during educational outreach programs and original fossil work for research.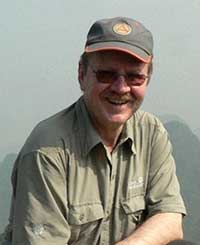 Helmut Tischlinger. Tannenweg 16, 85134 Stammham, Germany and Jura-Museum Eichstätt, Willibaldsburg, 85072 Eichstätt, Germany.
Helmut Tischlinger was in teaching profession between 1972 and 2006. He has been a voluntary staff member at the Jura-Museum in Eichstaett, Germany, since 1971. His scientific work is dedicated to the Upper Jurassic Solnhofen Limestone and similar Solnhofen type lagerstaetten. Small theropods including Archaeopteryx, pterosaurs, lepidosaurs and various invertebrates from Solnhofen type lagerstaetten are the main topic of his research. His other research interests include Jurassic and Cretaceous pterosaurs and feathered dinosaurs from China. In 2007 he received an honorary PhD from the University of Munich (Ludwig-Maximilians-Universität, LMU) and the Zittel-Medal of the Palaeontologische Gesellschaft, Germany, in 2013.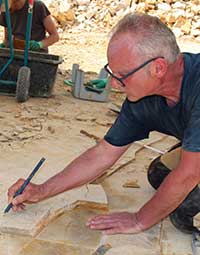 Matthias Mäuser. Staatliche Naturwissenschaftliche Sammlungen Bayerns, Naturkunde-Museum Bamberg, Fleischstr. 2, 96047 Bamberg, Germany.
Matthias Mäuser studied geology at the Julius-Maximilians-Universität Würzburg. His studies include fieldwork and mapping, Pleistocene palaeontology, as well as Jurassic plattenkalk localities. He is the head of the Naturkunde-Museum Bamberg. Since 2004, he is the excavation leader of the Wattendorf site.