Feeding strategies of circum-Mediterranean hipparionins during the late Miocene: Exploring dietary preferences related to size through dental microwear analysis
Guillem Orlandi-Oliveras, Meike Köhler, Julien Clavel, Robert S. Scott, Serdar Mayda, Tanju Kaya, and Gildas Merceron
Plain Language Abstract
Hipparionins are a group of three-toed horses that were very diverse during the late Miocene (around 11 to 5 million years ago). After their dispersal from the New World, they diversified on the Mediterranean area, and some groups followed tendencies towards smaller sizes. These trends in body size decrease have been commonly linked to an adaptation to more open habitats and the consumption of less nutritive forage. In this study, we aimed to explore the paleoecology of the different-sized hipparionins to shed light on the possible processes that led to the observed body size differences. To do so, we reconstructed their dietary strategies using dental microwear texture analysis (DMTA). This method allows us to infer the diet of extinct taxa by automatically quantifying the scratches and pits present on the dental enamel surface, which mainly depends on the physical properties of the food consumed, although grit might also play a role.
Our results indicate that hipparionins were mainly mixed-feeders (feed on grass and browse in a seasonal or daily basis), and that at a global scale there was no direct connection between the hipparionin body size and its diet. On the contrary, the feeding strategies of large and small forms slightly differed at a regional scale. In the eastern Mediterranean, the different-sized hipparionins had similar diets, but the larger taxa showed broader dietary preferences. In the western Mediterranean, in contrast, the broader feeding habits were followed by the small hipparionin horses while the larger forms mainly fed on grasses. The different ecologies of the small-sized hipparionins might indicate that the size decrease trends were not generally linked to the same changes on the habitat. Moreover, considering the traditionally inferred more open biomes of the eastern Mediterranean during the late Miocene, the comparison between the diets of eastern and western hipparionins suggests more seasonal regimes eastwards or the presence of grittier habitats. Finally, we have detected similar feeding strategies among coexisting hipparionin groups, which instead of a clear niche differentiation point to an influence of the local environment on their diet.
Turkish
Geç Miyosen Akdeniz çevresi hipparioninlerinin beslenme stratejileri: Dental mikro aşınma analizleri ile boyutla ilgili diyet tercihlerinin araştırılması
Hipparioninlerin Eski Dünya'daki adaptif yayılımı, daha küçük vücut boyutlarına doğru bir eğilim ile bağlantılıydı. Küçük boyutlu formların ortaya çıkışı genellikle açık ortamlar ve "grazer" tip otlanma diyeti ile ilişkilendirilmiştir. Ayrıca yakın tarihli bir yaklaşım, habitat koşullarıyla ilgili yaşamsal değişikliklerinin, boyut değişimlerinin tetikleyicisi rolünü vurgulamaktadır. Bu çalışmada, Akdeniz çevresi Valesiyen ve Turoliyen lokalitelerde kayıtlanmış farklı boyutlardaki hipparioninler üzerinde boyut ve diyet arasındaki ilişkiyi test etmek üzere dental mikro aşınma analizleri gerçekleştirilmiştir. Sonuçlarımız, hipparioninlerin çoğunlukla karma-beslenen grupta olduğu ve vücut boyutları ile diyet arasında genel bir bağlantı olmadığını göstermektedir. Bununla birlikte, Doğu Akdeniz hipparioninlerinde gözlenmeyen bir farklılaşma olarak, daha küçük Batı Akdeniz formlarında daha geniş beslenme spektrumu ile daha büyük formlarda daha özel otlanma diyetini belirledik. Doğuya doğru daha açık habitat fikriyle çelişir şekilde doğu hipparionin diyetlerinde daha "browser" tipi bir otlanma bileşeni tespit ettik. Bunu olası nedeni olarak daha geniş bir mevsimsellik görüşünü, günümüz equidlerinin kurak mevsim boyunca daha fazla odunsu bitki tüketilmelerinden yola çıkarak önermekteyiz. Dış aşındırıcıların mikro aşınma üzerindeki tartışmalı rolü göz önüne alındığında, diğer bir yorum daha açık doğu habitatlarında daha fazla kumun varlığını olabilir. İlginç bir şekilde, simpatik hipparioninlerin benzer beslenme alışkanlıklarına sahip olma eğiliminde olduğunu bulduk ki bu da diyetlerinin çevreden etkilendiği gerçeğine işaret etmektedir. Sonuçlarımız, bazı hipparioninlerin küçük boyutlarının, artan habitat açıklığına genel bir adaptasyondan ziyade farklı seçici baskılardan kaynaklandığını göstermektedir.
Anahtar Kelimeler: Hipparion; Equidae; diyet; vücut ölçüsü; dental mikro aşınma analizi
Translation: Authors
Resumen en Español
Estrategias alimentarias de los hipparioninos circum-mediterráneos durante el Mioceno superior: explorando las preferencias dietarias con relación al tamaño a través del análisis de microdesgaste dental.
La radiación adaptativa que sufrieron los hipparioninos después de su dispersión por el Viejo Mundo estuvo ligada a una tendencia hacia tamaños corporales menores. Esta aparición de formas de talla pequeña ha sido normalmente asociada a dietas de pastoreo y a la ocupación de ambientes abiertos. Recientemente, además, se ha propuesto el papel de los cambios en las historias de vida en relación con las condiciones de los hábitats como desencadenante de las modificaciones de tamaño. En este estudio testamos la relación entre la talla de los hipparioninos y su dieta a través del análisis de la textura del microdesgaste dental. Para ello, analizamos hippariones de distintos tamaños de diferentes localidades vallesienses y turolienses de la zona circum-mediterránea. Nuestros resultados muestran que los hipparioninos tenían mayoritariamente una dieta mixta (ramoneadora-pastadora) y que no existía una vinculación generalizada entre el tamaño y la dieta. Sin embargo, se identifican espectros alimentarios más amplios en las formas pequeñas del Mediterráneo occidental y dietas más especializadas en pastoreo en los más grandes, una diferenciación que no encontramos en los hipparioninos del Mediterráneo oriental. A más, y en contra de la idea de que había hábitats más abiertos hacia el este, detectamos un mayor componente de ramoneo en las dietas de los hipparioninos del Mediterráneo oriental. El augmento de consumo de ramoneo leñoso por parte de los équidos actuales durante la estación seca nos lleva a proponer una mayor estacionalidad como posible causa. Teniendo en cuenta el discutible papel de los abrasivos externos en el microdesgaste, otra interpretación podría implicar la presencia de más polvo en los hábitats abiertos de la zona oriental. Curiosamente, encontramos que los hipparioninos simpátricos tienden a mostrar unos hábitos alimentarios similares, lo que apunta a que sus dietas estaban influenciadas por el entorno local. En resumen, por tanto, nuestros resultados sugieren que el pequeño tamaño de algunos hipparioninos fue el resultado de diferentes presiones selectivas y no de una adaptación general a la creciente apertura del hábitat.
Palabras clave: Hipparion; Equidae; dieta; tamaño corporal; análisis de la textura del microdesgaste dental
Traducción: Authors
Deutsche Zusammenfassung
Ernährungsstrategien zirkum-mediterraner Hipparioninen im späten Miozän: Untersuchung von Ernährungspräferenzen in Abhängigkeit von der Größe anhand von Microwear-Analysen
Die adaptive Radiation der Hipparioninen nach ihrer Ausbreitung in der Alten Welt war mit einem Trend zu kleineren Körpergrößen verbunden. Das Auftreten der kleinwüchsigen Formen wurde in der Regel mit offenen Umgebungen und grasender Ernährungsweise in Verbindung gebracht. Ein neuerer Ansatz hebt nun die Rolle von lebensgeschichtlichen Veränderungen im Zusammenhang mit den Lebensraumbedingungen als Auslöser für ihre Größenveränderungen hervor. Hier testen wir die Beziehung zwischen Hipparioninen-Größe und Ernährung, indem wir die Microwear -Texturen der Zähne von Hipparioninen unterschiedlicher Größe aus zirkum-mediterranen Fundstellen des Vallesium und Turolium analysieren. Unsere Ergebnisse zeigen, dass Hipparioninen hauptsächlich Gemischtfresser waren und dass es keinen allgemeinen Zusammenhang zwischen Körpergröße und Ernährung gab. Allerdings konnten wir bei den kleineren Formen im westlichen Mittelmeerraum ein breiteres Nahrungsspektrum und bei den größeren Formen eine spezialisierte grasende Ernährungsweise feststellen, eine Unterscheidung, die bei den Hipparioninen im östlichen Mittelmeerraum nicht gefunden wurde. Im Gegensatz zu der Annahme, dass die Lebensräume im Osten offener sind, konnten wir bei den östlichen Hipparioninen einen größeren Anteil an Grasfressern feststellen. Die Tatsache, dass die heute lebenden Equiden während der Trockenzeit mehr holzhaltige Nahrung fressen, führt uns zu der Annahme, dass eine stärkere Saisonabhängigkeit die Ursache sein könnte. In Anbetracht der kontroversen Rolle externer Abrasivstoffe für Microwear, könnte eine andere Interpretation das Vorhandensein von gröberem Material in den offeneren östlichen Habitaten involvieren. Interessanterweise haben wir festgestellt, dass sympatrische Hipparioninen in der Regel ähnliche Ernährungsgewohnheiten haben, was darauf hindeutet, dass ihre Ernährung durch die lokale Umgebung beeinflusst wurde. Unsere Ergebnisse deuten also darauf hin, dass die geringe Größe einiger Hipparioninen eher auf unterschiedlichen Selektionsdruck zurückzuführen ist, als auf eine allgemeine Anpassung an die zunehmend offeneren Lebensräume.
Schlüsselwörter: Hipparion; Equidae; Ernährung; Körpergröße; dentale Microwear-Texturanalyse
Translator: Eva Gebauer
Arabic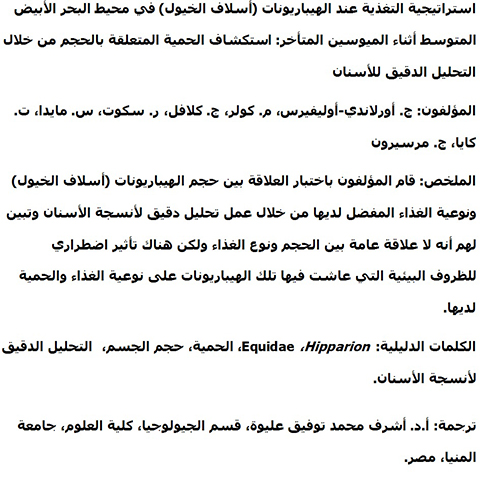 Translator: Ashraf M.T. Elewa
Polski
In progress
Translator: Krzysztof Stefaniak or Anna Żylińska
Ukrainian
In progress
Translator: Oleksandr Kovalchuk or Zoltán Barkaszi
Chinese
In progress
Translator: Hongshan Wang
French
Stratégies alimentaires des hipparionines circumméditerranéens du Miocène supérieur : exploration des liens entre préférences alimentaires et taille corporelle à partir de l'analyse de la micro-usure dentaire.
La radiation adaptative des hipparionines après leur dispersion dans l'Ancien Monde est associé à une tendance vers la diminution des tailles corporelles. L'apparition de ces formes de petite taille a généralement été liée aux environnements ouverts et aux régimes paisseurs. Une étude récente, en outre, met en évidence le rôle des modifications de l'histoire de vie liées aux conditions d'habitat comme déclencheurs de leurs changements de taille. Ici, nous testons la relation entre la taille des hipparionines et leur régime alimentaire en analysant les textures de micro-usure dentaire sur des espèces d'hipparions de tailles différentes et provenant de localités Vallesiennes et Turoliennes du pourtour méditerranéen. Nos résultats montrent que les hipparionines étaient principalement des mangeurs mixtes et qu'il n'y avait pas de lien général entre la taille corporelle et le régime alimentaire. Cependant, nous avons identifié des spectres alimentaires plus larges chez les espèces occidentales de petites tailles et des régimes paisseurs plus spécialisés chez les plus grandes, une différenciation qui n'est pas retrouvée chez les espèces de la Méditerranée orientale. En contradiction avec la notion d'habitats plus ouverts vers l'est, nous avons détecté une plus grande composante de broutage dans les régimes alimentaires des hipparionines à l'est. La consommation par les espèces d'équidés actuels de fourrage ligneux pendant la saison sèche nous amène à proposer une plus grande saisonnalité comme cause possible. Si l'on considère également le rôle potentiel des abrasifs externes sur les micro-usures dentaires, une autre interprétation pourrait impliquer la présence de dépôts abrasifs plus conséquents sur les plantes des habitats ouverts du bassin oriental. Il est intéressant de noter que les espèces sympatriques ont tendance à avoir des habitudes alimentaires similaires, ce qui indique que leur régime alimentaire est influencé par l'environnement local. Nos résultats suggèrent donc que la petite taille de certains hipparionines résulte de pressions sélectives différentes plutôt que d'une adaptation générale à l'ouverture croissante des habitats du Miocène supérieur.
Mots clés : Hipparion, Equidae, alimentation, taille corporelle, analyse des micro-usures dentaires
Translator: Authors