Dale M. Tshudy. Department of Geosciences, Edinboro University of Pennsylvania, Edinboro, Pennsylvania 16412, USA https://orcid.org/0000-0001-5382-4378
Dale Tshudy is an invertebrate paleontologist specializing in clawed lobsters. He is a Professor in the Department of Geosciences at Edinboro University of Pennsylvania, USA, where he has been since 1992. He earned his Ph.D. at Kent State University with advisor Dr. Rodney Feldmann in 1993; his dissertation was titled: "Taxonomy and Evolution of the Clawed Lobsters: Families Chilenophoberidae and Nephropidae". His research interests are in all aspects of clawed lobster systematics; e.g. taphonomy, species-level taxonomy, cladistic analyses using morphological and/or molecular data, biogeography, paleoecology, extinctions and diversity through time. He lives on a hobby farm on a dirt road with various critters, enjoys gardening, fishing, etc. and rock guitar.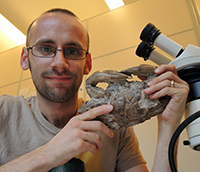 Matúš Hyžný. Department of Geology and Paleontology, Faculty of Natural Sciences, Comenius University, Ilkovičova 6, Bratislava, Slovakia. https://orcid.org/0000-0002-8960-2846)
Matúš Hyžný received his Ph.D. from Comenius University in Bratislava (Slovakia) in 2012; his doctoral thesis was titled "Malacostracan associations of the Central Paratethys – systematics, taphonomy, palaeoecology and palaeobiogeography". In 2013–2015 he was a research associate at the Natural History Museum in Vienna (Austria) where he studied the Cenozoic biogeography of Western Tethys decapod crustaceans. His interests cover the systematics, fossil record and biogeography of decapods with a special reference to axiidean ghost shrimps. However, he feels at home with any group of malacostracan crustaceans including mantis shrimps and isopods.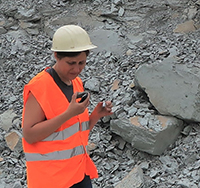 Martina Kočová Veselská. Institute of Geology of the Czech Academy of Sciences, v. v. i., Department of Paleobiology and Paleoecology, Rozvojová 269, 165 00 Prague 6, Czech Republic and Institute of Geology and Palaeontology, Charles University, Albertov 6, 128 43 Prague 2, Czech Republic. https://orcid.org/0000-0003-4322-9019
Martina Kočová Veselská received her PhD. from the Charles University, Institute of Geology and Palaeontology in Prague (Czech Republic) in 2018; her doctoral thesis was titled "Crustacea (Decapoda, Cirripedia) from the Bohemian Cretaceous Basin". Since 2018, she has been working as a graduate specialist at the Institute of Geology of the Czech Academy of Science in Prague and as a junior researcher of the Center for Geosphere Dynamics at the Faculty of Science, Charles University. Her research interests include the fossil record, taphonomy and biogeography of decapod crustaceans and cirripedes as well as the study of hard substrate communities (sclerobionts) and bioerosion processes.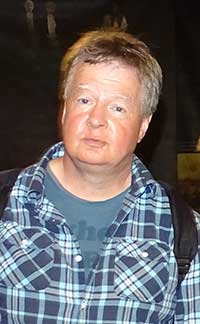 John W.M. Jagt. Natuurhistorisch Museum Maastricht, De Bosquetplein 6-7, 6211 KJ Maastricht, the Netherlands. https://orcid.org/0000-0001-6216-1991
John Jagt has been a curator of palaeontology at the (municipal) museum since 1991, specialising in Late Cretaceous (Santonian-Maastrichtian) and earliest Paleogene (Paleocene) invertebrates such as echinoderms, decapod crustaceans, ammonoid and coleoid cephalopods and some other smaller groups. From time to time, he is also in charge of projects revolving around the excavation, transportation and subsequent preparation of skeletal remains of mosasauroid reptiles from the Maastrichtian type area. John also co-ordinates the activities of a team of 25 private collectors, in the area and serves on the editorial board of several scientific journals.