Endobiotic symbiont fauna
Plain Language Abstract
In modern oceans, several groups of invertebrates live symbiotically within large bryozoans, corals, and sponges. Many of these symbiotic invertebrates live in cavities inside the larger host organisms. Such cavities made into skeletons of host organisms by their symbionts are called bioclaustrations. The bioclaustrations are usually well preserved in fossil bryozoans, corals and calcareous sponges, even when the symbionts themselves were soft-bodied and rarely fossilized. As in today's oceans, symbiotic associations involving bryozoans, corals and sponges were common in the Late Ordovician. During the Late Ordovician, the territory that later became modern Estonia, located on a separate paleocontinent called Baltica, was partially covered by shallow tropical seas. In these tropical seas, bryozoans, corals and sponges were often colonized by worms and various shellfish. The study of such symbiotic associations helps us to understand the ecology of animals in the Late Ordovician seas. Bryozoans and corals were favourite hosts for other invertebrates in the Ordovician of Baltica.
Resumen en Español
Diversa fauna simbionte endobiótica del Katian tardío (Ordovícico superior) de Estonia

Los cornulitidos endobióticos formaron asociaciones simbióticas con corales tabulados y estromatoporoides durante el Katiense (Ordovícico superior) en la actual Estonia. Los cornulitidos se beneficiaron de un sustrato estable y protección adicional contra los depredadores que ofrece el esqueleto de sus anfitriones. Los lingulados simbióticos y las estructuras de bioclaustración similares a Chaetosalpinx se describen aquí por primera vez en briozoos. Los lingulados endobióticos también eran simbiontes de corales tabulados en el Katiense de Estonia. Los briozoos albergaron la fauna más diversa de endobiontes durante el Katiense en Baltica. Los corales y los estromatoporoides albergaron solo unos pocos grupos de endobiontes en el Katiense de Baltica.
Palabras clave: esponjas calcáreas; corales tabulados; briozoos; endobiontes; bioclaustraciones; Ordovícico superior; Báltica
Traducción: Francesco Gascó (Grupo de Biología Evolutiva, UNED y Sociedad Española de Paleontología)
Deutsche Zusammenfassung
Vielfältige endobiotische Symbiontenfauna aus dem späten Katium (Spätordovizium) von Estland
Endobiotische Cornulitiden bildeten im Katium (Spätordovizium) von Estland symbiotische Verbindungen mit Stabkorallen und Stromatoporoiden. Die Cornulitiden profitierten von einem stabilen Substrat und dem zusätzlichen Schutz vor Räubern, den das Skelett ihrer Wirte bot. Symbiotische Lingulata und Chaetosalpinx-ähnliche Bioklaustrationsstrukturen werden hier zum ersten Mal von Bryozoen berichtet. Die endobiotischen Lingulata waren auch Symbionten von tabulaten Korallen im Katium von Estland. Bryozoen beherbergten die vielfältigste Endobiontenfauna im Katium von Baltica. Korallen und Stromatoporoide beherbergten nur wenige Gruppen von Endobionten im Katium von Baltica.
Schlüsselwörter: Kalkschwämme; tabulate Korallen; Bryozoen; Endobionten; Bioklaustration; Oberes Ordovizium; Baltica
Translator: Eva Gebauer
Arabic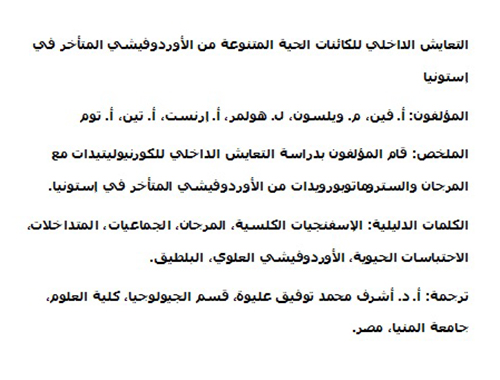 Translator: Ashraf M.T. Elewa
Polski
Zróżnicowana endobiotyczna fauna symbiotyczna z późnego katu (późnego ordowiku) Estonii
Endobiotyczne kornulitidy tworzyły symbiotyczne asocjacje z koralowcami tabelatami i stromatoporoidami w Katianie (późny ordowik) w Estonii. Kornulitidy korzystały ze stabilnego podłoża i dodatkowej ochrony przed drapieżnikami, jaką zapewniał im szkielet żywiciela. Symbiotyczne lingule i struktury bioklaustracyjne podobne do Chaetosalpinx są tutaj po raz pierwszy opisywane spośród mszywiołów. Endobiotyczne lingule były również symbiontami koralowców tabelatów w Katian w Estonii. Mszywioły były gospodarzem najbardziej zróżnicowanej fauny endobiontów w katianie Baltiki. Koralowce i stromatoporoidy były gospodarzami zaledwie kilka grup endobiontów w katianie Baltiki.
Słowa kluczowe: Gąbki wapienne; koralowce tanbulaty; mszywioły; endobionty; bioklaustracje; górny ordowik; Baltika
Translator: Krzysztof Stefaniak
Ukrainian
Різноманітна ендобіотична симбіонтна фауна з пізнього катію (пізній ордовик) Естонії
Протягом катію (пізній ордовик) ендобіотичні корнулітиди на території сучасної Естонії утворювали симбіотичні асоціації з коралами та строматопороїдами. Корнулітиди отримали переваги від стабільного субстрату та додаткового захисту від хижаків, які пропонував скелет їхніх господарів. У цій статті вперше повідомляється про симбіотичних лінгулят і біоклаустраційні структури, подібні до Chaetosalpinx, у моховаток. Ендобіотичні лінгуляти також були симбіонтами табулят у катії Естонії. Моховатки слугували домівкою для різноманітної фауни ендобіонтів у катії Балтики. Водночас кількість груп ендобіонтів коралів і строматопороїдів цього віку була досить обмеженою.
Ключові слова: вапняні губки; пластинчасті корали; моховатки; ендобіонти; біоклаустрації; верхній ордовик; Балтика
Translator: Oleksandr Kovalchuk
Chinese
爱沙尼亚凯迪期晚期(晚奥陶世)的多种内栖共生动物群
Cornulitids与床板珊瑚和层孔虫在爱沙尼亚的凯迪期(晚奥陶世)已经形成了共生关系。Cornulitids受益于稳定的底层生境和宿主骨骼提供的抵御捕食者的保护。本文首次报道了与苔藓虫共生的舌形贝类和类似Chaetosalpinx的生物封闭结构。内栖舌形贝类也是爱沙尼亚凯迪期的床板珊瑚的共生体。 苔藓虫在波罗的大陆的凯迪期有最多样化的内栖生物群落而珊瑚和层孔虫只容纳有限的几类内栖生物。
关键词: 钙质海绵;床板珊瑚; 苔藓虫; 内生菌; 生物封闭; 上奥陶统; 波罗的大陆
Translator: Hongshan Wang
French
In progress
Translator: Denis Audo
Slovak
Rozmanitá endobiotická fauna z vrchného katu (vrchný ordovik) Estónska
V horninách katského veku (neskorý ordovik) Estónska tvoria endobiotické kornulitidy symbiotické asociácie s tabulátnymi koralmi a stromatoporoidmi. Skelety hostiteľov kornulitidom poskytovali výhody stabilného substrátu a dodatočnej ochrany pred predátormi. Po prvý krát sú dokumentované symbiotické lingulátne ramenonožce a bioklaustračné útvary z machoviek podobné ichnorodu Chaetosalpinx. V kate Estónska boli endobiotické linguláty symbiontmi tabulátnych koralov, pričom machovky tu boli hostiteľmi najrozmanitejšej fauny endobiontov z katu Baltiky. V kate Baltiky boli koraly a stromatoporoidy hostiteľmi iba niekoľkých skupín endobiontov
Kľúčové slová: Vápnité hubky; tabulátne koraly; machovky; endobionty; bioklaustrácia; vrchný ordovik; Baltika
Translator: Matúš Hyžný
Russian
In progress
Translator: Leonid Voyta